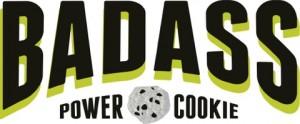 Badass Power Cookie.  Does that get your attention?  With new products hitting the shelves faster than you can do three sets of squats, you better be sure your product stands out.  With a name like Badass Power Cookie, I think you would hit that mark.
So, what is a Badass Power Cookie anyway?  If you think it's like a protein bar in a cookie form, you aren't far off.  John Lewis, A.K.A. the "Bad Ass Vegan," is the muscle behind these cookies.  John is a certified fitness trainer who helps individuals reach their fitness goals on a vegetarian/vegan diet.  Vegan since 2008, John is far from the stereotypical vegan wimp.
On to the cookie.  But before we discuss how it tastes, since that's the most important thing, let's talk about the cool packaging.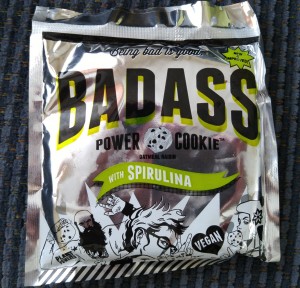 Pretty bad—, isn't it?  We've got the words "power" and "vegan" right there for everyone to see.  You definitely get the impression there's something to this cookie.
Once you move past the packaging, the cookie itself – I'm sorry to say – is not pretty.  In fact, it's dark green.  That might be enough to turn some people away.  But as vegans, we know that green can be good for us and it usually tastes good, too.  The green comes from the superfood spirulina, a blue-green algae that is rich source of protein.  While it packs a nutritional punch, it isn't very tasty on its own.  And it turns things green.  Hence, the green cookies.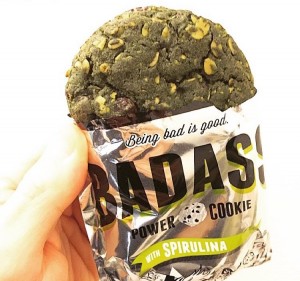 Color aside, these cookies are quite tasty.  Essentially, they taste like oatmeal cookies.  You won't eat a big plate of them, so that's good.  But one is all you need.  For cookies, you could do worse.  One cookie has 360 calories, 5 grams of fiber, 10 grams of protein and 13 grams of sugar.
I like these cookies and I like supporting people who want to spread our message to a broad audience.  If you want a hit of protein in a tasty cookie, this is a good option.