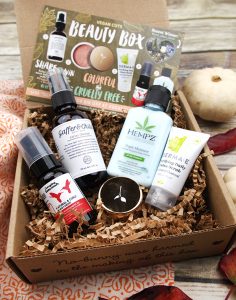 Fall is my favorite time of the year, and the September Vegan Cuts Beauty Box is my favorite box of 2017 so far!
By now I think most chic vegans are familiar with the Vegan Cuts Beauty Box, but if you're not, let me introduce you. It's a subscription box service that sends a box full of cruelty-free beauty products, such as skin and hair care products, cosmetics, nail polish, lip balm, and more right to your door each month. You never know what will be inside, making it a fun treat to receive each month. Subscribing to the Beauty Box is the easiest way to discover cruelty-free brands without spending a lot of money or committing to full-size product. Each box contains 4-7 new items to try – some samples, and some full-sized products.
I've been receiving the Beauty Box for about four years now, and I always eagerly await its arrival every month, ready to dig into the lotions and potions inside. I've found some new favorites and products I now swear by thanks to the Beauty Box.
The September Vegan Cuts Beauty Box was full of products to help you transition from warm summer days to cool fall evenings.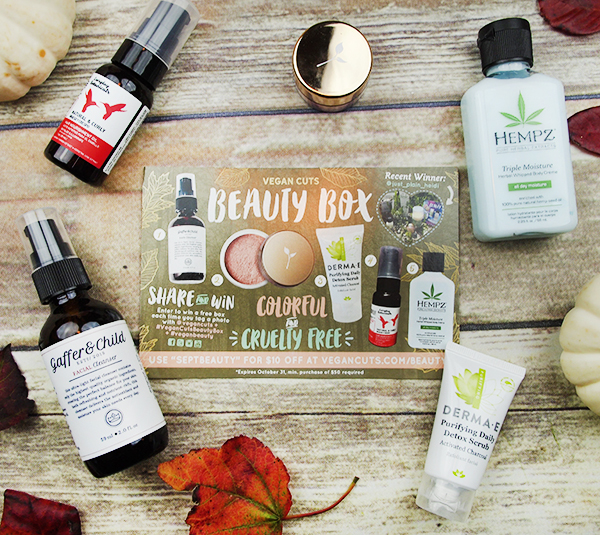 The September Vegan Cuts Beauty Box contained: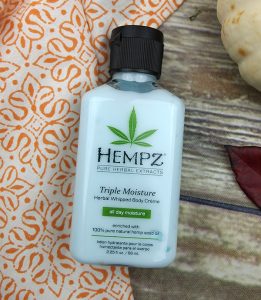 Hempz Triple Moisture Herbal Whipped Body Crème – There was a bottle of Hempz lotion in a Beauty Box earlier this year, and I really loved it, so I was excited to find this Herbal Whipped Body Crème in this month's box. This cream is formulated with natural hemp seed oil, sweet almond oil, and other plant extracts that are rich in antioxidants and fatty acids to delver "triple moisture" to the skin. I've been slathering it all over myself, and my skin does feel softer. I love its fresh scent.
Terre Mere Cosmetics Mineral Blush – I'm almost out of blush, and I was trying to decide which brand to try next when the Beauty Box arrived and answered that question for me! This blush made with natural minerals and is free of most of the junk that other cosmetics contain. It's a long lasting powder stays put once it's on. I received the color "lychee," which is a pretty pink that compliments my skin tone nicely.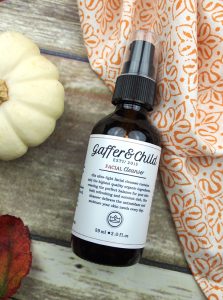 Gaffer & Child Facial Cleanser – Lavender and peppermint are two of my favorite scents, so I was pleasantly surprised the first time I pumped this cleanser into my hand and found that it's made with both. It also contains other natural ingredients such as coconut oil, green tea extract, and willow bark extract, and it's formulated to refresh and nourish the skin while it gently cleanses. It's left my skin feeling soft and subtle.
Everyday Botanicals Hair Nourishment Oil – I've tried hair oils in the past, and they've left my hair looking limp and greasy, so I was a little reluctant to try this. I used it on a day when I didn't have to go anywhere, just in case it left my hair looking less than desirable. I was pleased to find that it didn't weigh my hair down, and it left my dry ends feeling soft. It's made with natural botanicals such as tea tree, lavender, sage, and rosemary, and it helps to strengthen hair from within.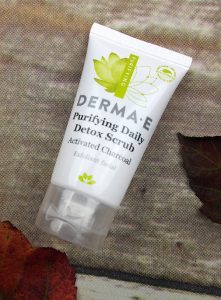 Derma-E Purifying Daily Detox Scrub – It seems like activated charcoal is all the rage with skin care products this year, and rightly so. It's know to draw toxins out of the skin, fight acne, and exfoliate, among other things, leaving behind flawless skin. This exfoliating scrub is made with activated charcoal along with nutrient-rich seaweed, and green tea. It's gentle enough for every day, and it has left my skin feeling squeaky-clean.
The Vegan Beauty Box is available as a monthly subscription, which means that once you sign up, a new box of products gets delivered to your door every month. You can sign up for just one month at a time, six months, or a full year. The best price option is the year, which breaks down to just $18.50 per box.