February 6, 2012 will mark the first time in history that a U.S. court considers constitutional rights for animals.
PETA, three marine-mammal experts, and two former orca trainers filed a lawsuit in October against SeaWorld, on behalf of five orcas. They are asking that a federal court declare that the five orcas – Tilikum, Katina, Kasatka, Corky, and Ulises – are being held as slaves in violation of the 13th Amendment to the U.S. Constitution. According to PETA, the suit is based on the plain text of the 13th Amendment, which prohibits the condition of slavery without reference to "person" or any particular class of victim. PETA would like the orcas relocated to a coastal sanctuary and eventually back into the wild. SeaWorld had hoped for a dismissal, but on January 13, PETA's legal team filed a brief opposing SeaWorld's motion. The case will be argued on February 6, 2012.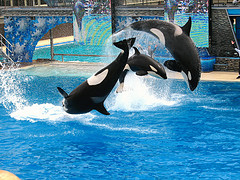 Orcas are intelligent, social animals and spend much of their time travelling – swimming up to 100 miles a day. This, of course, is in the wild. In captivity, orcas are confined to small tanks, swimming in circles, and performing stressful tricks for SeaWorld patrons. It's easy to see the difference between an ocean and a small tank in a theme park. There's no comparison. I'm astounded by anyone who defends SeaWorld and other similar establishments. Imagine being confined to a closet for the rest of your life.
This is truly a significant, groundbreaking case. Not only do I hope this will result in freedom for these orcas, but I hope it will change how society views animals. I wish for the day when people stop patronizing zoos, theme parks, circuses, and other similar establishments. Animals are not here for our amusement. We should always be compassionate and respectful of all creatures.
For additional information on this case, please visit PETA.org.
Feature photo courtesy of Abi Skipp, Second photo courtesy of congvo