This is one of those go-to meals for me on nights when I don't know what to cook. It started out with whatever green was available in the fridge and whatever can of beans I had in the pantry, along with mushrooms, olives, and sundried tomatoes. I would douse the whole dish in nutritional yeast, and pour even more on as I ate.
When I discovered how quick and easy it is to make cashew cream, I replaced the nooch with the cream sauce, making it primavera-like in nature. If you don't have kale on hand, you can use spinach or chard, and if you don't have white beans, feel free to substitute in chickpeas.

Pasta in Cashew Cream Sauce
Makes 4 servings
For the Sauce
1 cup raw cashews, soaked for 2 hours, drained and rinsed
2 tablespoons lemon juice
2 tablespoons nutritional yeast
1 1/2 cups vegetable stock
1/2 teaspoon sea salt
For the Pasta
12 ounces of pasta
1 tablespoon olive oil
1 shallot, diced
2 cloves garlic, minced
2 cups white button or crimini mushrooms, sliced
1/2 teaspoon sea salt
1/2 cup sundried tomatoes, cut into thin strips
11⁄2 cup cooked white beans, such as cannellini or navy beans
1 bunch kale, chopped
1/4 cup Kalamata olives, chopped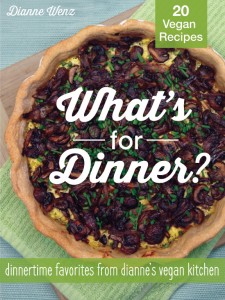 Preparation
Mix the cashews, lemon juice, nutritional yeast, vegetable stock, and 1/2 teaspoon of sea salt together in a blender. Blend until smooth and creamy.
Cook pasta according to directions. Set aside until ready to use.
Heat the oil in a large pan over medium-high heat. Add the shallots and cook for about 5 minutes, until they begin to caramelize. Add the garlic and mushrooms to the pan along with 1/2 teaspoon of salt. Continue cooking for about 10 minutes, until the mushrooms are fragrant and release their liquid.
Add the sundried tomatoes, beans, and kale to the pan. Cook until the kale is wilted and slightly tender, about 3 minutes.
Stir the pasta, vegetables, beans, and cashew cream together. Divide among plates and top with the chopped olives. Serve hot.
Recipe reprinted with permission from  What's for Dinner? Dinnertime Favorites from Dianne's Vegan Kitchen. ©2016 Dianne Wenz. Download your copy of the e-book here: http://www.diannesvegankitchen.com/cookbooks/