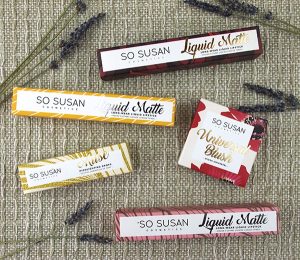 While I don't consider myself a cruelty-free make up maven, I do enjoy cosmetics such as lipstick, eyeliner, and blush, and I love trying new products. I recently ran out of the highlighting powder I was using, and I noticed that I don't have too much blush left, so when So Susan Cosmetics reached out and asked if I'd like to sample some of their products, I jumped at the opportunity.
So Susan Cosmetics are vegan and Peta-certified cruelty-free. They're free of nasty chemicals such as mineral oil, parabens, and phthalates, because no one really wants to put toxins on their skin. They're gluten-free and hypoallergenic, too, which is a bonus for those with sensitivities.
So Susan sent me their Universal Blush, Muse Highlighting Drops, and Liquid Matte Lipstick. I've loved all of it!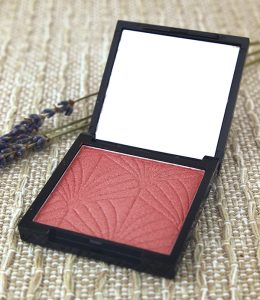 Universal Blush ­– I'm pretty fair-skinned, so I need a blush that compliments my skin and doesn't look like I just graduated from Clown College. I'm always skeptical of "universal" colors, because they tend to be too dark for my skin tone, but this color really looks good on me. According to the packaging, it's a "micronized, jet-milled blush that works with your skin's natural chemistry to create a universal, healthy flush of color that is flattering on all skin tones." I'm not sure what goes into micronizing and jet-milling, but I'm a fan!
In addition to adding color to the face, this blush is formulated to care for the skin as well. It's made with apple fruit extract and copper peptide to heal and nourish. I love cosmetics that do double duty!
Muse Highlighting Drops – I love how this shimmery liquid gel adds a nice glow to my face! It can be used alone or mixed in with foundation to add radiance and brightness to skin. I've dabbing a little of it onto my cheekbones with my fingers, but it can also be applied with a brush or sponge to the temples, brow bones and bridge of the nose. It stays put and lasts all day, unlike the highlighting powder I had been using.
Like the Universal Blush, these highlighting drops do double duty. It's formulated with peptides and hyaluronic acid to hydrate the skin and enhance elasticity.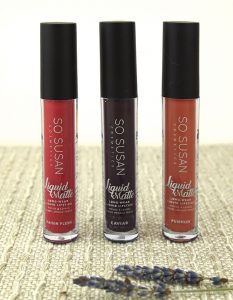 Liquid Matte Long-Wear Lipstick – I've been a fan of matte lipstick before there was matte lipstick. I used to apply my lipstick then blot it and brush on powder to create my own matte look. With this Liquid Matte from So Susan, I can just apply in one step and I'm done!
I was sent Pumpkin, Raisin Flesh, and Caviar to try. Pumpkin and Raisin Flesh both look great on me, but I think Caviar is a little too dark. I do have a friend who it will look great on, though.
These liquid lipsticks glide on smoothly and dry to matte rather quickly. They're not sticky like other liquid lip colors, and they don't flake off like other mattes I've tried. I have been super impressed with just how long lasting they are. I've put them on in the morning and my lips still have color in the evening without having to reapply. They've survived meals and beverages with no problem.
Of course, these Liquid Matte Lipsticks are formulated to act as skincare as well as a cosmetic. They contain olive oil, cocoa butter, and chamomile extract to help keep lips hydrated and smooth.
I've found some new favorites in So Susan Cosmetics. If you're looking for cruelty-free make up that is also formulated to enhance your skin, look no further!