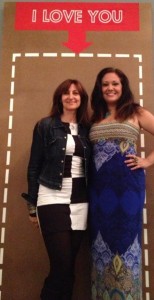 I recently had the pleasure of chatting with one of my favorite clothing designers, Lois Eastlund. She has been completely vegan for over 2 years, but her designs have always been "accidentally" vegan. We talked about how the vegan lifestyle has influenced her life, professionally and personally. Lois is a great example of how following your heart & conscience will take you anywhere you want to go!
Adrienne Borgersen –  How long have you been vegan & what motivated you?
Lois Eastlund – I went vegan in April 2011 after seeing [the movie] "Forks Over Knives". I had been mostly vegetarian up to this point. I hadn't eaten beef for about 20 years, but was still eating dairy, occasionally fish and chicken. But, after I saw (in the movie), what animal foods/products do to your body, I knew I would never eat them again. (Full disclosure- it took me another week to give up cheese). I've always been healthy, (I haven't been sick since I was 25), so I saw this as another way to continue to stay healthy. This has now evolved into my desire to see that no animal is harmed for food or clothing.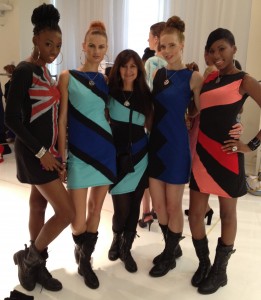 AB – What inspired you to be a designer & how did you get started?
LE – I was born that way! It's all I've ever wanted, all I've ever known. I was drawing fashion sketches before I started kindergarten and that evolved into having Barbie fashion shows. My mom always loved clothes and fashion, my maternal grandmother worked in a sewing factory, and I had these wonderful, crafty, great Aunts on my dad's side, so it definitely was in my genes. I begged my mom to teach me how to use the sewing machine, but she was afraid I would sew my hand! I had to wait until I learned in 7th grade "home-ec" class. Up to that point I sewed everything by hand.
Then, when I was around 11, a girl in my art class told me about the Fashion Institute of Technology (FIT), and that was it. I told my parents that's where I was going to college. I graduated from FIT with a degree in Fashion Design, and worked in NYC's garment industry for 20+ years designing men's sportswear, boy's wear, women's wear, junior sportswear and tween clothing. Eventually I ended up having my own line, which I sold to specialty boutiques in the US, (Patricia Field!), Asia and Paris. Fast forward a few years, I owned my own boutique on the Lower East Side for almost 5 years, (which closed this past January).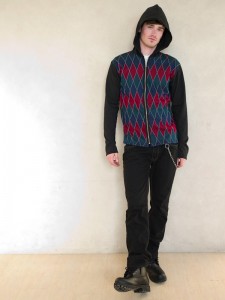 AB –  Talk about your design aesthetic and what inspires it.
LE – My tagline is "Comfortably Find Your Chic", and that says it all…I don't think anyone should have to suffer for fashion! You can be super stylish, super chic, and still be comfortable. I've always used cotton, as I think it's the most comfortable and versatile fabric.
I'm inspired by everything around me, but specifically, 60's mod, 80's punk, indie rock music, pilates, exercise, and the great city that is New York.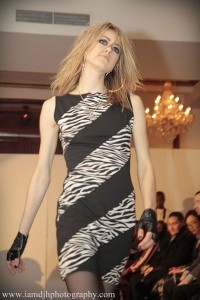 AB –I can definitely see all of that in your designs.  How would you describe your personal style?
LE – I'm definitely a downtown, jeans, t-shirt, boots kinda girl. I never wore dresses until I started designing them, so I made them feel like jeans & tees…and now I wear dresses!
AB – It's worth noting that all of the accessories your models wear (shoes & jewelry) are also vegan. Why do you think some designers are apprehensive about using vegan materials?
LE –  The word "vegan" really throws people off. They think it's "cheap". It's not and can it can be done really well, (sometimes it's hard to tell between pleather and leather). I believe customers are open to, and want good quality imitations, and let's not forget about cotton! (Which I've always used.) Unfortunately, some companies, brands, designers, are afraid of changing what has always worked for them.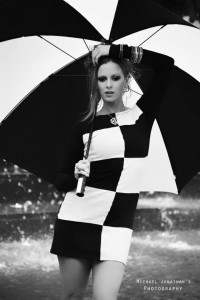 AB –Agreed, sometimes "pleather" looks cheap, but so does any other material not made well. There are so many high quality vegan materials out there, it's become very hard to distinguish between "real" and "faux" options. We are getting there! What advice can you give up & coming designers who want their fashions to be cruelty free?
LE – Don't be afraid to experiment and be different! Search out companies that make vegan fabrics and materials. Don't take no for an answer and never compromise your beliefs.
AB – I believe no problem is insurmountable, so I get that. Have you ever had to compromise style & quality In order to stay cruelty free?
LE – Never. There have always been vegan/cruelty free options. Of course now, they are so many! Since I've gone vegan, I've only used vegan boots and accessories in my runway shows. Even before I went vegan, I bought vegan boots, handbags and coats to supplement my wardrobe.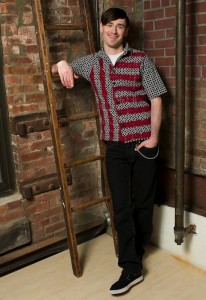 AB – Do you have a pet peeve about the fashion industry?
That there still is a fur trade. And that leather fashion is still marketed as "cool" and "hip".
AB – Yes, using real fur is so awful and seeing leather come back every fall can be very disheartening. Do you have a favorite quote that keeps you inspired?
Knowledge is power!
AB – Right on! As vegans, I think we tend to inherently explore & learn about everything going on around us, whether it's food, fashion or any lifestyle choices.  Do you think there is a connection between food & fashion?
LE – Eating healthy makes you feel better, and when you feel better, you look better, and when you look better, you dress better. I can't speak for everyone, but that's certainly how I feel.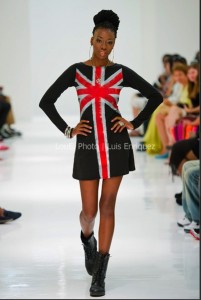 AB – Great point! What's your favorite food and/or recipe?
LE – Oh, it's so hard to pick! Fave foods – raw yellow string beans, dark chocolate, and pretty much anything with mushrooms. Fave recipe – my chocolate chip cookies and my black bean nachos.
AB – Yum! Do you have any advice for people who are vegetarian or vegan and are struggling?
LE – First and foremost, don't be too hard on yourself. Take it one step, one day at a time.  Make sure to read up on the benefits of a healthy plant based vegan diet to see what it can do for your health. Do research on the meat and dairy industry and see how the animals suffer and end up as food/clothing. Every day is a new opportunity to make a positive change for the animals, the environment, and you!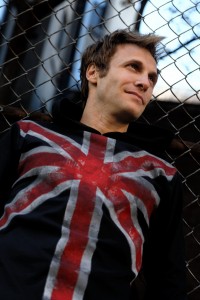 AB – I love it. Thanks so much for your time, Lois, your positive attitude is very inspiring! Where can we see & buy your collection?
LE – You're very welcome! Currently, I'm doing temporary "pop up" shops, weekend markets, and festivals. I'll be at the Catskill Animal Sanctuary 12th Annual Shindig in Saugerties, NY on Oct 5th, and at ID POP Shop in Chelsea Market, Oct 14th- 20th.
You can find my clothing online at www.opensky.com/loiseastlund, www.foranima.com/store/loeye, and at www.LoisEastlund.com.