Manhattan clam chowder is the red, tomato-based soup found on diner menus all over the city. Mushrooms bring the perfect texture and flavor to this vegan version of the iconic New York City soup.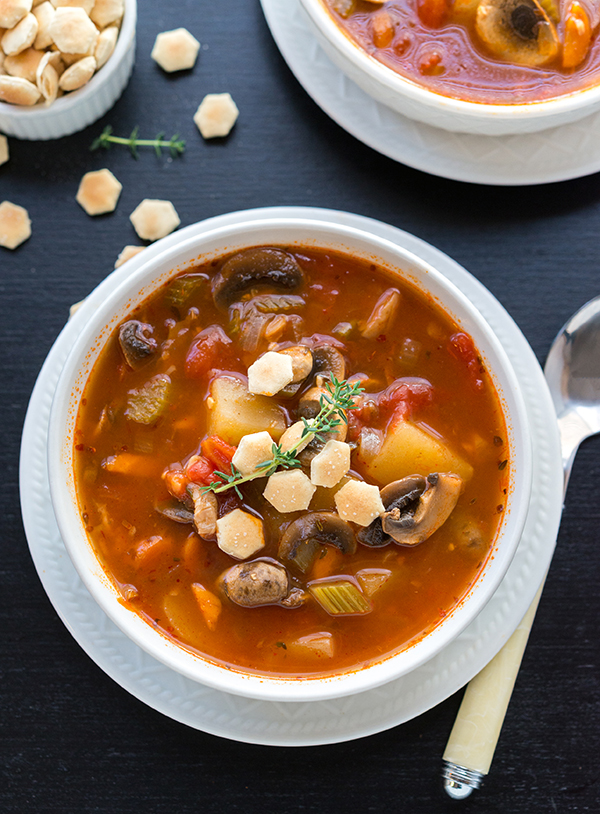 Manhattan Glam Chowder
Author:
Michael Suchman and Ethan Ciment
Ingredients
2 tablespoons extra-virgin olive oil
2 medium carrots, cut into ¼-inch pieces
2 celery ribs, cut into ¼-inch pieces
1 medium onion, cut into ¼-inch pieces
3 cloves garlic, minced
¼ cup tomato paste
1 teaspoon dried oregano
3 sprigs fresh thyme
2 dried bay leaves
1 tablespoon dulse flakes or ½ sheet nori
1 tablespoon Old Bay Seasoning
2 medium waxy potatoes, peeled and cut into 1-inch pieces
8 cups vegetable broth
1 (28-ounce) can whole peeled tomatoes, undrained, coarsely chopped
1 cup diced oyster or cremini mushrooms
8 ounces white button mushrooms, sliced ⅛-inch thick
½ cup dry sherry or white wine
2 tablespoons sugar
Salt and ground black pepper, to taste
Instructions
Heat the oil in a large pot over medium heat. Add the carrots, celery, and onion. Cover and cook, stirring occasionally until soft, about 8 minutes. Add the garlic and cook for 1 minute. Stir in the tomato paste and cook, stirring for 1 minute.
Add the oregano, thyme, bay leaves, dulse, Old Bay Seasoning, and potatoes. Add the vegetable broth, stir well, and bring the soup to a boil. Reduce the heat to a simmer, cover, and cook until the potatoes are tender, about 10 minutes.
Add the tomatoes and stir well. Add the oyster mushrooms, button mushrooms, sherry, and sugar. Bring the soup to a boil again. Cover, reduce the heat, and simmer 10 minutes. Remove and discard the bay leaves, thyme sprigs, and nori (if using). Taste and add salt and pepper as needed. Serve hot.
Notes
From
NYC Vegan
, copyright © 2017 by Michael Suchman and Ethan Ciment. Used by permission. Photo by Jackie Sobon.