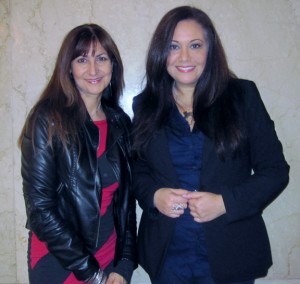 Designer Lois Eastlund and Certified Image Consultant/Stylist Adrienne Borgersen are set to launch their online magazine, "LA Fashionista Compassionista" on November 3, 2014.
The talented duo were inspired by their love of animals and commitment to cruelty free ethics. They are frustrated that all of their favorite fashion magazines promote leather, fur, wool, feathers and other products that are disgracefully tested on animals.
"We want to bring all of the fabulous and compassionate beauty and fashion choices to the mainstream", said Adrienne. "More & more designers and beauty companies are using high-quality substitute materials and alternative testing methods, proving that using animals is unnecessary and antiquated. We absolutely can express ourselves with beauty and fashion, while remaining true to our ethics. Animal cruelty is not stylish and animal testing is not beautiful!"
Lois adds, "It's 2014. With all the technology available to us today, there is absolutely no need to use any animal products or by products in the fashion and beauty industries. It's an old system that needs to be updated to reflect current trends and sensibilities. Let's move forward to a kinder, compassionate, and more respectful world!"
The premier issue will be a full color, online experience to cover all of your holiday fashion needs…and maybe a few wants! Author, speaker, Vegan Lifestyle Coach, and director of Main Street Vegan Academy, Victoria Moran is the featured cover story. Her interview promises to tell stories of a life long style journey that's relatable and inspirational.
Subscriptions are available now and are FREE, for early subscribers at: www.lafcnyc.com