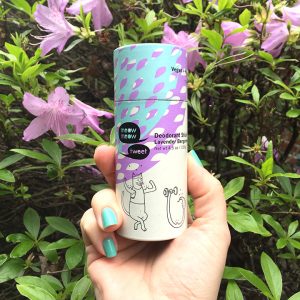 I'm not ashamed to admit that I sweat. A lot. I'm one of those people who can work up a good sweat just by walking to the mailbox. In warmer weather, I'm always faced with the dilemma of what to do about deodorant. Most of the natural brands just don't cut it and I don't like putting the harsh chemicals that can be found in drugstore brands on my skin. Thankfully, Meow Meow Tweet has come to my rescue this spring with their new Deodorant Sticks!
I was first introduced to Meow Meow Tweet's deodorant a few years ago when I was sent a jar of their Lavender Deodorant Cream to review. I loved how it kept me dry and stink-free all day, but my sensitive skin did have some issues with it. Fortunately, Meow Meow Tweet soon came out with Baking Soda Free Deodorant Cream that solved all of my problems. The deodorant creams come in glass jars, which can sometimes be an inconvenience, so once again, Meow Meow Tweet crew has worked hard to improve their product, and they've just launched a new Deodorant Stick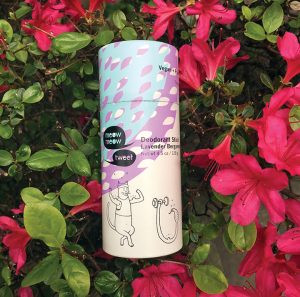 The Meow Meow Tweet Deodorant Stick is made with plant and mineral powders as well as sweet-smelling essential oils to keep even the sweatiest of chic vegans (i.e. me) smelling fresh all day long. Made with skin conditioning, organic plant oils and butters to moisturize and soothe even the most sensitive skin (i.e. mine).
The new Deodorant Sticks are available in two unique scents: Lavender Bergamot and Lemon Eucalyptus. Lavender and bergamot are two of my favorite scents, and the deodorant stick smells like a combination of sweet floral lavender with a hint of citrusy goodness. I'm told that the Lemon Eucalyptus smells fresh and clean with a spicy hint of clove.
These Deodorant Sticks work! They've kept me feeing dry and fresh for several weeks now, which means that I won't have to worry about hot summer months ahead. I love that they come packaged in a biodegradable cardboard tube. The Sticks are aluminum-free, and of course, they're vegan and cruelty-free. The new Meow Meow Tweet Deodorant Stick can be purchased here: http://meowmeowtweet.com/products/deodorant-stick