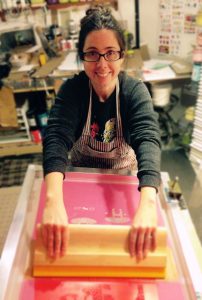 Laurie Johnston is the driving force behind Two Trick Pony, a Massachusetts based company that produces eco-friendly greeting cars and tote bags. She has a degree from the Rhode Island School of Design, which led her into the stationery industry, where she has been since 1997.
I recently had a chance to chat with Laurie. We talked about her company, veganism, and of course, food!
Chic Vegan: What motivated you to become vegan? Was it an overnight switch or more gradual shift?
Laurie Johnston: It was more of a gradual shift for me. I had been vegetarian since 1992 and then, in December 2010, I started volunteering at Maple Farm Sanctuary. Spending time around the animals was inspiration enough, but on top of that, the Sanctuary's founder Cheri Ezell-Vandersluis was also a big influence on me. She educated me about the horrors of the dairy and egg industries, and she suggested I watch Earthlings to witness them. It just took a few minutes of that hard-hitting documentary to make me realize going vegan was the right thing to do, but it took a couple of months of trial and error to go fully plant based!
CV: When people learn that you are vegan, what is the first question they ask and what is 

your response?
LJ: I get more statements than questions — "I could never go vegan, because I love cheese!" is a popular one, but it's one that I love hearing because it gives me an opportunity to talk about amazing plant-based alternatives. From Miyoko's cheese wheels to Follow Your Heart's shreds, there's a tasty, oftentimes healthier replacement for anything animal based that's a part of the standard American diet
The same goes for dairy. If milk or milk-based products are a hangup, I give suggestions about my favorite milks for baking, blending and sauce making. This article is one of my go-to references for instances like this!
CV: Tell me a little bit about Two Trick Pony.
LJ: Oooh, where to start? My little company has been around since 2006, creating bright, playful and retro-inspired cards, prints, invitations and custom designs. We love finding creative ways to help people stay connected through good ol' fashioned snail mail, and we do our best to leave a light hoof print (get it?) on the planet.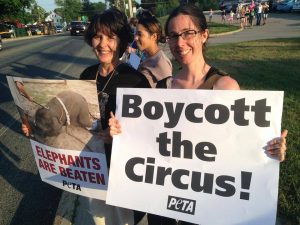 CV: Tell me more about that — What do does the company do to reduce its environmental "hoof print?"
LJ: It's all about reducing, reusing and recycling at Two Trick Pony! 
We start with recycling everything we can — paper scraps, ink containers, cardboard boxes and anything else with one of those handy little triangle symbols. All of our cards are also 100% post consumer waste recycled, since using the highest post consumer waste content available means we are preventing more paper waste from ending up in landfills. Our kraft envelopes and chipboard items contain recycled content, and our single cards are all packaged in biodegradable protective sleeves.
On top of that, our tote bags are made from 100% certified US grown organic cotton, we use natural cleaners around the studio with recycled cloth rags and we also use pre-loved shipping boxes and packing materials — oh, and we have solar panels on the roof of our home studio to reduce our use of fossil fuels!
CV: What motivated you to start your own company?
LJ: I started Two Trick Pony with a good friend and fellow designer. We shared a passion for creating fun, retro-inspired greeting cards that were super eco-friendly but didn't look "recycled" in the typical sense. We both had been working for other companies our entire careers and really wanted to try building something of our own.
Over the years, many things changed. She became a mom (an amazing one at that!), and I took over the business and also became vegan. I decided that I wanted to incorporate veganism into the business so I began donating products, money and time to organizations working for animals, which eventually led to the creation of our quarterly nonprofit partnership program. Now, Two Trick Pony donates 5% of sales (you read that right — I mean sales, not profits!) to a different animal-focused nonprofit every quarter. I also began adding vegan greeting cards and prints to the line, and now we offer organic tote bags with vegan messaging as well.
CV: What inspires you to create new designs?
LJ: A better question is what doesn't inspire me to create new designs 😉
I'm inspired by art, music, movies, nature and, of course, animals. Since inspiration can come from anywhere, it often strikes when I least expect it! You should see all of the scraps of paper around the Two Trick Pony headquarters and the running lists that I have on my phone.
CV: What advice would you give a budding entrepreneur who is hoping to start his or her own vegan company?
LJ: I would tell them that they're halfway there since they're passionate enough to want to put work into this cause, but that the other half is not for the faint of heart! I've heard over and over again from fellow small business owners that they may not have started their businesses if they were aware of how hard it would be! It's not that they regret it, they just didn't realize the amount of work that's required every single day.
I would also tell a new business owner to learn everything they can about marketing or to partner with someone who knows marketing, if they can. Spreading the word and expanding your network is key to making your business thrive!
CV: Now let's talk food! What is your favorite vegan indulgence?
LJ: I was hoping this question was coming! If I have to choose one, I'll go with ice cream. My husband — you may recognize him as Mr. Pony if you follow Two Trick Pony on Facebook and Instagram — and I have a nightly ritual of making healthy "nice" cream from bananas, but we have been known to venture to Providence for soft serve from Like No Udder or to Boston for a sundae from FoMu pretty regularly as well.
CV: What vegan product could you not live without?
LJ: This may not be the type of product you're expecting, but I'm going with my Vitamix since it's facilitated my plant-based lifestyle. I use it multiple times a day in order to make smoothies, sauces, soups — you name it and I've Vitamixed it!
CV: In your wildest dreams what will your life look like in 5 years?
LJ: Well, Two Trick Pony would be selling enough eco-friendly totes, prints and cards to allow me to make substantial, regular donations to organizations that save animals' lives. On a personal note, I would be living near the ocean in a very small — dare I say tiny? — house with Mr. Pony and traveling in search of the best vegan food and products whenever I want!