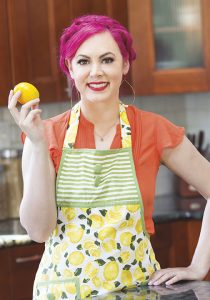 Sunny Subramanian was the first vegan beauty blogger to hit the scene back in 2007. She runs the website Vegan Beauty Review where she writes about the latest and greatest cruelty-free products, fashion, food and everything vegan in between. Sunny has has been featured in the LA Times, Women's World Magazine, Allure, and numerous other publications.
Having been vegan since 2000, her main goal is to show the world that veganism can be fun, beautiful, and delicious. In addition to being a hardcore cruelty-free beauty junkie, she also has an affinity for all things kitty-related, pink, glittery and sweet—especially cupcakes!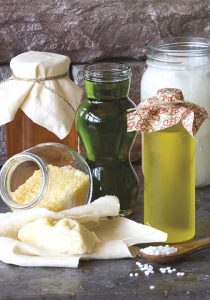 Chic Vegan: What motivated you to become vegan? Was it an overnight switch or more gradual shift?
Sunny Subramanian: I went vegan in 2000 after signing up for a philosophy in ethics course in college where the professor heavily focused on animal rights. Between reading Peter Singer's Animal Liberation and watching several PETA undercover factory farming investigations, I went vegan in a heartbeat – literally overnight.
CV: When people learn that you are vegan, what is the #1 question they ask and what is your response?
SS: The #1 question I usually get is "How do you do it?" For many, the thought of giving up animal products in somewhat unfathomable. When people ask me this, I usually just tell them about all the wonderful vegan substitutes that are available on the market. There is literally a vegan version of everything – meat, dairy, fish, eggs – it's amazing, and you never need to feel like you're missing out!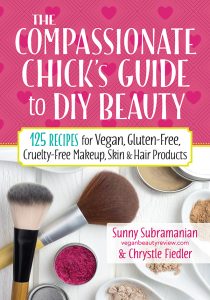 CV: Tell me a little bit about your new book The Compassionate Chick's Guide to DIY Beauty and what inspired you to write it.
SS: I really wanted to write a book that focused on vegan and cruelty-free beauty that was fun, accessible, and empowering. Making beauty products from scratch is such a gratifying feeling and you're 100% in control of the ingredients, so you can assure they're non-toxic, organic, highly effective, etc. These DIY beauty recipes are easy on the wallet, simple to whip up, and yield gorgeous results. They're great for gifting, too!
CV: Why should compassionate chicks DIY their beauty products, rather than buy them?
SS: Making beauty products from scratch ensures that they are are truly vegan, cruelty-free, and non-toxic. They're super duper affordable to make and a lot of the ingredients can already be found in your kitchen. My favorite part of DIY beauty recipes is that they're super easy to customize and cater to your specific needs.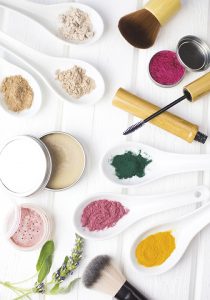 CV: Do you have any favorite recipes in the book?
SS: Ooh, I have so many! My top 3 picks are probably the Customizable Hemp Seed Facial Oil (it's a serious wrinkle fighter and leaves my skin baby soft), Pick-Me-Up Bath Fizzies (these are soon fun to make!), and the Unicorn Kisses Shimmer Lotion (well, because… unicorns and sparklies!).
CV: You've been writing about vegan beauty on your website VeganBeautyReview.com since 2007. Are you surprised by the amount of cruelty-free products on the market now?
SS: When I first started beauty blogging, I was familiar with practically every single vegan beauty brand. Now, there are SO many up and coming vegan and cruelty-free beauty lines that it's difficult to keep up. I love it – it shows that times are definitely changing! Veganism is becoming more and more mainstream and pooping up on people's radars.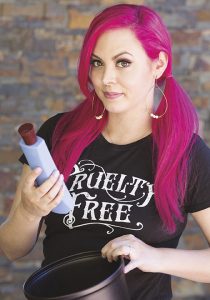 CV: What advice would you give to someone who is on a tight budget but wants to keep her beauty routine cruelty-free?
SS: Oh that's easy. I would definitely encourage DIYing it up! It's amazing how many chemicals, fillers, and animal ingredients are in expensive store bought beauty brands. You can make potent beauty products (and customize them so that they best suit your skin, boy, hair type) for pennies on the dollar. Seriously, just invest in some simple staples like coconut oil, jojoba oil, castile soap, shea butter, essential oils, candelilla wax and you'll be set up to make almost everything you could ever want!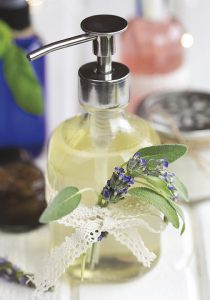 CV: What one vegan beauty product could you not live without?
SS: Lip balm, hands down. I think I'm addicted. I keep vegan lip balms in my purse (at least 3), my car, every room in my house, you name it!
CV: What is your daily beauty routine like?
SS: I'm a skincare junkie. I have separate morning and night beauty rituals. In the a.m., I wash my face with a mix of castile soap and jojoba oil, I use a rose water toner, eye cream, and daytime moisturizer. At night, I basically do the same thing, except I opt for a thicker eye cream and I slather on beauty oils (especially, argan, sea buckthorn, and rosehip seed oil) all over my face until I'm hella shiny, lol. I swear, this is the ultimate beauty secret for keeping skin youthful looking.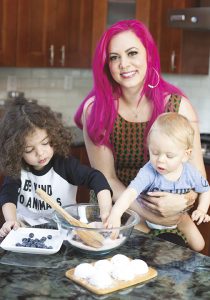 CV: In your wildest dreams what will your life look like in 5 years?
SS: In the next 5 years, I'm hoping to have written at least another book. I'm thinking something along the lines of a vegan mama lifestyle guide, since I've got two littles and motherhood is on my brain bigtime. I'd love to see Vegan Beauty Review continue to grown and morph into something bigger than I can imagine. Other than that, I hope to do a lot more traveling, see the world, and have some meaningful bucket list-worthy life experiences.