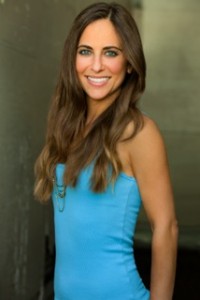 Rory Freedman is the coauthor of the best-selling manifesto Skinny Bitch, as well as the subsequent books in the series, which collectively have sold millions of copies. Her new book Beg: A Radical New Way of Regarding Animals (click HERE to read our review) is a battle cry on behalf of animals, as well as an inspirational, empowering guide to what we can do to help them.
An outspoken advocate for animals, Rory lives in Los Angeles with her beloved dogs: Timber, Joey, and Lucy.
CHIC VEGAN – YOUR BOOKS HAVE INSPIRED MANY PEOPLE TO GO VEGAN. WHAT MOTIVATED YOU TO CHANGE YOUR DIET? WAS IT AN OVERNIGHT SWITCH OR A MORE GRADUAL SHIFT?
Rory Freedman – I was in college and I got a magazine in the mail from PETA (People for the Ethical Treatment of Animals). It was the first time I was exposed to the concept of factory farming and what goes on inside slaughterhouses. I stopped eating cows, chickens, and pigs from that moment on. A year later, I got another magazine in the mail from PETA. This time there was an article about fish, written in first person person perspective of the fish. Soon after that, I learned about eggs and leather. And about ten years after my first conversion, I was at a Farm Sanctuary conference and saw video footage of dairy cows who were crippled, injured, and lame and whose udders were so grossly enlarged, they were dragging on the ground. That was the end of dairy for me.
CV – WHEN YOU CAME UP WITH THE IDEA FOR SKINNY BITCH DID YOU HAVE ANY IDEA THAT IT WOULD BECOME SO INCREDIBLY POPULAR AND INFLUENTIAL?
RF – I had the naivete of being a first-time writer and the good fortune of being exposed to the work of Dr. Wayne Dyer, Tony Robbins, and others. I believed that the Universe wanted this book to be out there and to succeed. Thanks to the passion of the vegan and animal rights community, the book had grass roots success right out of the gate. And about two years later, Victoria Beckham was photographed holding the book, which put Skinny Bitch in the media spotlight.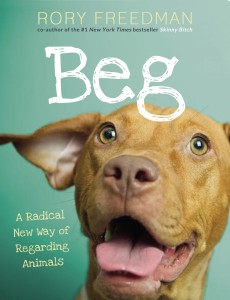 CV – CONGRATULATIONS ON YOUR WONDERFUL NEW BOOK BEG. WHAT INSPIRED YOU WRITE IT?
RF – I was happy to have exposed the horrors of factory farming and slaughterhouses in the Skinny Bitch series. But there was so much more that people needed to know about what happens to animals in everyday life. I wanted to get the word out there about all the issues—rodeos, zoos, circuses, leather, wool, fur, puppy mills, declawing, vivisection, etc.
CV – HOW HAS LIVING WITH DOGS AFFECTED YOUR LIFE?
RF – Oh, sigh. My dogs. I love them so much. They add so much love, fun, joy, and playfulness. But also a lot of responsibility. (I have three!) I've really gotten to see what it takes to show up for another being so fully and completely.
CV – YOU WALKED AWAY FROM A CAREER AS AN AGENT WITH THE FORD MODELING AGENCY TO BECOME AN ANIMAL RIGHTS ACTIVIST. WAS THAT AN EASY DECISION TO MAKE? DID THINGS HAPPEN EASILY AFTER THAT?
RF – People ask me about this a lot and comment on what an interesting story it is. So I talk about the transition in Beg. The decision was surprisingly easy. I had been growing more and more unfulfilled by my job but didn't have any ideas or plans for what to do about it. It was pretty magical how everything fell into place. I won't say it all went smoothly or that it was a straight path. But it definitely felt divinely guided, even when it was scary.
CV – WHAT ADVICE WOULD YOU GIVE NEW VEGANS WHO WANT TO HELP ANIMALS BUT ARE FEELING OVERWHELMED BY THE BURDEN OF IT ALL?
RF – Do the best you can, wherever you can. Progress, not perfection. Take things one day at a time, one meal at a time, one shopping excursion at a time.
CV – WHO ARE YOUR HEROES IN THE ANIMAL RIGHTS WORLD?
RF – All of them! Every single person, whether they're working full-time for a nonprofit or rescuing, fostering, protesting, outreaching, cooking, speaking, writing, on, and on and on. Anyone who's doing something to make a difference. We all have our individual parts and they're all vital.
CV – WHAT DO YOU TYPICALLY EAT IN THE SPAN OF A DAY?
RF – It all depends. I'm on my book tour right now so I'm having fun hitting up all the yummy veg restaurants and eating a lot of bread and fake meats. At home, I like to eat a lot of fruit, veggies, whole grains, and beans.
CV – WHAT IS YOUR FAVORITE VEGAN INDULGENCE?
RF – I'm a foodie, so I couldn't possibly pick just one. But I was just in Washington, DC yesterday, so Sticky Fingers is on my mind. 🙂 (That of course, makes me think of Vegan Treats, which I also LOVE.)
CV – IN YOUR WILDEST DREAMS WHAT WILL YOUR LIFE LOOK LIKE IN 5 YEARS?
RF – I try to stay in the present, since that's where life is. So I really have no idea or expectations about the future. I could decide tomorrow to mop floors for a living, move to another country, retreat to the woods and live off the land, or move to a busy city and wait tables. Or my life could look exactly the same as it is today and that would be great, too. It's all beautiful and exciting and possible and perfect.