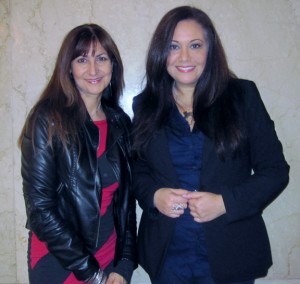 I met Adrienne Borgersen last year, when she was attending Victoria Moran's Main Street Vegan Academy and I was presenting a class. She is a Certified Image Consultant and Stylist, and soon after our meeting, she began contributing fashion articles to Chic Vegan. Adrienne and her friend vegan fashion designer Lois Eastlund are launching LA Fashionista Compassionista, a new vegan online fashion magazine, next week. I recently chatted with them to learn more about their work.
Chic Vegan: What motivated each of you to become vegan? Was it an overnight switch or more gradual shift?
Adrienne Borgersen: My motivation was always about the animals. It's so hard to believe how they are treated. But, it was a gradual shift for me. For the better part of 20 years, it was a battle of misinformation, peer pressure, family pressure and cultural upbringing. An Italian giving up meatballs & parm felt like a very big deal. I had finally resolved to be a strict vegetarian for a few years until late 2007 when I read Skinny Bitch. I heard about it from my friend Lesley, whose sister is co-author Rory Freedman. I didn't really know what it was about, but that book did it for me. Mainly, I just didn't know about the dairy & egg industry. The book opened my eyes to the extent of the torture and abuse with real sources I hadn't seen before. I became vegan New Year's Day 2008. I'm sure it's the only New Year's resolution I ever kept!
Lois Eastlund: I hadn't eaten meat since my early 20's. I never liked the taste of it! I never ate my mother's meatballs, (which apparently were incredible), or her meatloaf. It all looked icky to me. I did eat fish, poultry, etc. And lots of cheese, as I'm also Italian. I would turn everything into pizza, with melted mozzarella on top. In 2011, I was invited to a screening of "Forks Over Knives" at Whole Foods. That was it for me. I've been pretty healthy, never get sick, but if I could continue to do so, with the help of a good clean diet, even better!
CV: When people learn that you are vegan, what is the #1 question they ask and what is your response?
AB: The most common question I get is, "What do you eat?" I now start my answer with an icebreaker, a joke my comedian friend Harris Bloom wrote. I say, "Oh, I don't need to eat, I'm filled with smug self righteousness." After they laugh, I find they're at least open to my real answers…Rice, beans, grains, fruits, veggies, nuts & seeds. For your meal, there is probably one main dish and various sides. My meal, IS the side dishes. I pump them up with lots of flavor and there is tons of variety. And yes, I still drink wine and have dessert. It's possible!
LE: Same for me, "What do you eat?". I tell them I eat real food. Fruits, veggies, beans, grains. And dark chocolate. I can't exist with dark chocolate! (Vegan, of course).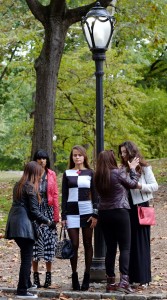 CV: Tell me a little bit about your new magazine LA Fashionista Compassionista and what inspired you to create it.
AB:  I am so excited about this. Lois and I have been volunteering for various vegan events and since we work well together, wanted to do our own project together.  We had a table at The Seed festival this year, showing her designs and doing mini makeovers, to share our knowledge of animal friendly fashion & promote our businesses. I created a brochure and a free e-booklet called How to Be A Veganista Fashionista Compassionista, to offer guests at the festival. People seemed really interested in the information and kind of blown away at the long list of alternatives we offered. I also spend a fair amount of time thumbing through fashion magazines. It's frustrating seeing all the leather, fur, wool, etc. and products that are tested on animals. I'm always jotting down notes on what I would recommend instead, so I have that in my arsenal for my Image Consulting clients. I've been searching for an all vegan fashion magazine, but if there is one, I don't know about it. So I finally thought, why not create one? I talked to Lois about it, she agreed and we just figured it out, from there!
LE: I think Adrienne explained it perfectly!
CV: What type of stories should we expect to see in LA Fashionista Compassionista?
AB: We want it to look like any other fashion magazine. We want to appeal to all fashionistas and show that day to day, the compassionate lifestyle is largely like anyone else's. We didn't have to give up our style and beauty routines to be more conscious in our choices and neither do you.
Our premier issue features Victoria Moran, who is a Fashionista Compassionista, if I've ever met one! She is just an amazing, beautiful woman and her story is so interesting. What a coup for us! There will be a fashion editorial about the latest trends and how to shop in your own closet. We have a beauty section and a holiday wish list from some of our favorite people in the vegan community.   As the magazine evolves, we want to answer questions and feature new innovations in fabrics and textiles as well as bring in other collaborators. We want it to be informative, but fun and easy to read.
LE: It's important that people know that it's unnecessary to use any animals or animal products to be stylish and chic!
CV: Right now LA Fashionista Compassionista is an online magazine. Do you plan to move to a print format any time soon?
AB:  I like the idea of having it online and eco-friendly. The internet is how people receive most of their information today. As a NYC woman who walks or takes public transportation everywhere, having one less thing to carry, is important to me! The magazine will also have hyperlinks so you can instantly access brands & info that interests you. But as the magazine evolves, if there is demand for a print version, we'll look into that.
LE: I read everything online now, that's the future of media!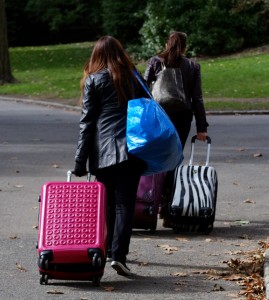 CV: Who are your favorite vegan designers?
AB:  Well, there's Lois Eastlund, of course! Really, her jersey-knit dresses are comfy, stand out and multi functional. For shoes, Mink Shoes, Neuaura, OlsenHaus, Cri de Couer. Handbags, I have a lot of Matt & Nat. I love Vaute Couture coats – I have 3! Brave GentleMan is brilliant for menswear. Mostly for clothing, though, I go for mainstream designers and choose the pieces that are vegan friendly. I think it's important to also buy mainstream, so the companies already thriving want to make more in those fabrics. Supply & demand, you know. I love what Kenneth Cole is doing with stretch fabrics and faux leather. I also have some great pieces by Catherine Malandrino. Frankly, I would like to see more vegan clothing designers in an affordable price range, but I know how difficult that is if it's not mass produced.
LE: Thanks Adrienne! There are so many "accidentally vegan" designers out there. I was one before I went vegan, as my designs were always vegan. So it's important to read labels and see who might already be offering vegan clothing. John Bartlett is one who stands out for me.
CV: Are there are up and coming vegan clothing or accessory companies that Chic Vegan readers should know about?
AB:  I'm writing reviews for Chic Vegan on Truth Belts and Sous Sus handbags. So, watch for those two fab designers right now!
CV: What would you say are the top 3 essential items that compassionate fashionistas should have in their closets?
AB:  Tunic tops, jeans that fit your body type (not necessarily the trend) and a functional handbag that reflects your personality, whether it's with color, studs, fringe, patchwork, etc.
LE: Classic trench coat, a good pair of jeans, and a signature accessory that makes them feel special!
CV: What one article of clothing could you not live without?
AB: I have this black, plaid, cotton, tunic length shirt with studs covering the collar by Equipment. It's chic but rock & roll, I love it. I'm having the seams repaired again right now. I'll wear that thing until it falls apart…which will make me very sad.
LE: My Levi's.
CV: In your wildest dreams what will your life look like in 5 years?
AB: I have never planned my future, I don't know if that's good or bad, I love where life just takes me. Right now, if I had to choose, it would be amazing if we built a solid business with the magazine and we could support other vegan companies. I'd still be living in NYC with my fur babies, perhaps a significant other. I'd be traveling more, but mostly enjoying all there is to offer in this great city!
LE: I'll definitely still be living in NYC, love it here! The magazine will be big success, and Adrienne and I will have an "actual" office! In addition to my dress line, I will have a fitness line, and a bra line, and maybe be a pilates instructor!