Kim-Julie Hansen is the popular blogger behind the brands Brussels Vegan, Best of Vegan, Vegan Reset, and the Vegan Challenge and the author Vegan Reset. She became an ethical vegan in 2011 and, in 2013, started sharing her passion online to show people how easy it can be to adopt a vegan lifestyle. She is also a certified yoga instructor and loves to travel. Originally from Brussels, Belgium, she now lives in New York City. Visit kimjuliehansen.com for more information and follow her @kimjuliehansen on Instagram.
I recently had the opportunity to chat with Kim-Julie. We discussed veganism and food, of course!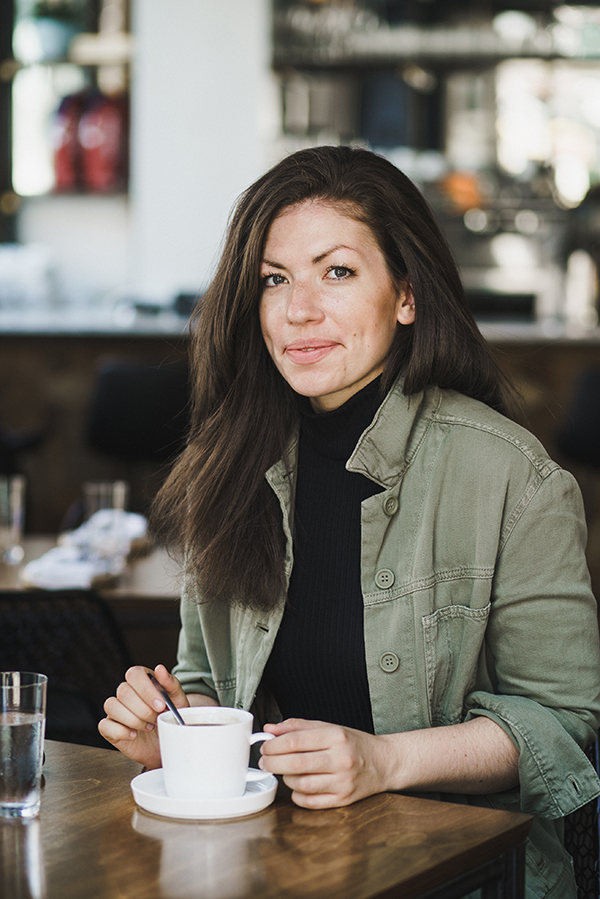 Chic Vegan: What motivated you to become vegan? Was it an overnight switch or more gradual shift?
Kim-Julie Hansen: It was unexpected, overnight and for ethical reasons. I read a passage in Gail Eisnitz' book Slaughterhouse and had an awakening of sorts. I had never been an animal person and I loved processed foods, including lots of meat, eggs and dairy, so this came as a surprise to everyone.
CV: Did you notice any changes in yourself when you became vegan?
KJH: Yes, initially just physical changes, I started feeling better overall, less tired and more energized. The mental changes and long-term physical changes came gradually. Being vegan means constantly having to explain and justify your lifestyle, which forced me to approach things differently, but also to listen to others and hear their concerns more. After a while, both my allergies and chronic migraines I had been suffering from for most of my life started disappearing.
CV: When people learn that you are vegan, what is the first question they ask and what is your response?
KJH: The three most commonly asked questions are 1. But where do you get your protein? 2. So what can you eat? and 3. Don't you miss it?
The protein question is something I personally wondered about as well before going vegan and it's very easy to respond to. You can find plenty of protein in plants. What most people don't realize is that the animals we eat for protein, including cows and chickens, get their protein from plants as well, but the myth of protein only being available from animal sources is something we keep telling ourselves to justify killing animals for food when in reality, we really don't need to. To the second question I usually respond that I can eat anything a non-vegan eats, I just find veganized versions. There's vegan bacon, vegan eggs, vegan cheese, vegan milk. I didn't stop eating animal products because I didn't like them, I actually loved them. I stopped because I could no longer morally justify it, so even though many people criticize these alternatives, I think they're amazing. When I'm home, however, I usually cook very unprocessed meals using fresh fruits, vegetables, legumes etc. To the third question I would respond that interestingly, I have never missed meat or fish, but I have missed cheese at times, although not enough to eat it again. I just eat vegan cheese instead.
CV: Tell me a little bit about Vegan Reset and what inspired you to write it.
KJH: My book is basically the guide I would have needed to go vegan and to adopt a plant-based whole foods diet. I spent years researching and trying to figure out how to juice, make smoothies, cook simple yet delicious meals, get all the nutrients I need etc. It isn't only for beginners though, it's also for people who are already vegan but who want to learn more about meal prepping and a holistic lifestyle. More than just focus on food, the book includes also lifestyle tips. On a more personal level, the book was inspired by my dad who died of a heart attack shortly before I went vegan. He was only 53 but living an incredibly unhealthy lifestyle and I was following in his footsteps. I knew nothing about how to live a healthy life, so this book is also dedicated to those who don't believe that veganism is for them or who feel too overwhelmed to even give it a try.
CV: What are your favorite recipes from the book?
KJH: My personal favorites are most of the pasta recipes, including the creamy mushroom penne, the nutmeg spinach pasta and the mac'n cheese. Two other top favorites are the carrot coconut soup and the pumpkin spice granola.
CV: What inspires you to create a new recipe?
KJH: The ingredients themselves. I love experimenting in the kitchen and usually start with one or two ingredients and then see how I can combine them and pair them with the right spices and other condiments. Sometimes I'll also remember a dish my mom or grandmother used to make and then use that as inspiration.
CV: What advice would you give to someone who wants to go vegan but isn't sure where to start?
KJH: Go at your own pace. That can be overnight, or it may take ten years. If they feel overwhelmed or intimidated by veganism, I'd tell them to start with one meal a day or even a week. The easiest way to start is to think of your favorite non-vegan recipes and then finding ways to veganize them. If a recipe includes eggs, for instance, simply google "vegan egg alternative".
CV: What is your favorite vegan indulgence?
KJH: Vegan donuts, for sure. I also love vegan macarons and anything sweet.
CV: What vegan product could you not live without?
KJH: Nutritional Yeast and tahini.
CV: In your wildest dreams what will your life look like in 5 years?
KJH: If you had asked me this question a year ago, I would have said growing my company working night and day. A lot has changed for me over the past months and my priorities have shifted, so now I would probably say living a simple yet comfortable life, traveling a lot and impacting people on a personal level, writing more books and enjoying life. It goes by fast. I still want to grow my company, but in a more meaningful way and not at the expense of my peace of mind.