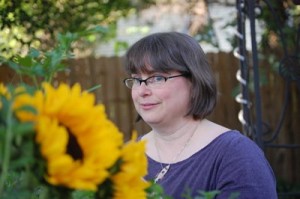 I bought a slow cooker a few years ago, because it seemed like the type of thing a person who likes to cook should have in her kitchen. I didn't use it too much until I received Kathy Hester's first cookbook The Vegan Slow Cooker, and then I began using it nonstop. Who knew that you could cook dried beans in a slower cooker so easily?
Speaking of beans, Kathy's second cookbook, The Great Vegan Book was just released from Fair Winds Press last month. It's a gorgeous book packed with recipes for everything from breakfast and soups to casseroles and desserts, and there are tons of gorgeous photos. I'm looking forward to spending some time cooking my way through it!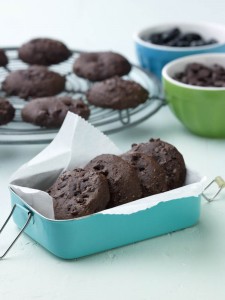 Kathy lives in Durham, NC with her 2 cats who would rather not live together, a cute dog with a belly rub addiction, her very own picky eater, a kitchen garden, and more slow cookers than one person should own. She writes a vegan slow cooker blog and writes a vegan column for Key Ingredient on their blog every Wednesday. When she's not blogging or developing new recipes Kathy teaches classes and writes articles about eating healthier, menu planning and cooking for picky eaters.
CHIC VEGAN – WHAT MOTIVATED YOU TO BECOME VEGAN? WAS IT AN OVERNIGHT SWITCH OR MORE GRADUAL SHIFT?
Kathy Hester – I became vegetarian when I was 18. Over the years I ate less and less dairy and when I found out more about the cruelty involved it was easy to leave them out of my diet.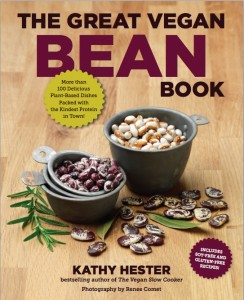 CV – CONGRATULATIONS ON THE GREAT VEGAN BEAN BOOK! TELL ME A LITTLE BIT ABOUT IT AND WHAT INSPIRED YOU TO WRITE IT.
KH – My publisher wanted a bean book and developing the recipes gave me a chance to be really creative.  I was able to showcase all kinds of beans in every course I could think of – including breakfast and dessert. You can get some of the recipe from it on the blog tour here: http://healthyslowcooking.com/great-vegan-bean-blog-tour/
CV – YOUR FIRST COOKBOOK THE VEGAN SLOW COOKER REALLY HELPED ME GET USED TO USING A SLOW COOKER. WHAT GOT YOU INTO CROCKPOT COOKING?
KH – I love slow cookers. I used my Mom's when I was in grad school because I was too poor to eat out. But with the slow cooker and beans I fed myself and all my friends for cheap. My favorite thing about them is they cook while you're out at work or while you sleep through the night.
CV – HOW MANY SLOW COOKERS DO YOU OWN?
KH – It varies and I do keep giving some away. But I would say with working on the last slow cooker book I'm probably over 15 again… That's why I usually say I have more slow cookers than anyone should be allowed too!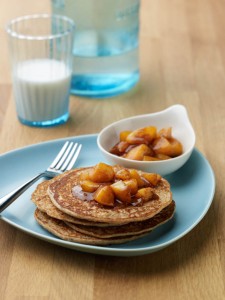 CV – ARE THERE ANY MORE COOKBOOKS PLANNED FOR THE FUTURE?
KH – Yes, I actually have a new one coming out this fall – Vegan Slow Cooking for Two or Just You. I have more cookbook ideas that I hope to work on after that one comes out.
CV – DO YOU HAVE ANY FAVORITE DISHES FROM YOUR COOKBOOKS?
KH – I love the Devils food double chocolate chip cookies made with black beans, the gluten and soy free bean and grain chorizo, apple sage sausage and all the Indian dishes are staples in my house.
CV – DO YOU HAVE ANY ADVICE FOR ASPIRING COOKBOOK AUTHORS?
KH – I would talk to other authors. I've found that the vegan cookbook author community is an incredibly supportive one.
When the time comes I recommend using an agent. I'm with the Lisa Ekus Group now and she negotiated my last 2 books.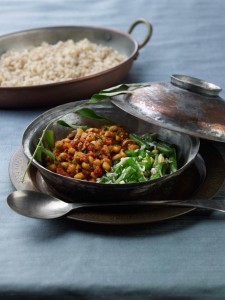 CV – WHAT DO YOU TYPICALLY EAT IN THE SPAN OF A DAY? ARE YOU A SNACKER?
KH – On a good day I have one of my oatmeals (http://healthyslowcooking.com/category/love-your-oatmeal-celebration/) for breakfast with a cold brew coffee or hot tea, some fruit for a mid-morning snack, lunch is often a soup, stew or leftovers from dinner. Depending on when dinner will be I might have a snack of peanut butter on thin rice cakes. I tend to eat meals early if at all possible. On a bad day I have too many sweets and a dip dinner.
CV – WHAT IS YOUR FAVORITE VEGAN INDULGENCE?
KH – Eating out at all the new veggie restaurants in my area. The chick'n and waffles and faux bbq at Fiction Kitchen are wonderful as is the seasonal farmers market plate.
CV – WHAT ONE FOOD COULD YOU NOT LIVE WITHOUT?
KH – That's so hard to answer. Since it's summer it would have to be berries and stone fruits, but I can't survive without fresh mint, basil and lemon verbena either!
Food photos copyright 2013 Renee Comet.