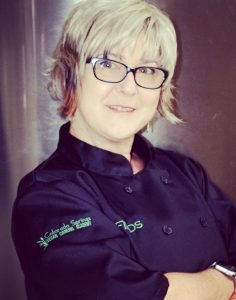 JL Fields is an author, culinary instructor, columnist, speaker, activist, and radio personality. She is the author of Vegan Pressure Cooking: Delicious Beans, Grains and One-Pot Meals in Minutes and co-author of Vegan for Her: The Woman's Guide to Being Healthy and Fit on a Plant-Based Diet. She is also a brands consultant for a variety of national companies. The blogger of JL Goes Vegan.com has received culinary training at the Natural Gourmet Institute and the Christina Pirello School of Natural Cooking and Integrative Health Studies. She is a Main Street Vegan Academy-certified Vegan Lifestyle Coach and Educator and a certified Food for Life instructor with Physicians Committee for Responsible Medicine (PCRM). She writes and broadcasts from Colorado Springs, Colorado.
JL first met five years ago when we were attending Victoria Moran's Main Street Vegan Academy together, and we've remained friends every since. Her newest cookbook The Vegan Air Fryer just hit bookshelves a few weeks ago, and we got together to chat about air frying, pressure cooking, and veganism.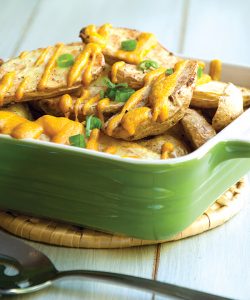 Chic Vegan: What motivated you to become vegan? Was it an overnight switch or more gradual shift?
JL Fields: I went vegetarian in my late 30's after an incident with a goat in Kenya. Basically, I was attending a celebration, a goat was led in, slaughtered and stewed and served for dinner. That was the last time I ate meat. I became a vegan eight years later.
CV: Your husband Dave didn't go vegan at the same time you did. Did you run into any issues living together?
JLF: We really didn't. I always say that the way we handled any other difference of opinion in our marriage manifested in the same way. Respect for one another's ethical position without pushing it on the other.
CV: What advice would you give to a vegan living with an omnivore?
JLF: Patience, patience, patience. I never asked Dave to go vegan. I simply stated that I didn't want to purchase meat or animal products, nor did I want to cook with either. So he cooked for himself and did his own shopping for years. (Because food is my job, you can imagine that he ate a lot of vegan meals as a result.) Because I'm active in the vegan community, Dave attends lots of events with me. It was the screening of Cowspiracy several years ago that did it. On our drive home from the film me simply said, "Okay. I'm vegan." I lovingly refer to him as the reluctant vegan. He's not necessarily as thrilled or gung-ho about it as I am, but it's now his moral position, too, but from an environmental perspective. So be patient. And live your truth. And share your joy. And remember that every compassionate move you make is being witnessed and could lead to a change.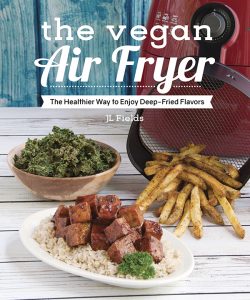 CV: Tell me a little bit about new cookbook The Vegan Air Fryer and what inspired you to write it.
JLF: I bought an air fryer just over a year ago. As soon as I made French fries and tofu in it I knew it was a game changer. There wasn't a single vegan air frying cookbook out so, since writing cookbooks and teaching cooking skills is my job, I figured I should write the first!
CV: What are the benefits of cooking with any air fryer?
JLF: First and foremost, you can enjoy really yummy, tradiotionally fried foods with little or no oil. I love me some oil but now I can spritz barely 1/8 to 1/4 teaspoon of oil mist over food and get an incredibly crispy, golden result (rapid hot air circulates around the food in the air fryer). But, more practically, it's a great alternative to creating messy food (grease and oil), it's easy to clean, there's no lingering fried food smell, and you can even bake in it which means in the summer you don't have to overheat your house with an oven when you can bake in the air fryer in half the time.
CV: You're also known for your cookbook Vegan Pressure Cooking. What do you love about pressure cooking?
JLF: Good food fast. That's it! Following a vegan diet, beans and grains are staples. And these are longer-cooking foods. Compound that with living at 6,200 feet and it takes even longer. Pressure cooking allows one to cook up soaked beans in minutes versus hours and the same with grains.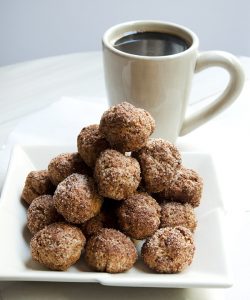 CV: Tell me a little about Colorado Springs Vegan Cooking Academy.
JLF: Well, my little culinary school is a dream come true! Five years ago I left a 25+ year career in the nonprofit sector to become a "professional vegan." Simply put, I wanted to spend 24-hours a day moving forward a vegan message but mamma's gotta a mortgage and bills! I became an enthusiastic vegan cook at the age of 45 and started taking cooking classes and writing classes to community to others how they could become one, too. Then I started teaching cooking classes at farmers markets and the like and realized I was really good at it. So as I began writing vegan books, I honed my cooking and teaching skills to the point that I felt comfortable applying for a university teaching job. Last year I joined the culinary arts faculty at the University of New Mexico-Taos – teaching Fundamentals of Vegan Cooking to future chefs – and that compelled me to create a program in my hometown of Colorado Springs. My Academy is for home cooks, paraprofessionals and chefs and restaurant owners. During a spring class I had a brewery owner and his kitchen manager in my class alongside home cooks and vegan newbies. My upcoming classes range from a Seitan and Soy Curl class to Compassionate Cooking for Kids to a three-week Fundamentals of Vegan Cooking for beginners to the vegan lifestyle. Sometimes I have to pinch myself. I'm living and working my vegan passion!
CV: What is your favorite vegan indulgence?
JLF: Hmmmm. Since I never consider any vegan food an indulgence (if it's vegan, it's a-okay in my book) I'd say my vegan indulgence is handbags. I'm basically obsessed with gorgeous, compassionate, future-forward materials used for handbags, shoes, belts, and more.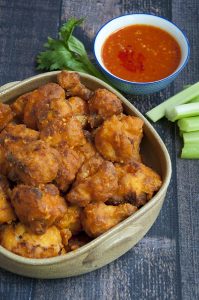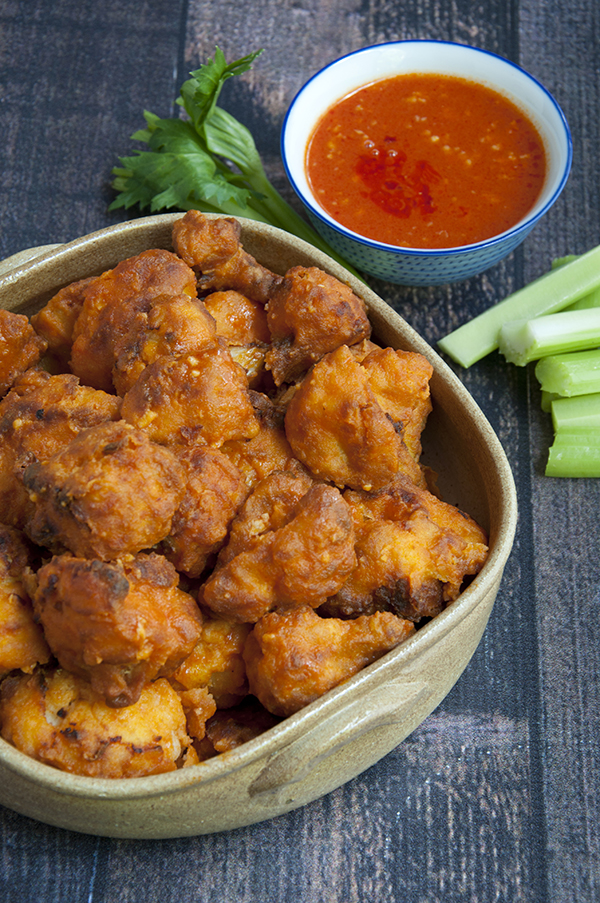 CV: What vegan product could you not live without?
JLF:  Soy curls are my jam. They are perfect in salads, fried (air fried, natch), baked, broiled, grilled and more. And to broaden it out, I'd say soybeans, in general. From tofu and miso paste to soy candles versus beeswax, that mighty soybean is basically magic.
CV: In your wildest dreams what will your life look like in 5 years?
JLF: Five years from now I will have a few more cookbooks out in the world and ideally I will have a version of my Colorado Springs Vegan Cooking Academy in two other parts of the world. I'll be nearing the age of 60 and I hope that I can sustain a lifestyle in which I live in two or three parts of the world throughout the year and that wherever I am I'm teaching other how to eat delicious vegan food in simple ways that will encourage even more people to eat vegan. For the animals!
Food photos by Michelle Donner.