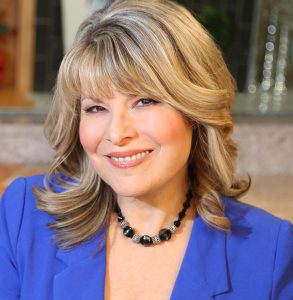 Laura Theodore is a recognized public television personality, vegan chef, radio host, cookbook author, and award-winning actor and recording artist. Laura is the on-camera host of the highly successful, Jazzy Vegetarian vegan cooking series on public television and host of the popular podcast radio show, Jazzy Vegetarian Radio.
Laura is author of four vegan cookbooks, including Laura Theodore's Vegan-Ease,  Jazzy Vegetarian's Deliciously Vegan, Jazzy Vegetarian Classics and Jazzy Vegetarian. Laura is recipient of the Taste Award for Best Health and Fitness Program (Food and Diet), and she wasrecently inducted into the Taste Hall of Fame. Laura's first restaurant, The Jazzy Vegetarian Vegan Café, recently opened Hendersonville, NC.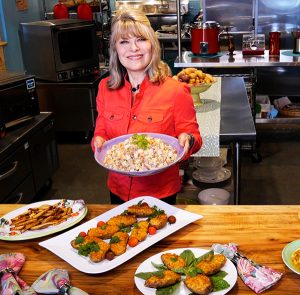 Chic Vegan: You're known for your television show, Jazzy Vegetarianon PBS. You're one of the first people to have a vegan cooking show on national television. How did it come about?
Laura Theodore: I have always been a 'show-biz' kind of girl. When I was three years old, my Grandpa had a video camera, and I would dance andsing, for the camera! I have always been a foodie too, standing on a stool and cooking with my Grandma in her kitchen when I was three or four.
When the Food Network premiered in the late 1990's, I became determined to have my own plant-based cooking show on television. It took quite a few years, but in 2011 we launched the first season of my vegan cooking series –Jazzy Vegetarian–on public television.
Now, eight years later, we are honored and pleased to be entering Season Seven of Jazzy Vegetarian,our three-time TASTE award-winning series! With 88 episodes under our belts, the show is available in over 90% of US households! Throughout the summer, you can tune into Season Six of Jazzy Vegetarianon the Create Network, every Monday and Friday at 7:30am and 1:30pm EST.
Season Seven will premiere on September 29th, 2018 (check your local listings) and was filmed in the kitchen of my beautiful new vegan café in Hendersonville, North Carolina!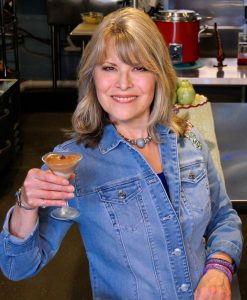 CV: You've just entered the world of restaurateur. Can you tell us a little about The Jazzy Vegetarian Vegan Café?
LT: Thanks for asking! Five years in the making, The Jazzy Vegetarian Vegan Café,
is a plant-based, fast-casual style eatery, committed to serving healthy and delicious vegan food, where whole foods are the star of the menu. The kitchen is 100% vegan – free of all animal products (free of dairy, eggs, honey and meat) and our menu features many of the fan favorite recipes from the Jazzy Vegetarian vegan television show, along with new offerings created specifically for the cafe.
CV: What inspired you to open your own café?
LT: I feel that if folks have the opportunity to eat affordable vegan food that mimics the look, feel and taste of the classic American-style dishes, more people will be inclined and inspired to add more plant-based recipes into their meals. Good for the planet – good for the animals – good for us!
CV: What types of foods will you be serving at The Jazzy Vegetarian Vegan Café?
LT: We are serving a festive and fun pub-style menu, highlighting items to please vegans, vegetarians andomnivores alike. We are featuring vegan twists on American classics like our vegan burgers (Ultimate Jazzy Burger, Chili-Cheese Burger, Hawaiian-BBQ Burger and Kick-Ass Slaw Burger), our New York style vegan pizzas (Classic "Pepperoni" Pizza – made with Violife Vegan Cheese and freshly milled flour from the Historic Old Mill of Guilford –, Vegan Margherita Pizza, and  Greek-ish Pizza) our Jazzy V Chili, quesadillas, festive salads, wraps, nachos (and more) – along with "small bites" and a fun "kiddie menu," all fashioned to pair with the Sanctuary Brewing Company's excellent vegan craft beer.
If you have a sweet tooth, the café offers up our "Chocolate Bar" featuring dazzling desserts made with Pascha Chocolate; like Laura's world famous Pots De Crème.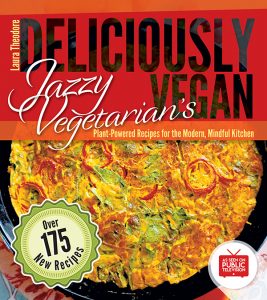 CV: You also have a brand new cookbook called Jazzy Vegetarian's Deliciously Vegan. What types of recipes can people find inside? 
LT: My newest cookbook, Jazzy Vegetarian's Deliciously Vegan: Plant-Powered Recipes for the Modern, Mindful Kitchen is acomprehensive guide to vegan eating. It is a full color, 320-page cookbook with beautiful photos on nearly every page. In addition to over 175 plant-based recipes, I have included my top ideas on what it takes to stock and cook in a well-equipped vegan kitchen, with my essential Top Ten lists:
Ingredients to have on hand at all times in your pantry
Effective egg substitutions for baking
Delicious options for making vegan cheese and cream
Two-ingredient recipes
Herbs and spices to always keep in your kitchen
From simple snack ideas – to enticing entrées – to mouthwatering desserts, the cookbook features delectable main dish recipes like Tofu-Teriyaki Kebabs, Sunny Black Bean Burgers and Gingered Portobello Steaks. Crowd-pleasing party foods include Guacamole Mini Peppers, Chili-Maple Almonds and Miso Hummus. Vegan Burritos with Tofu Queso Fresca, Golden Cashew Milk and Seitan Fajitas round out diverse dinner menus. And for dessert – plenty of scrumptious sweets to choose from, like Lively-Lemon Cupcakes, Sweet Potato Pie and Divine Chocolate Mousse Cake.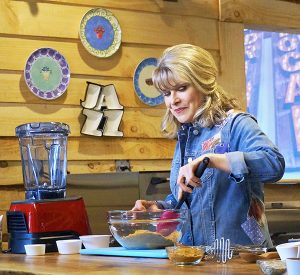 CV: What advice would you give someone who wants to go vegan but doesn't know how to start?
LT: Folks often ask me, "Laura, what inspired you to become vegan?" My personal reasons for embracing a vegan diet are threefold: my compassion for animals, my desire for better health, and my aim to be more environmentally responsible. I am a vegan who started by first by giving up red meat over 30 years ago. Then I gave up chicken, dairy, fish, then I gave up eggs  – until I was completely vegan.
Many people ask me – How do I start on the path to becoming vegan full time? I say –Take it one meal at a time. If you have never eaten a vegan meal before, start by adding one plant-powered meal per week into your menu plan, then progress at your own pace from there! That way, it's easy!
Begin by serving one, non-meat, plant-based meal each week for dinner. Try preparing hearty and satisfying favorites like Chili, Spaghetti, Veggie Burgers, Soups, Lasagna and other dishes that can easily be made vegan, while still having the mouth-feel and taste of the "meat-centric" versions. From hearty main dishes, to decadent desserts, the vegan diet offers a wide range of options. And best of all, you'll be making the world a better place, one tasty recipe at a time.
CV: What will you be cooking up next? Do you have any other projects in the works?
LT: We are always cooking up something new in the Jazzy Vegetarian Kitchen! New recipes – a new television season – a new cookbook – and a brand new café are keeping me busy!
I hope you will visit my new café located at: Jazzy Vegetarian Vegan Café, at Sanctuary Brewing Company, 147 1st Ave East, Hendersonville, North Carolina, 28792. Learn more at www.jazzyvegetarian.com. Plus, tune into Season Seven of Jazzy Vegetarian on Public Television, starting September 29th2018!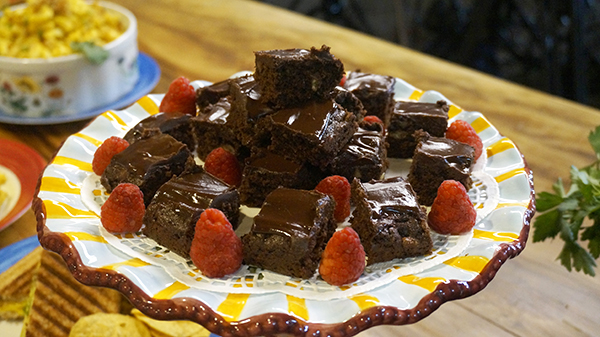 Cocoa-Cake Brownie Bites with Creamy Chocolate-Peanut Butter Frosting
Ingredients
BROWNIES
1¼ cups whole wheat pastry flour
¼ cup plus 2 tablespoons unsweetened cocoa powder
1 teaspoon baking powder
¼ teaspoon baking soda
⅛ teaspoon sea salt
2 tablespoons flaxseeds
⅔ cup packed dark brown sugar
¾ cup sweetened nondairy milk
½ cup vegan margarine, melted
½ cup chopped pecans
FROSTING
½ cup vegan chocolate chips
2 tablespoons plus 1 teaspoon peanut butter
3 tablespoons sweetened nondairy milk
1 tablespoon maple syrup
Instructions
Preheat the oven to 350 degrees F. Lightly coat a 9-inch square baking pan with vegan margarine. Line the pan with unbleached parchment paper, leaving 2-inch wings on two sides of the pan.
Put the flour, cocoa powder, baking powder, baking soda, and salt in a large bowl and stir with a dry whisk until combined. Put the flaxseeds in a high-speed blender and process into fine flour. Add the ground flaxseeds to the flour/cocoa mixture and stir with the whisk until combined. Add the sugar and whisk until almost no lumps remain. Add the nondairy milk and melted margarine, and stir, just until moistened and no bits of dry flour remain. Fold in the pecans.
Pour the batter into the prepared pan and smooth the top with a rubber spatula. Bake for 17 to 20 minutes, or until a toothpick inserted into the center of the brownies comes out clean. Put the pan on a wire rack and let cool about 20 minutes before frosting.
Meanwhile, to make the frosting, put the chocolate chips, peanut butter, nondairy milk, and maple syrup, in a double boiler. Cook, over low heat, until the chocolate chips melt, stirring occasionally, to thoroughly combine the frosting. Let cool 3 to 5 minutes.
Spread the frosting over the brownies. Put the brownies in the freezer for 5 to 10 minutes to allow the frosting to begin to set before slicing. Return to the cutting board and, using the paper "wings," gently lift the brownies out of the pan and place them on a cutting board. Cut into 30 "bites" or 15 larger brownies. Refrigerate about 30 minutes, until frosting is firm, before serving. Covered, and stored in the refrigerator, the brownie bites will keep for about 3 days.