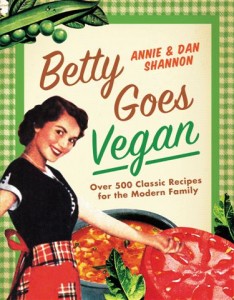 Like many others in the vegan community, I had been eagerly awaiting the arrival of Betty Goes Vegan by Annie and Dan Shannon for some time. With mouthwatering recipes for dishes like Seitan Coq Au Vin, Breakfast Tacos and Spaghetti Pie, the Shannons' veganization of the classic 1950s red Betty Crocker cookbook has been wildly popular on the couple's Meet the Shannons website. I'm happy to say that I wasn't disappointed when the book arrived. At close to 500 pages, Betty Goes Vegan is now the thickest cookbook in my collection, and with more than 500 recipes, I could cook from it for the next year and never make the same thing twice.
The mainstream world seems to have taken notice too, as the couple has been super busy promoting the book, including making an appearance on The Today Show, where they cooked up some vegan goodies for Hoda and Kathie Lee. Fortunately, I was able spend some time with Annie recently to discuss going vegan, Betty Crocker and lobsters.
CHIC VEGAN -THE TWO OF YOU ARE ONE OF THE CUTEST COUPLES IN THE VEGAN COMMUNITY. HOW DID YOU MEET?
Annie Shannon – We met while working at People for the Ethical Treatment Animals back in 2004. Dan was working in the factory farming campaign and I was in the captive animals campaign. My first day they sat me down at an empty desk next to Dan's and it all started from there. For several years, we were best friends who lived in different cities and dated other people until we decided that we were going to stop being silly and settle down. I'm incredibly lucky to have found someone to share my life with who is just as dedicated to making the world a better place for animals and people and who is willing to eat all my experimental cooking.

CV – WHAT MOTIVATED EACH OF YOU TO GO VEGAN? WERE YOU VEGAN WHEN YOU MET?
AS – We had both been vegan for many years when we met. I first went vegan when I was 14. The day had started with a bacon and egg breakfast sandwich from Burger King. That afternoon, I was skateboarding on the college campus near my home, where a bunch of older kids started telling me all about factory farming. This was so long ago that I had to go look things up in an encyclopedia to confirm what they were telling me—I thought they were pulling my leg. Dan has a similar story—he used to go to a lot of local punk rock shows in high school, and he remembers one night when some local activist put a PETA leaflet about veganism in his 16-year-old hands. The rest was history.
CV – CONGRATULATIONS ON BETTY GOES VEGAN! WHAT INSPIRED YOU TO VEGANIZE THE BETTY CROCKER COOKBOOK?
AS –The Betty Crocker brand has an impeccable reputation for showing people how to use everyday ingredients to their full potential. When we were looking for a book to veganize for our own project, we wanted to show how easy it is to be vegan and we wanted to show that anything can be made vegan. Betty Crocker's Big Red seemed like the perfect fit. We got a chance to not only get really creative with standard vegan ingredients like tofu and nutritional yeast, but we also got to show people how to use all those great new vegan products that have come out recently, as well as old reliable standards like Tofurky. We really hoped we could encourage people to revisit what they think they know about mock meat and cheeses. We both feel that these products really do help people go and stay vegan and save animals—as long as you know how to use them right!
CV – BETTY GOES VEGAN IS PROBABLY THE THICKEST COOKBOOK ON MY BOOKSHELF NOW. HOW LONG DID IT TAKE YOU TO WRITE IT?
AS – Yeah, it's kind of a monster. It took three years total to put it all together: two years of cooking our way through Betty's Big Red, and a third year to test, retest, research, write and edit it all. We really wanted to explore and stay true to the Betty Crocker style and do right by 'her' way of doing things so we tested the recipes that showcased products several different times so we could use the best products in the best way possible. We also tried to include recipes for a wide variety of different skill levels and tastes. There are some DIY recipes for gnocchi, for example, and some super simple and fast recipes for the working vegan with kids. We have a whole beans and grains section to encourage people to explore trying out different grains they may have never tried to use before. We really tried to have fun with it and put something for everyone in there.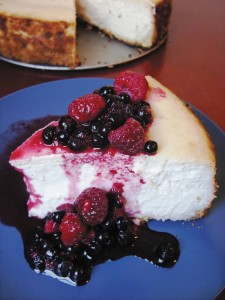 CV – THERE ARE 500 RECIPES IN BETTY GOES VEGAN. HAVE YOU BEEN EATING NOTHING BUT YOUR OWN RECIPES SINCE YOU STARTED WORKING ON THE BOOK, OR HAVE YOU BEEN ABLE TO SNEAK A FEW OTHER MEALS IN?
AS – Ironically while we were writing this book we moved to one of the most vegan friendly cities in the world – New York City. We've tried to get out from time to time to eat at some of the veg spots we both fell in love with when we used to travel to NYC for work, like Red Bamboo, as well as try out some of the new places that have opened up since then, like Lula's Sweet Apothecary and Sacred Chow. Sadly one of my favorite spots, Curley's Vegetarian Lunch, closed right when we moved here.
CV – WHAT ARE YOUR FAVORITE RECIPES FROM THE BOOK?
AS – Whenever I look through this book trying to find a favorite I feel like I'm flipping through a diary or yearbook. We can remember every time we figured out something challenging, like the vegan fried egg or the Beer Can Tofurky. Some of the recipes like, Girlfriend's Mock Chicken Salad, are revamped recipes we've enjoyed for years. Every time I open the book, I remember another "favorite." Today as I'm typing this I'd say I'm pretty crazy about our Hearty New England Chowder and The Greek Sliders… tomorrow I'm pretty sure I'm going to be in love with the Banana Foster Waffles.
CV – CAN YOU EXPLAIN WHY THE BOOK DEDICATED TO "THE LOBSTERS"?
AS – The Betty Crocker Project really started the day I saw the movie Julie and Julia. I have to admit I actually like Julie Powell (to a point). We both like cooking and enjoy a lot of the same TV shows and even video games. I'm sure in a parallel universe we're good friends, but in this one there was a moment in that movie that really struck me—the Lobster Killer scene. When Julie boils the lobsters alive and it's presented in a way that we're supposed to celebrate her facing her fears, the movie lost us. You could tell she was conflicted about boiling the lobsters—and the act of overcoming your conscience is not something we think should be celebrated. It really inspired us to create our cooking project to avenge those poor little lobsters and encourage others to choose a more compassionate lifestyle. 

CV – IN ADDITION TO RECIPES, THE BOOK IS FULL OF INTERESTING FACTS ABOUT BETTY CROCKER. DID YOU FIND ANYTHING THAT SURPRISED YOU WHILE RESEARCHING BETTY?
AS – I have to admit while writing this book I fell in love with the generations of "Betties" that contributed to the Betty Crocker brand over the years.  There are a lot of misconceptions about what this brand really stands for and what it contributes the world of food and the history of the American family. There are some that have this idea that Betty Crocker was all about cooking and baking from scratch and keeping women in the kitchen, and that's pretty much as far off as you can get. The Betty Crocker brand may have celebrated the prefect "housewife" archetype for years in a way that made her an easy "villain" for second wave feminism, but in the book we explore that idea further and really look at how Betty Crocker played an invaluable role in helping women enter the work force – not just by providing jobs, but also making cooking and baking easier and less time-consuming during a time when that was considered "women's work." Betty Crocker also helped men learn how to use their own kitchens and cook for themselves during times when they were rarely taught these things by their parents or offered Home Ec. in school. "She" did all this by making the kitchen as convenient as possible and we really wanted to do this in a way for veganism while celebrating this piece of misunderstood Americana. 
CV – ARE THERE PLANS FOR ANOTHER BOOK?
AS – We're currently working on our second book and fattening up our website to include more information on cruelty-free living, travel, and an Action Center to promote well activism amongst our readers. We have several new Meet The Shannons shirts coming out in the next few months designed by the talented Josh Hooten from Herbivore Clothing Company – who also designed the header on our blog. It's all coming along slow but steady.
CV – DO YOU HAVE ANY ADVICE FOR ASPIRING COOKBOOK AUTHORS?
AS – I would say that the key to any project is to not give up on it. There will be days and weeks when you question what you're doing and how you can do it better and while they may seem disheartening at the time… it's working through those times that help fine tune and streamline a project to completion while also helping you make it better. I don't think anyone has ever made anything without having those moments of doubt but sometimes we can use those times to make our projects—and ourselves—stronger.