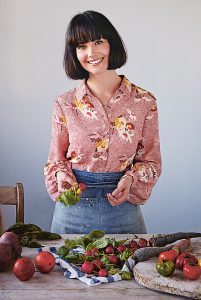 Áine Carlin is the author of Keep It Vegan, The New Vegan. and peasoupeats.com, a popular vegan food and lifestyle blog where she shares recipes and tips with thousands of readers. Once a dedicated meat and dairy eater, she turned vegan in 2010 and has not looked back since. She has received several awards for her blogging and writing, including the 2014 PETA Award for Best Vegan Cookbook and the 2015 Gourmand Awards for Best UK Vegan Book and Best UK Blogger. A former actress, originally from Northern Ireland, Áine ("On-yah") she has lived in Chicago and London. She is now based in Cornwall, where she lives with her husband.
Chic Vegan: What motivated you to become vegan? Was it an overnight switch or more gradual shift?
Áine Carlin: A bit of both really. The build-up was gradual but once I'd taken the decision it was put into action overnight. I'd been loosely researching the lifestyle and what it would entail before fully embarking on it … after that it was a matter of clearing out the fridge and cupboards, restocking them with wonderful plant-based foods and I haven't really looked back.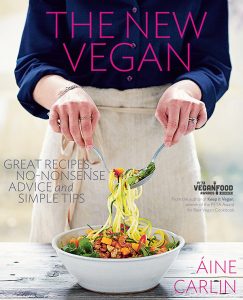 CV: When people learn that you are vegan, what is the first question they ask and what is your response?
ÁC: It's probably met with a look of bewilderment rather than an actual response – although since veganism has become more mainstream, I find people are much more open to it and less critical … at least to my face anyway, haha. I get the usual 'don't you miss cheese?' or 'what do you eat at Christmas?' but I've learnt to deal with these over the years in a friendly off-hand manner. I try to invoke my pre-vegan self in such instances because I think many of us forget we were curious omnivores once too.

CV: Tell me a little bit about your new book The New Vegan and what inspired you to write it.
ÁC: It's the book I wish I'd had when I first went vegan. Going vegan can be a daunting prospect for many so anything that makes the transition go a little easier is always welcome, in my opinion, and this book goes some way to helping you over those initial hurdles. My main impetus though was really about addressing this 'new wave' of veganism as I see it. The typical pre-conceived notion of what it means to be vegan is rapidly changing and I hope this book reflects that. Even though there's a bounty of information for people new to this lifestyle, I would also say there's plenty for seasoned vegans too.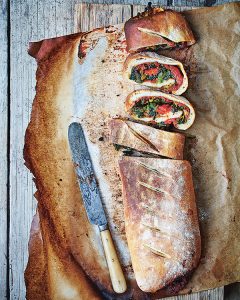 CV: Do you have any favorite dishes from the book?
ÁC: The Red Pepper & Spinach Stromboli is one of the stars of the book … who can say no to a giant pizza roll-up? I also get messages everyday about the Green Lentil Curry, which on the face of it, is a pretty simple recipe but with masses of in-your-face flavour … I've had people say it's now their favourite curry of all time, which is music to my ears.

CV: What inspires you to create a new recipe?
ÁC: Anything and everything. My mind is constantly thinking about food – either food I've eaten or food I would like to eat. I get obsessed with certain flavours combinations too and that plays into my recipes a lot – right now I'm all about rose water and have been playing around with it in various desserts … everything from vegan meringues to donuts. Sometimes it works, sometimes it doesn't but I never tire of trying.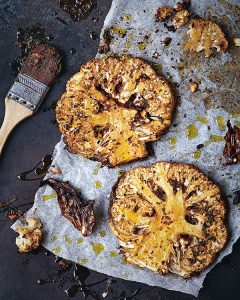 CV: What advice would you give someone who wants to go vegan but doesn't know where to start?
ÁC: Take it one day at a time – and try not to compare. For some it will be a breeze whilst others will struggle, so it's important to remember that each journey is different … which can be tricky in the age of social media. Whilst the internet can be a wonderful source of inspiration it also has the ability to make us feel like failures if we slip up or don't have the perfect vegan transition. If you do happen to waiver, simply start again the next day and soon it become like second nature. It also helps to arm yourself with a few easy recipes … and always carry some healthy snacks in your bag!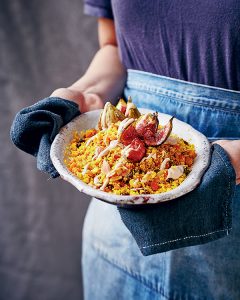 CV: What is your favorite vegan indulgence?
ÁC: It's a toss-up between good quality dark chocolate or a scoop of dairy-free ice-cream – we have a brand here in the UK called Swedish Glace, which is super creamy and so delicious. If I'm making dessert I'll usually opt for something slightly on the healthy side like my Raw Banoffee Pie, which ticks all the boxes and is my Husband's absolute favourite.
CV: What vegan product could you not live without?
ÁC: Nutritional yeast. I sprinkle it on literally everything.
CV: In your wildest dreams what will your life look like in 5 years?
ÁC: I adore what I do so if I can keep on writing cookbooks that would be amazing. I've toyed with the idea of opening a café but at the very least would love to do a few pop-ups in my local area – and it would be nice to do some more TV, so maybe a vegan cookery show? Who knows!
Photography by Nassima Rothacker