If you're a frequent visitor to my own blog (The Streets I Know: A Vegan Fashion Blog) you must know by now that I have a huge obsession with all things geometric. Over the past few months I've come across some amazing vegan geometric fashion pieces because of this little obsession of mine. I thought that it would be fun to share some of these pieces with you Chic Vegan readers, below are some of my very best finds. I hope you love them as much as I do.
Emily Green
Emily Green's fabulous geometric brooches are handmade in a variety of bold colours, shapes & textures. I love the use of wood & flowers in a few of them.

Image Source & Credit: Emily Green
Felix and Jayne
Felix and Jayne's unique handbags are hand screen printed with bold geometric prints on a faux leather and then hand sewn together.

Mirta
As a novice metalsmith I'm in awe of these beautiful handmade geometric jewelry pieces by Mirta. They really do make an elegant statement.

Image Source & Credit: Mirta
Voz Clothing and Art
I would love to add one of these hand painted geo print wood jewelry pieces from Voz Clothing & Art to my jewelry collection. I have my eye on one of the bangles.

Cristina Pires
Cristina Pires's hand makes fabulous geometric inspired jewelry & clothing that is both simple and bold. Her use of bright colour is simply fantastic.

Maranon
I so love these colourful 100% cotton hand embroidered necklaces from Marañón. Each necklace is a one of a kind treasure.

Image Source & Credit: Marañón
Jessalin Beutler
I've blogged about Jessalin Beutler's awesome tees, tanks dresses, cardigans, hoodies and sleeveless cardigans before but I feel that I should mention them again. To me her prints are the epitome of fabulous geometric design. I've been coveting quite a few of her pieces for months.

Mika and Nora
My favourite thing about Mika & Nora's geo jewelry pieces is that they're textured and 3D. The Octhedron earrings are truly fabulous.

brokenfab
These hand beaded pyramid earrings from brokenfab are both ultra hip and über fun. I love the use of bright bold colours & geo shapes.

Image Source & Credit: brokenfab
—-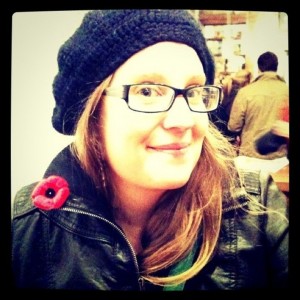 About Moi: Hi I'm Melanie I live in Toronto with my two adorable kitties Mosi & Beanie. I've been vegan 9 years and have also worked in fashion as a graphic/textile designer for 9 years. Almost two years ago I started a vegan fashion blog called The Streets I Know. I started this blog out of my love for vegan fashion and my need to share it. My blog and I were recently featured in the fabulous book The Vegan Girls Guide To Life. I'm super excited to now be sharing some of my vegan fashion musings with you here on Chic Vegan. You can also follow my fashion musings & tips on Twitter, Pinterest & Facebook.