Robin Robertson's vegan chocolate Peanut Butter Cups are the perfect treat for Halloween parties! Little goblins and ghouls will enjoy them, and so will you! This recipe makes 18 peanut butter cups. For bite-size versions of this delicious treat, use small paper candy cups instead of the cupcake liners.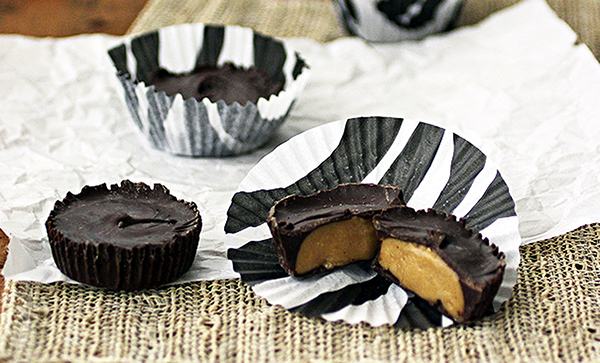 Peanut Butter Cups
Ingredients:
1/2 cup vegan butter
1 cup peanut butter
1/2 teaspoon vanilla extract
3/4 cup confectioners' sugar
16 ounces semisweet vegan chocolate chips
Directions:
Melt the butter in a medium-size saucepan over low heat. Stir in the peanut butter and vanilla until well blended. Remove from the heat and stir in the sugar. Mix well until thoroughly combined, then refrigerate.
Place the chocolate chips in a heatproof bowl and set it over a saucepan of simmering water until the chocolate is melted.
Use a small brush to coat the chocolate over the bottom and about 1/2 inch up the sides of 18 paper cupcake liners. Reserve the remaining chocolate. Refrigerate the cups until firm, about 10 minutes.
Scoop out about 1 1/2 tablespoons of the peanut butter mixture and shape into a ball. Flatten the ball into a disc and place inside one of the chilled chocolate-lined cups. Repeat until all the cups are filled. Spoon the remaining 2 teaspoons melted chocolate over the tops of each cup. Refrigerate until firm.
From The Nut Butter Cookbook by Robin Robertson. by Robin Robertson. ©2014 Robin Robertson. Used by permission from Andrews McMeel Publishing. Photo by Lori Maffei.