Every season, there seems to be a new "it bag" or "it girl". Overnight, even nail polish became an "it" item. What started with a waiting list for one hard to get nail varnish from Chanel, suddenly became a worldwide trend.
I happily admit that I love nail polish, and for me it is the perfect accessory to complement any outfit. There is rarely one day my nails aren't painted in red or pink, and this summer I have huge crush on orange. But an eco-conscious veganista like me does not want to use any conventional "it nail color" that could be harmful to my health, animals, or the environment. It is important that the varnish is vegan, cruelty free, and non-toxic.
So called "3 Free" formulas are my kind of "it lacquers". 3 Free means that the polish is formulated without toxins such as Formaldehyde, Toluene, and DBP (Dibutyl phthalate). Formulas like these are therefore safe to use for people who are allergic or sensitive to nail varnish, do not like the nasty smell of chemicals, or are pregnant. Luckily, there are wonderful brands that fulfill all of the above wishes, even without any waiting list.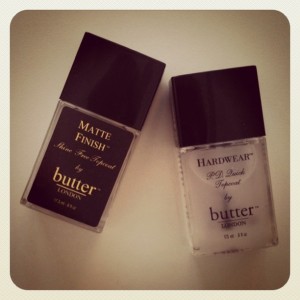 butter LONDON was founded by Sasha Muir who was soon joined by the high fashion nail expert Nonie Creme. Together, they created a steadily growing and unique collection of 3 Free lacquers that are truly rock 'n' roll. My favorite pink color is "Primrose Hill Picnic", and "Come to bed red" is the perfect red for just any occasion. Feel even more rock 'n' roll? The British brand has a shine free top coat for a matte finish. The matte look goes perfectly with the lacquer "Yummy Mummy", an amazing color that looks just like the inside of a melted Mars bar.

Priti NYC polishes are also 3 Free and formulated without the known carcinogenic ingredients. Not only are the lacquers extremely durable, they are also fast drying, very glossy, and contain UV inhibitor. Moreover they are completely safe for use on children and moms-to-be. During her pregnancy, the founder Kim D'Amato switched to organic food and health products, but she missed getting her nails done and did not want to use chemicals during that time. So Prity NYC was born. Over 100 different shades from metallic, mattes, bright neons, rich darks to classic nudes are available. Since removing the varnish without any toxins is just as important as applying them, the brand offers a 100 percent biodegradable, non-toxic, and non-carcinogenic Soy Nail Polish Remover. Nice to know: Priti is Sanskrit and has many meanings, like any pleasurable sensation, with love, out of satisfaction, affection, attraction, and happy.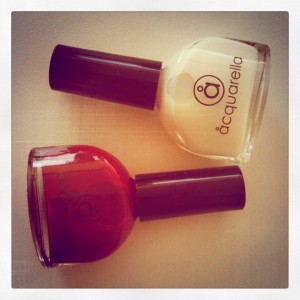 Acquarella Nail Polish is another brand that lets us beautify our nails in an ecological and non-toxic way. The nail varnish is water-based, fast drying, and comes with virtually no odor. Acquarella even hydrates the nail and prevents it from chipping, peeling, or yellowing. When in a rush, Acquarella can be used without base or top coat and you are good to go in under five minutes. My recommendation: ever since I use the Acquarella Conditioner underneath any polish, I can see a difference in nail strength.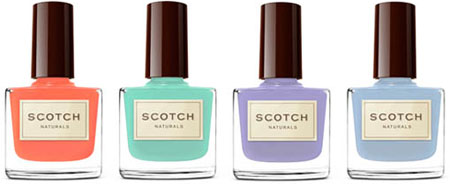 Scotch Naturals Water Colors are also a safe and eco-friendly alternative to conventional polish. The formula of Scotch's varnish is water-based, long lasting, and it comes in 17 great shades that remind me of ice cream. Furthermore, Scotch is hypoallergenic and biodegradable. The brand offers a soy polish remover as well, which is formulated to remove both water-based and solvent-based nail polish safely and naturally.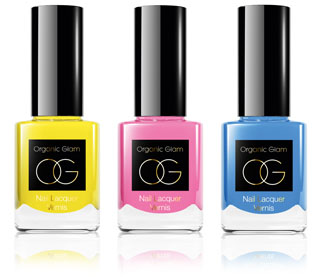 A brand new kid on the block is the Organic Glam nail polish from the UK based brand The Organic Pharmacy. It comes in 29 shimmering shades that make it hard to decide which color to apply first. Good thing is mistakes cannot be made, since all their hues are intense, vibrant, long lasting, and toxin-free.
In order to achieve salon-quality and long lasting results, I recommend using both base and top coat. Before applying nail polish, I make sure that any existing nail varnish is completely removed and the nails are clean and dry. And even though I do love to see bright colors on my nails while writing articles on my computer, I do give them a break every once in a while. Then I take extra good care of them, pampering my hands and nails with natural oil and an extra rich hand lotion.
—–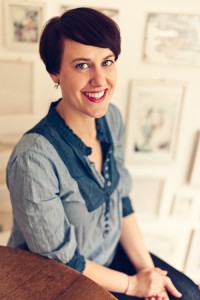 Franziska Schmid is the curator of Veggie Love, a trendsetting blog about green and vegan lifestyle. She writes about sustainable fashion, natural cosmetics and beauty products as well as food and restaurants. She lives in Berlin, loves to travel, and happily shares her eco finds with her readers. Her blog is a resource for everybody who seeks inspiration and wants to make ecological and ethical choices about their lifestyle. She truly believes that being vegan and green makes you feel good and look fabulous. As a communication strategist and blogger, she knows how to engage a digital audience and works with brands building a presence in the social web. She consults eco shops and boutiques in building and expanding a portfolio with eco beauty, fashion, and lifestyle products. She also is a freelance writer, editor-in-chief of the Berlin based vegan food blog Berlin is(s)t vegan, and a regular contributor to One Green Planet.