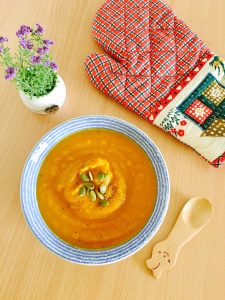 I have been thinking of making pumpkin soup for the longest time, but past kitchen disasters of wrestling a rock-like pumpkin, flying pumpkin parts, blistered fingers, and a nearly broken chopping board always makes me hesitate.
So when I saw a few Japanese cooking videos showing people microwaving pumpkins whole with their skin and all, I was intrigued. No laborious chopping involved. Huzzah! Some of you might be against microwaving food but for me, it is really the convenience to having yummy soup fast!
Many pumpkin soup recipes call for cream, coconut milk, or dairy milk to thicken the soup. I decided to omit these thickeners as I wanted the pumpkin to be the focal point and to taste the full flavor of it. The trick is to use a smaller liquid to pumpkin ratio. The soup turns out quite thick, almost like a congee consistency. If you prefer your soup more watery, feel free to add more water or even vegetable broth.
Turmeric lends a wonderfully warm and comforting taste to this dish. It is part of the ginger family but has a milder taste to it. I love to use turmeric as it is a powerful antioxidant and helps to counter inflammation in our bodies. In some research, turmeric has even been shown to have the same effects as prescribed inflammatory drugs but without the side-effects. You can read more about the benefits of turmeric here. Some ways I use this spice is in my homemade oat milk for a soothing drink before I sleep, mixed in salad dressings and sprinkled on avocado toast.
I also added apple cider vinegar to this pumpkin soup. It adds such a brightening touch to the dish and elevates it from plain pumpkin mush to an elegant savory dish with a subtle acidity. I ended up adding more apple cider for my individual servings.
This soup only requires a few other ingredients, mostly pantry staples and takes about 20 minutes to make. The recipe makes 3 medium sized servings or 2 generous servings. I freeze the remaining soup in plastic containers, they will store well for up to a month.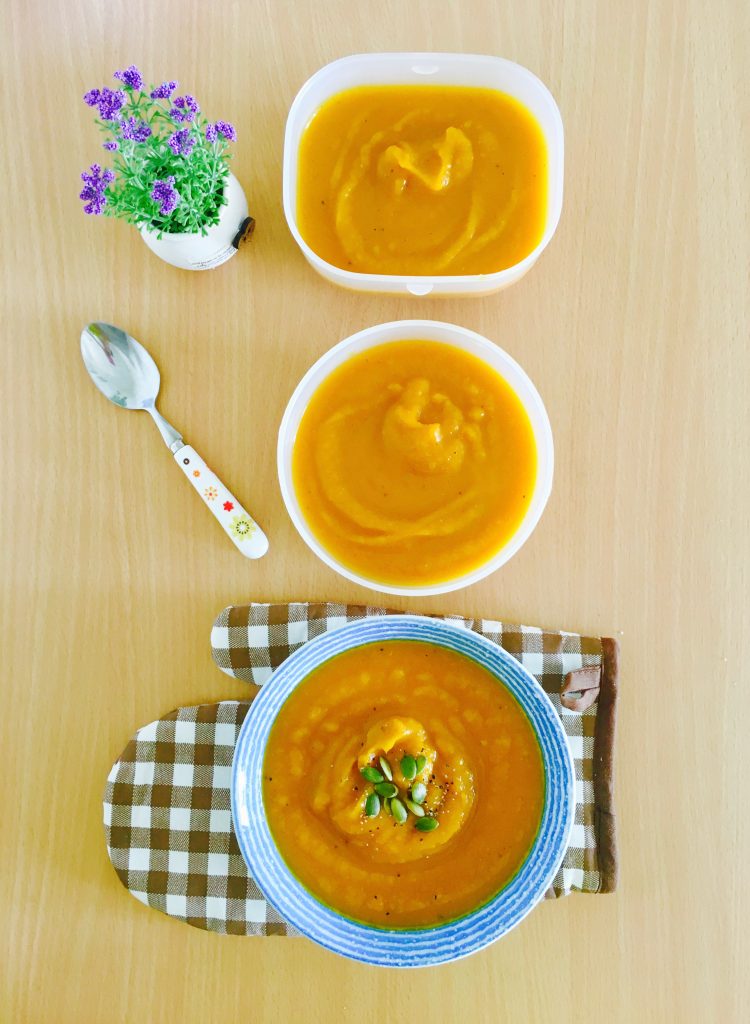 Healing Miso Pumpkin Soup
I finished them all in a week though as it's been raining so much in Singapore. Not that I am complaining since I absolutely adore the rainy season! Nothing beats having warm, thick pumpkin soup and watching Korean dramas on a rainy night!
Serves 3
Ingredients
1 kg pumpkin, cut into 2 portions
1-litre water
1 tablespoon olive oil
1 large onion, chopped
2 garlic cloves, chopped
1 teaspoon turmeric
1 tablespoon miso
1 tablespoon apple cider vinegar
sea salt and black pepper to taste
Directions
1. Wrap pumpkin portions individually with cling wrap and microwave on high for 6 minutes.
2. Let pumpkin cool for 5 minutes before scraping the flesh off. Place pumpkin flesh into a bowl.
3. Heat oil in a pot and stir-fry onions and garlic till fragrant.
4. Add turmeric and pumpkin and stir-fry for 1 minute, mixing evenly.
5. Add water and bring to a boil. Then lower the heat and simmer for 10 minutes.
6. Dissolve miso and apple cider in a little water and mix into soup. Stir well and cook for another 2-3 minute. Season with salt and black pepper.
7. Let cool and blend either in a powerful blender or with an immersion blender.