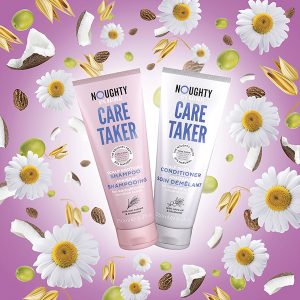 Sometimes happy coincidences occur. My hair had been looking a little limp and lifeless, so I was looking at different brands of cruelty-free shampoo online, hoping to find something new. I was narrowing down my selection when an email popped into my inbox asking me if I'd like to try Noughty haircare products. It seemed like fate was responding to my shampoo search!
Noughty is a British brand of haircare products that is now available in Ulta stores here in the U.S. "Noughty" is a play on the word "nought," since there are no nasty chemicals likes sulphates, petrochemicals, and parbens in these products. You won't find any animal ingredients in them either. Noughty uses only high quality natural ingredients such as coconut oil, sea kelp, blue mallow flower, and argan oil. They're not tested on animals, either. If only all beauty products followed Noughty's lead!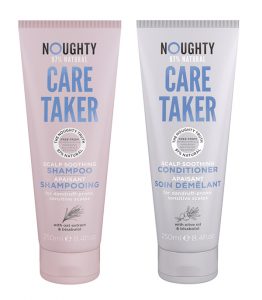 Okay, so Noughty's products sound good on paper, but how do they hold up to real life use? My hair is thinning and a little on the dry side, so I tried Care Taker shampoo and conditioner. Although the packaging says it's for dandruff-prone sensitive scalps, it does seem to be the right product for me. It's made with olive oil, oat extract, and bisabolol "to give your hair the tender loving care it deserves." The shampoo has a gentle foam – not the big lather I'm used to, but I know that lots of lather is usually due to not-so-nice chemicals, so I was okay with it. The conditioner did a good job at detangling my tresses. These products really did treat my hair gently. Not only did my hair feel less dry, it also had more volume after just a few days. Noughty gets two thumbs up from me!
No matter what your hair type, Noughty has you covered. There's Rise and Shine for normal or dry hair, To the Rescue for frizzy damaged hair, and Wave hello for curly or wavy hair. Noutghy also makes Detox Dynamo 2-in-1 for those days when you need to cleanse your locks of pollution and product build up.
Look for Noughty products at select Ulta stores and on Ulta.com.