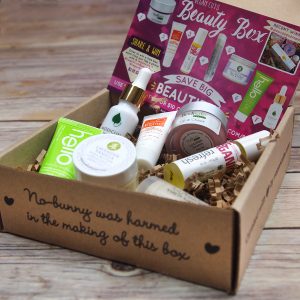 The arrival of my Vegan Cuts Beauty Box is always a treat. I always open the package with eager anticipation. What will be inside this month?
The Vegan Cuts Beauty Box is a subscription beauty box service. Each box is full of 4 to 7 cruelty-free cosmetics and skin care samples and is sent to your door every month. Of course, all of the products are free of animal ingredients and are never tested on animals. Most of them are all natural and organic as well.
If you have sensitive skin like me, shopping for beauty products can be a bit daunting. Will it irritate my skin? Will the scent give me a headache? The great thing about the beauty box is that I've been able to discover new cruelty-free brands without having to shell out a lot of money for a full-sized product, and I'm not stuck with a bathroom cabinet full of skin care products that I don't like. I've been able to try products I might not normally buy for myself and I've discovered some new favorites.
The July Beauty Box contained a collection of beauty products that will help keep your skin in tip-top shape after a day of fun in the sun!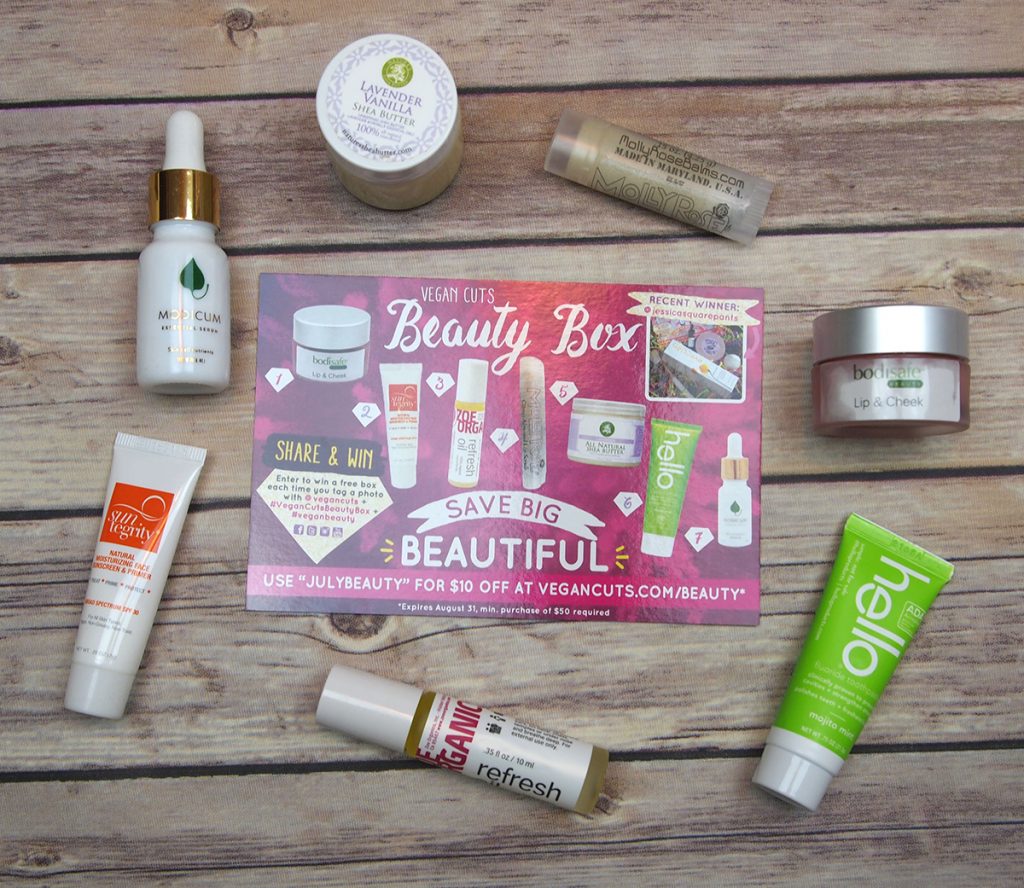 The July Beauty Box Contained: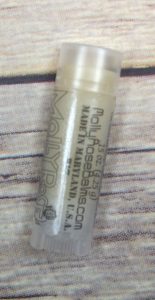 Molly Rose Citrus Almond Lip Scrub – My lips have been pretty chapped from the hot sun for most of summer, and this lip scrub was exactly what I needed. This scrub gently exfoliates lips to make sure they stay soft and kissable. The best thing about it is that it's edible, so you can lick it off when you're done!
Modicum Essential Serum – This serum was formulated with natural plant extracts to replenish the skin's nutrients, restore skin vitality, and reduce fine lines and wrinkles, as well as moisturize. It's also good for chronic skin conditions such as acne, excema and psoriasis.
Suntegrity Natural Moisturizing Face Sunscreen and Primer – I burn pretty easily, even when I'm in the shade, so I was happy to see this sample in the July Beauty Box. I was also happy to see that it's a 3-in-1 product that moisturizes, primes the face for makeup, and protects skin from the sun. And to make things even better, it's made with all natural plant oils and extracts!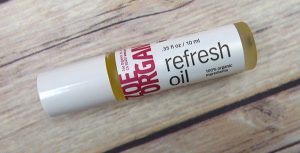 Zoe Organics Refresh Oil – I had a bit of a headache (which happens to me often in the summer heat) when my beauty box arrived, so the first thing I did was open this bottle and roll the oil onto my temples. I felt better almost instantly! This blend is made with lime, ginger, peppermint, and spearmint oils to provide an instant pick-me-up. And it works!
Nature's Shea Butter – After doing some renovation work on my basement, my knees were left looking kind of red and dry, which doesn't look very attractive when wearing a cute summer skirt. This Lavender-Vanilla scented shea butter has helped reduce the redness and softened my skin, allowing me to wear my favorite cute clothes again!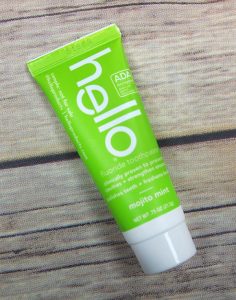 Bodisafe Beauty Nourishing Lip and Cheek Highlighter – This pretty pink highlighter does double duty on both cheeks and lips. It gives skin a dewy glow while providing natural hydration, leaving skin feeling silky smooth.
Hello Toothpaste – This mojito mint flavored travel-size toothpaste is perfect to take with you for a weekend away. My teeth felt squeaky-clean after brushing with it, and I love the fresh mint flavor!
The Beauty Box is available as a monthly subscription, which means that a new box of products gets delivered to your door every. If you like the samples in your box, you can order their full-sized counterpart from the Vegan Cuts Marketplace.