Five-Minute Coconut Fudge from Sweet Vegan Treats by Hannah Kaminsky has an intense chocolate flavor accented with a luscious tropical flair. This easy recipe is vegan and gluten-free.
Vegan Baking
Before I went vegan, I was an avid baker. I was known for the elaborately decorated holiday cookies, and my chocolate cheesecake once garnered a marriage proposal. Once I went vegan, I had no idea what I was doing. It was easy to replace milk in baked goods, but what about eggs and cream cheese? I went through a baking void that lasted 5 or 6 years.
A few vegan baking cookbooks came out several years later that helped me get back into the swing of making vegan desserts. One of them was My Sweet Veganby Hannah Kaminsky. I baked my way through it, treating my friends and coworkers to batches of Lychee Cupcakes, Pink Lemonade Tartlets, and Hazelnut Ravioli.
Sweet Vegan Treats
More than 10 years later, Hannah has changed the way she bakes, so she's reworked the beloved recipes from My Sweet Vegan, and she shares then in her newest book Sweet Vegan Treats. The recipes have less sugar and vegan butter instead of margarine. There are more gluten-free and whole-grain options, and corn syrup has been given the boot. The recipes have new names, too.
Hannah begins Sweet Vegan Treats with an ingredient guide for those who are new to vegan baking (and for those who aren't but need a reminder). She also shares tools of the trader, as well as a guide to essential baking techniques. Not sure how to roll out a perfect pie crust? Don't worry, Hannah has you covered. There's also a trouble shooting guide. If your cake didn't ride or your cookies are dry, Hannah has tips that can help.
And then, of course, there are the recipes. Who can say no to a Crumb-Topped Brownie, a wedge of Chocolate Chip Cookie Pie, or a slice of Marshmallow Mud Cake? Sweet Vegan Treats contains desserts for all occasions, including celebrations, holidays, and just after snacking. You'll find recipes cookies, cakes, pies, muffins, bars, truffles, and so much more. There's also a chapter with breakfast recipes, such as granola, muffins, and scones. Hannah has included a chapter with basics, too, So, if you want to make your own ice cream or graham crackers, she'll show you how.
The Chapters in Sweet Vegan Treats Include:
Sweet Starts
Cookies and Bars
Cakes and Cupcakes
Pies and Tarts
Miscellaneous Morsels and Desserts
Pantry Staples, Components, and Accompaniments
Hannah took the drool-worthy photos that accompany the recipes. Even if you're not a baker, you're going to want a copy of this book just for them!
If you're new to vegan baking or you're a baking pro looking for more recipes for you collection, you need this book!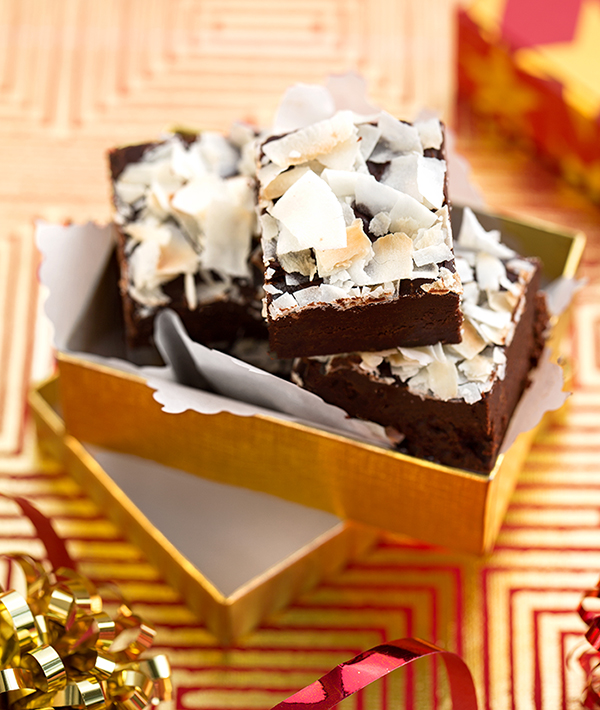 Five-Minute Coconut Fudge
Devilishly dark and creamy, this fudge beats the chips out of the cloying original "Fantasy Fudge" made from the tooth-aching combination of sweetened condensed milk and marshmallow crème. This fudge has an intense chocolate flavor accented with a luscious tropical flair which ensures that even the smallest squares will satisfy your cravings. Dangerously quick and easy to whip up, it redefines the concept of instant gratification.
Ingredients
2

cups

(12 ounces) semi-sweet chocolate chips

2

tablespoons

vegan butter or coconut oil

½

cup

full-fat coconut milk

2

cups

confectioner's sugar

½

cup

Dutch process cocoa powder

½

teaspoon

vanilla extract

¼

teaspoon

salt

1

cup

unsweetened coconut chips or flakes

toasted
Instructions
Line an 8 x 8-inch square baking pan with aluminum foil and lightly grease.

In a large, microwave-safe bowl, combine the chocolate chips, butter or coconut oil, and coconut milk. Heat for 1 minute on full power and stir thoroughly until completely smooth. If a few stubborn chips refuse to melt, continue to heat and stir at intervals of 20 seconds, as needed.

Sift together the confectioner's sugar and cocoa powder, breaking up any clumps, before adding both to the bowl of liquid chocolate goodness. Next, add the vanilla and salt, stirring vigorously until thick, silky, and uniform.

Pour the mixture into your prepared pan. Smooth out the top and sprinkle coconut evenly over the entire exposed surface. Press the coconut gently into the fudge with the palm of your hand to make sure that it adheres. Chill for at least 30 minutes, or until fully set, before cutting into squares.
Recipe Notes
Never get bored with the same of fudge again! Over the years, I've made it a hundred different ways, always with resounding raves. Here are just a few of my favorite variations:
Tropical Fudge: Add ½ cup of diced dried pineapple and 1 teaspoon of orange zest right before incorporating the vanilla.
Pecan Pie Fudge: Add 1 teaspoon of ground cinnamon along with the vanilla extract. Omit the coconut topping, and instead press 1 cup of toasted pecans into the top.
Peppermint Crunch Fudge: Add 1 teaspoon of peppermint extract with the vanilla and stir in 4 crushed candy canes. Omit the coconut topping and sprinkle with 5 additional crushed candy canes instead.
Reprinted with permission from Sweet Vegan Treats Vegan © 2019 by Hannah Kaminsky, Skyhorse Publishing. Photo by Hannah Kaminsky.
Photos by Hannah Kaminsky.