We're happy to be hosting Robin Robertson for her Vegan Without Borders blog tour today! In her new book Robin Robertson shares her favorite dishes from the great cuisines of the world and shows how cooking vegan makes borders disappear. Whether the recipe hails from Ecuador or Ethiopia, these plant-based dishes invite you to travel the culinary world and sample 150 of Robin's all-time favorites. This mini-immersion into global cooking also reveals that many international cuisines are naturally free of the meat-and-potatoes constraints of the typical Standard American Diet, and food-loving vegans will delight at the dishes Robin places on her table at home.
In addition to sharing a recipe from the book with us today, Robin also has a chance for you to win a copy of Vegan Without Borders. Follow the instructions at the end of the post.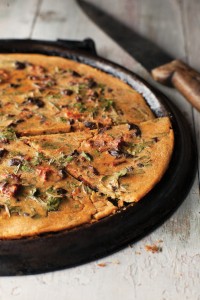 Farinata with Sun-Dried Tomatoes and Olives
Made with chickpea flour, farinata is actually more of a savory pancake than a bread. It's easy to make this Ligurian specialty that can be served as an appetizer or as part of the main meal. Farinata is often prepared without embellishment, but I sometimes add a fresh herb such as rosemary or sage, or chopped olives and sun-dried tomatoes, as in this recipe.
Serves 6
Ingredients:
1 cup water
1 cup chickpea flour
2 tablespoons plus 1 teaspoon olive oil
½ teaspoon salt
Freshly ground black pepper
3 tablespoons minced kalamata olives
3 tablespoons minced sun-dried tomatoes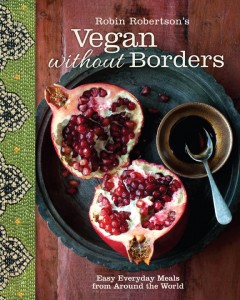 Preparation:
In a mixing bowl, whisk together the water and chickpea flour until smooth. Add the oil, salt, a few grinds of pepper, olives, and tomatoes, and mix until well blended. Cover and set aside at room temperature for 1 hour.
Preheat the oven to 425°F. Oil a 12-inch pizza pan and heat in the oven until hot. Carefully remove the pan from the oven and add the batter, spreading evenly. Bake until the top is firm and the edges are golden brown, about 15 minutes. Cut into thin wedges and serve immediately.
Variation: Omit the olives and tomatoes from the batter and spread the baked farinata with a thin layer of pesto.
From Vegan Without Borders by Robin Robertson/Andrews McMeel Publishing, LLC.
Follow the instructions below for a chance to win a copy of Vegan Without Borders. U.S. residents only, please. Contest ends at midnight eastern time on Sunday, November 16th. Good luck!