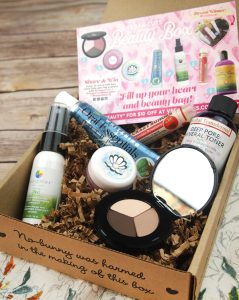 According to Hallmark, February is all about love, which is appropriate, because I absolutely loved the February Vegan Cuts Vegan Beauty Box!
The Vegan Cuts Vegan Beauty Box is a box just what the name says – it's a box full of cruelty-free cosmetics and personal care items that gets mailed out in a cute little box once a month. It's a subscription service, and it always seems like my birthday when the box of goodies arrives every month. I love opening it up and discovering the goodies inside. The Beauty Box is a great way to discover new brands and try new products without shelling out a lot of cash. It's also a great way for new vegans to start their foray into cruelty-free living.
The February Vegan Cuts Beauty Box was full of times that I instantly fell in love with! I was excited to see some old favorites as well and new-to-me items this month.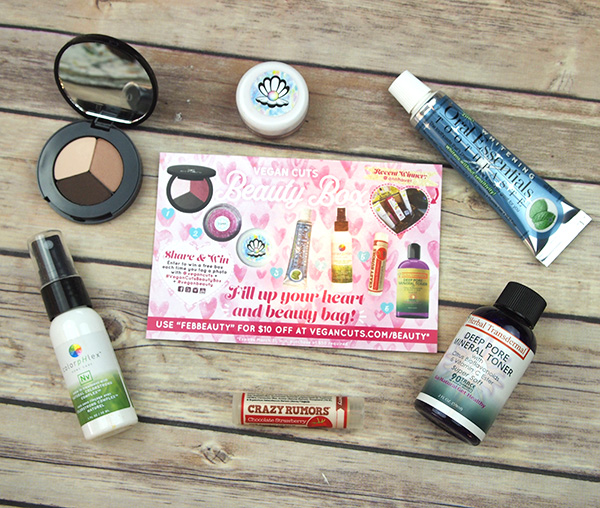 The February Vegan Cuts Vegan Beauty Box Contained: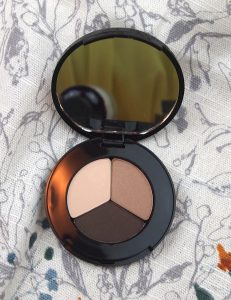 Emani Vegan Cosmetics Eye Shadow Trio –I've discovered Emani though the Beauty Box, and I love their products. I was in need of new eye shadow, so I was extra excited to find this trio of colors in the box this month. I received Feeling Blessed, which is a neutral palette – exactly what I would have purchased for myself! It comes with a base color, and highlighting color, and darker contouring color. This palette can easily be for sublet color during the day and a smoky look for evenings.
The Ariel Co. Cupid Lip Scrub – This tasty exfoliating lip scrub smells and tastes just like bubble gum. It's made with sugar and plant oils, and it's great for scrubbing way dry, flaky skin caused by the cold winter air. The natural ingredients it contains are known for their anti-again properties, and they also help the skin to retain moisture and boost circulation.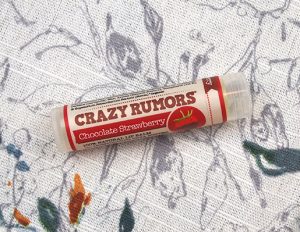 Crazy Rumors Lip Balm – Crazy Rumors is my favorite brand of lip balm, so I was super happy to receive the chocolate covered strawberry balm in this month's box. Not only is delicious, but it's super moisturizing. It's made with natural oils and waxes, most of which are organic. Your lips will be soft and supple, even after time spent outside in the cold, dry air.
Oral Essentials Toothpaste – This minty-fresh toothpaste whitens teeth without causing sensitivity. It's made with natural plant oils and dead sea salt, and is free of preservatives, hydrogen peroxide, baking soda, and fluoride. My teeth have felt squeaky-clean after brushing with it.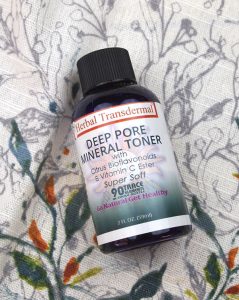 Herbal Transdermal Deep Pore Mineral Toner –This grapefruit-scented toner deep cleans skin without leaving it feeling dry. It's made with citrus bioflavonoids, Vitamin C, tea tree oil, wintergreen oil, and other natural ingredients, and it left my skin feeling refreshed after using it.
ColorpHlex Leave in Treatment and Detangler –The winter weather has left the ends of my hair a little frazzled, so this came at the perfect time. This vegetable-derived treatment is formatted to strengthen weak, damaged hair while protecting color from damaging UV rays. My hair has been softer and more manageable since I've been using it.
The Vegan Beauty Box is available as a monthly subscription, which means that once you sign up, a box of new goodies gets delivered to your door every month. If you like the samples in your box, you can order their full-sized counterpart from the Vegan Cuts Marketplace.