On Fashionvictimless, I try to not only advocate for cruelty-free, vegan fashion, but I also like to promote sustainable fashion as well. I recently discovered EVE Products, a PETA vegan approved company that creates beautiful, fashionable bags, wallets and accessories, all out of cork. Cork production is generally considered sustainable because the cork tree is not cut down to obtain cork; only the bark is stripped to harvest the cork. The tree continues to live and grow and can live for more than 200 years. EVE harvests the natural cork fabric from trees every nine years and transforms it into beautiful handbags that are soft, lightweight, durable, waterproof and easy to clean.
Now I don't know about you, but when I think of bags made out of cork, I don't usually think of fashion-forward design, that is until I discovered EVE.  Handcrafted in Portugal from natural premium cork fabric, EVE's designs are super stylish and the colors are amazing.  When you see these bags, you won't believe that they are made from cork because they are like nothing you've ever seen before!  Take a look!
The Eiffel Messenger is a versatile handbag that can be worn as a cross body with the detachable shoulder strap, or as a wristlet.  The studded detailing gives this bag a cool, rocker vibe while still being stylish and functional.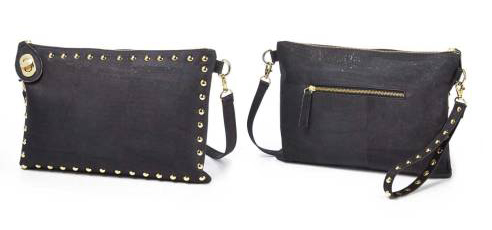 I am currently coveting the Itza Satchel.  This adorable structured handbag has two top handles and a front flap closure.   Available in two color blocked choices, black/white and red/navy, this satchel will make you feel like the perfect lady, like you should be heading off to tea with girlfriends where you will eat tiny cucumber sandwiches with no crusts.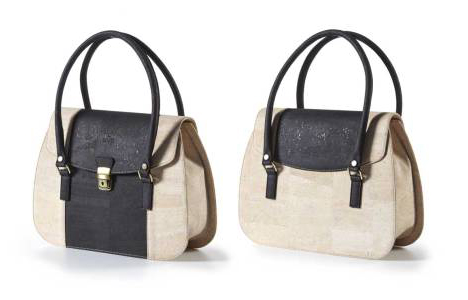 For a great everyday bag that will help you carry around all of your essentials in style, EVE has the beautiful Suez Satchel that will do just the trick.  This bag has a great front flap magnetic closure over a full zip closure to keep all of your things nice and secure in addition to having several multifunction interior zippered pockets to keep you organized.  This bag is available in three colors.  Check out the stunning dark blue version below.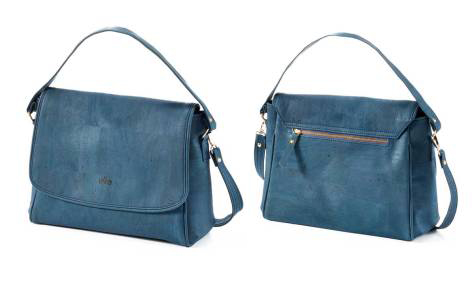 In addition to handbags, EVE also makes some lovely wallets.  The Luna is my personal favorite.  With a sleek, minimalist design, this wallet is good looking and has functionality for days.   It is full of all sorts of compartments for your cash, ID, receipts and credit cards while still managing to stay slim and compact.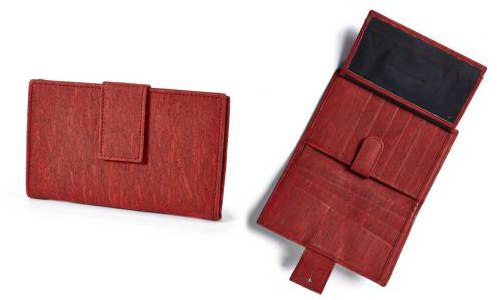 So as you can see, it is possible to be fashionable while also supporting a sustainable, vegan lifestyle.  EVE Products makes it easy.
Images source and credit for all images: EVE Products