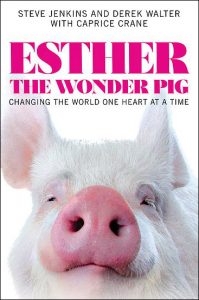 Esther the Wonder Pig: Changing the World One Heart at a Time is the story of Esther, the tiny piglet who came into the lives of Steve Jenkins and Derek Walter by chance one day. I follow Esther on social media, so I've been in love with her for years now, but I love her even more now that I've read her story.
Esther's tale is somewhat comical, a little sad, and very heartwarming. One day in 2012 Steve was contacted by an old friend on Facebook, asking if he'd like to take in her pet mini pig. She said that the piglet was about six months old, had been spayed, and wasn't getting along with her dogs. He jumped at the opportunity, and took in the piglet without discussing the matter with his partner Derek. Steve knew his life would change by bringing this tiny pink piglet home, but he didn't know just quite how much.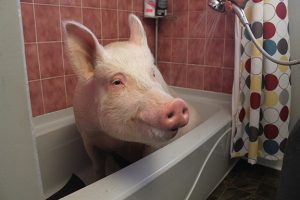 Esther grew quickly, and it soon became very apparent that she was not a "micro pig." (There really is no such thing as a micro pig.) She was much younger than six months old and she wasn't spayed, either. Steve had been duped. He feel in love with her immediately, though, and he realized that much like the cats and dogs already lived with, Esther had a loving personality and deserved to living in a caring home, so he decided to deal with it.
Steve and Derek soon learned that Esther is a commercial pig, and they weren't quite equipped to deal with her large body (she's now 600 pounds!) and massive attitude. I laughed while reading the chapters about Esther's potty training sessions, as well as how quickly she learned where the food was kept. If you've ever doubted just how smart pigs are, Esther will cure your skepticism.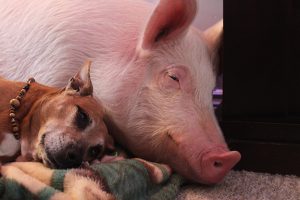 After it became evident that their tiny house wasn't cutting it and Esther needed more space, Steve and Derek decided to move. They bought a farm, sold their house, and opened Happily Ever Esther, a sanctuary devoted to saving farmed animals.
Because of living with Esther, Steve and Derek became vegan. It was a gradual process, first eschewing bacon and pork (obviously), and then moving on to other types of meat, eggs, and dairy. Because of Esther's presence on social media, she's helped countless others make dietary shifts as well. In addition to Esther's story, the book has a few "Esther Approved" vegan recipes as well.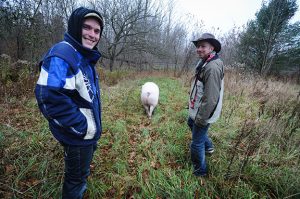 It may sound cliché, but Esther the Wonder Pig made me laugh and cry at the same time. Even though I already knew it had a happy ending, I couldn't put the book down. Esther the Wonder Pig by Steve Jenkins and Derek Walter with Caprice Crane should be at the top of everyone's "summer must read list" this season!
I have copies of Esther the Wonder Pig for two lucky winners. Follow the instructions below to enter. Contest ends at midnight eastern time on June 28th. U.S. and Canadian residents only, please. Good luck!
Photos courtesy of Steve Jenkins and Derek Walter