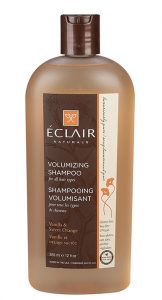 "Wow! Look at your hair!!!"
Okay, so normally that would have kicked in some serious self-conscious mode for me, but hearing a friend say that the other day gave me the complete opposite reaction as he continued with how great it looked. I have been using the Éclair Naturals shampoo and conditioner for a few months now and the difference in my hair has been incredible. Softer, cleaner feeling, more volume – and that's just a few of the benefits. Being vegan AND gluten free, this product line is covering all grounds. So let me just say this – I absolutely LOVE this product line! Love the smells, the feel, the results, the packaging, the everything… Now that we have that out there, let me tell you why and how I came to know of Éclair Naturals.
About half a year ago, I saw an article posted online about the launching of a new body and hair care line. Normally, I would have just breezed by it, maybe take a quick read through, but the packaging caught my eye and I decided to read on. Two key points made me stay there – Vegan and Gluten-Free – then I saw that it also involved no animal testing. With four years now living a gluten free diet, I never really thought about the hair and body care products I was using needing to be a part of that change. The fact that this product line also focuses on supporting both aspects of my life, I quickly noted down that I needed to keep an eye out for when it hit the shelves. Fast forward about a month or so later, I received an email asking if I would be interested in trying the line and talk about my experience with it. Love when the universe works its magic!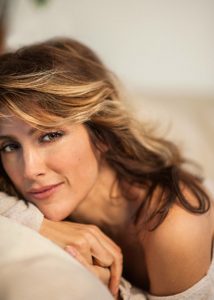 Another part of that article that kept my attention is the involvement and support of Jennifer Esposito. Jennifer is not only an incredible actress, but also a long time struggler with celiac disease. I remember, after learning I needed to remove gluten from my diet, finding out about her opening up a bakery in New York City and was on a mission to get there and try her recipes. The photos of everything looked delicious, and I was determined to get there and taste it all for myself.  Now at that point I had tried a bunch of different gluten-free bagels all with varying tastes of just ok, but hers was the most delicious bagel I have ever had in my entire life –buttery, light and the kind that made you speechless while enjoying every bite. So I knew instantly that she wasn't the type of person just out to fill a void or to simply make money from a gluten-free product need. Anyone who puts that kind of love into the foods she creates truly cares about the enormously growing community of people struggling in various degrees with the types of food we can and cannot eat. While Jennifer was in the bakery that day, I was too nervous to introduce myself. Instead, I sent her a note through the bakery's Facebook page right after I left letting her know how much I am appreciative of what she has done and that I am a huge fan even more so. She wrote such a nice note of thanks back not long after, which made my day.
Fast forward a bit when I went to the Gluten-Free & Allergen Friendly Expo with my kids last year. It was the first food expo I had ever been to where I could basically eat anything being offered minus samplings including meat of course. I felt like I was in the Disneyland of Gluten-Free living! My kids and I went up and down every aisle tasting everything we could. Then we turned the corner, and there was Jennifer. She had this gorgeous setup for the bakery, and was signing her new book Jennifer's Way. We got on line and eventually met her in person. Finally! She was so sweet and so passionate about what she has done in the gluten free/celiac community. Still makes me smile when thinking about that whole conversation. Plus she made my kids' day by taking a picture together – they love her as an actress. Like at the bakery, I wrote with her later and again she sent another very sweet response. So when the article came out about Éclair Naturals noting Jennifer's involvement in it, I just KNEW it would have to be nothing less than amazing or she would never be involved.
When the package arrived, in opening the box the fragrance from the products inside was like sitting eyes closed in a field of wild flowers. It had been a dreary, raining day here but as soon as scents filled the air my mind took me back to a time and place where I would sit in the grass and lay in the flowers watching the clouds float by. I picked up the box and brought the scents closer, like leaning into a bouquet, slowly breathing it all in creating an instant smile that only fresh flowers can do. Then one by one, I unpacked everything lining up each treat to see what goodies were selected for me to try: Vanilla & Sweet Orange Shampoo, Shea Butter & Oatmeal Conditioner, Shea Butter & Oatmeal Shower Gel, Lavender Bath Salts, a Lavender Hand Crafted Soap Bar, Grapefruit Orange Fizzy Bath Cupcake, Vanilla & Sweet Orange All Over Lotion, and the Lavender Body Butter.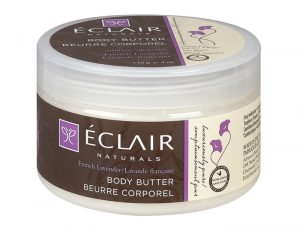 Being more of a socks and barefoot girl, the first thing I tried out was the body butter to see how they would be on softening up my feet. Lavender is one of my favorite scents in the world, so it already had me sold on that, and the silky smooth texture of the butter itself made a beautiful balance of the two. About a week or so later, after using the butter every day, I decided to use a foot tile, and I couldn't believe the results. Not was the process much easier and quicker, but exactly how smooth my feet were just blew me away. My mouth literally dropped open and eyes popped wide. I have used body butters before, but the softness only lasts so long. The combination of ingredients that Éclair Naturals has developed is truly miracle working!!! And the All Over Body Lotion has been giving similar results, leaving my skin feeling softer than any other lotion has ever done before.
I was able to speak with Jennifer over the phone about her involvement with Éclair Naturals and how she came to be where she is today. She is so incredibly down to earth, genuine, and a truly caring person passionate about what she is doing and all she stands for within the celiac community. Listening to her explain her journey through her diagnosis of severe celiac, I couldn't help but feel so connected to someone who understands all of the struggles I had been having in my own path of food sensitivities undiagnosed that people not experiencing it could not relate to. One thing that stood out to me was how she had described her devastating experience with hair loss as part of the disease. For years I have been noticing that as well, just chalking it up to the type of hair I have and brushing through knots. But Jennifer's words got me thinking and wondering if there was a connection I hadn't really thought about. So while trying the shampoo and conditioner, I began to take note of what the drain would catch. Interestingly, after about two to three days, I noticed less was caught in the drain, and as days continued so did less hair fall. Another mouth dropping open moment, and I kept hearing Jennifer's words about how her mission with helping to launch Éclair Naturals was to help people "navigate through the disease and world of gluten" and that while "gluten-free became a catch phrase and trend" for some there is a true need for it in more than just food to those in the celiac or sensitivity community.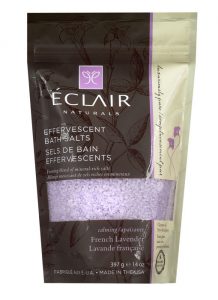 Making my way through the rest of the package became such a great time. I decided to only use the Éclair Naturals line for a month to get the full effect and have loved everything about it. The shower gel has a nice light scent and you only need a pump once or twice to soap up the bath sponge. No soapy residue is left behind. No heavy perfumes lingering all day. And then to a wonderful surprise, I was told that I would be receiving a second box in the mail to try the aluminum and propylene glycol free Dual Action Deodorants one of the three was unscented. Deodorants are always an iffy area when wanting to use ones with safer ingredients, but I have enjoyed all of them and found they work pretty well. Next on my list to try are the bath salts and fizzy cupcake – just needing to create the time to soak in a tub for a bit without kids needing me or the bathroom(!) – truly looking forward to making that time come sooner than later.
A few things about Éclair Naturals to make you smile inside and out every time you use their products: The team is fully dedicated to bring the best of what nature has to offer in their body care line by using food grade ingredients that are: GMO free, gluten free, soy free, vegan, cruelty-free, manufactured at their own the USA facility and socially responsible in a various ways of ways (more information on their site). There are also scented and unscented varieties to choose from whether that is a sensitivity issue you have or a matter of preference. And according to the website, there are lip balms, body oils and deodorant mists coming soon.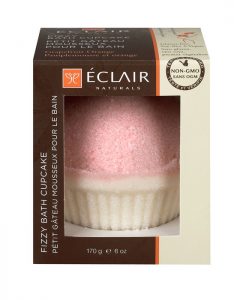 One more note before I insist you go out now and try this product line yourselves, the perfect match between Jennifer and Éclair Naturals is undeniable. They both embrace the "take control" attitude of how we live our lives in a healthier, safer and more caring way. Jennifer's bakery, Jennifer's Way Bakery (NYC), was started out of a passion motivated by love to educate the community of providing non-toxic, gluten free products on the table. Her bakery, which is 100% her own, is 100% successful in bringing that dream to reality, and her following of fans grows more and more every day resulting in her continued success. With Éclair Naturals, I will simply let the words of Co-founder and CEO, John Matise, speak for themselves:
"Éclair Naturals is socially responsible and manufactured at our own certified non-GMO facility in the USA to ensure quality control and no cross-contamination. We spent many years in development utilizing only the best natural ingredients available and avoiding ingredients like sulfates, phthalates or phenoxyethanol – which resulted in the most luxuriously pure body care line for both women and men. Being vegan and cruelty-free are part of our inherent brand promise and we are certified cruelty-free by Leaping Bunny, a program run by the Coalition for Consumer Information on Cosmetics (CCIC)."
What Jennifer has been doing with food, the Éclair Naturals team has been doing with their products. Not everything on the market that is vegan and/or gluten free is healthy or good for you, but here are two instances where people who care about what is being put in and on our bodies, both separately and in coming together, focus the direction of their companies on educating people that in removing the toxins that surround our every days you can live a healthier life in mind, body and spirit.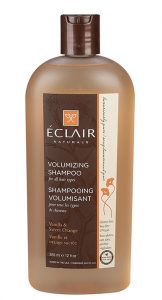 "Once you see results," Jennifer explained, "you change – you don't 'have to give it up'." There is deep truth in that. It becomes a part of who you are, not a choice you go back and forth on. She continued, "There is transparency with what a product is. You fail once, that's it. There is no room for error, lies, fudging the truth….It's one thing to have a product, but at the end of the day, we should be human beings first and care about people, animals and the environment. Change can be tricky, but when realizing you'll start to feel and look better, you make the choice. Better for you and the environment – why WOULDN'T you do it?!"
The Éclair Naturals line can be purchased online through their website, www.eclairnaturals.com, and while there are plans to expand I was really excited to learn it is available nationwide through Rite Aid, if I'm ever in a bind.
For more information about Jennifer Esposito's bakery, Jennifer's Way Bakery, and her story, visit www.JennifersWay.org