Crystal River's most famous residents are vegans. Or freegans, if you believe fishermen who claim manatees steal fish from their nets. About 700 of the huge marine mammals wintered in the relatively warm waters of the Crystal River this year.
Like many vegans, I adore animals. So the chance to visit these manatees was alluring. However, venturing into a part of the country where my diet is still considered unusual (if not downright peculiar) takes some extra planning. About 80 miles north of Tampa, Crystal River feels much more rural. The entire county only has about 150,000 citizens, and I'm not sure any of them are vegan. But I found that visiting Crystal River for a couple of days is doable, and you don't even have to subsist on eel grass like the manatees.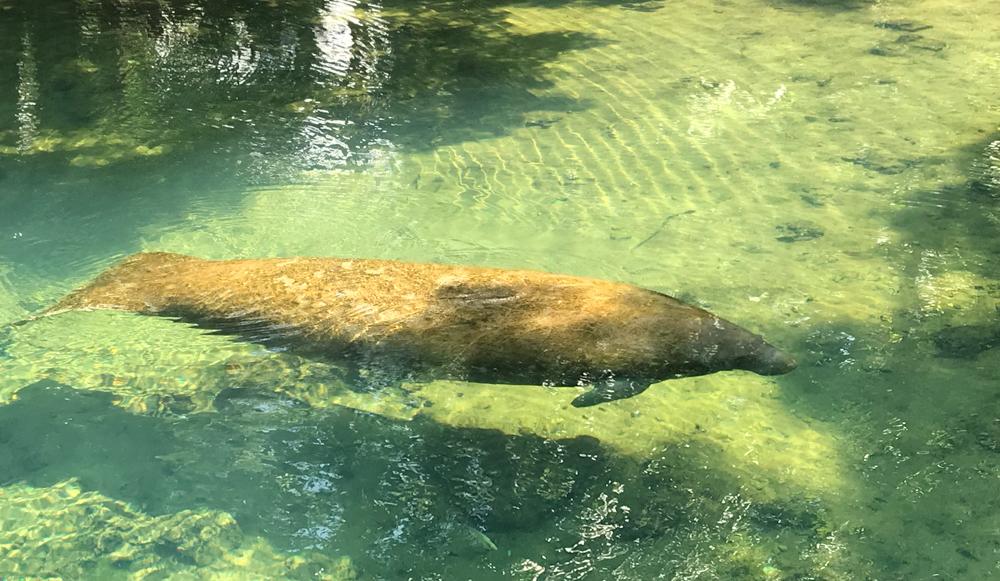 Tea House Café
Driving into Crystal River on Highway 19, you pass strip malls full of uninspiring architecture. But continue to Citrus Avenue and you'll find the Heritage Village, the old downtown area that now has boutiques and art galleries serving tourists. Much of the art features – you guessed it—manatees.
.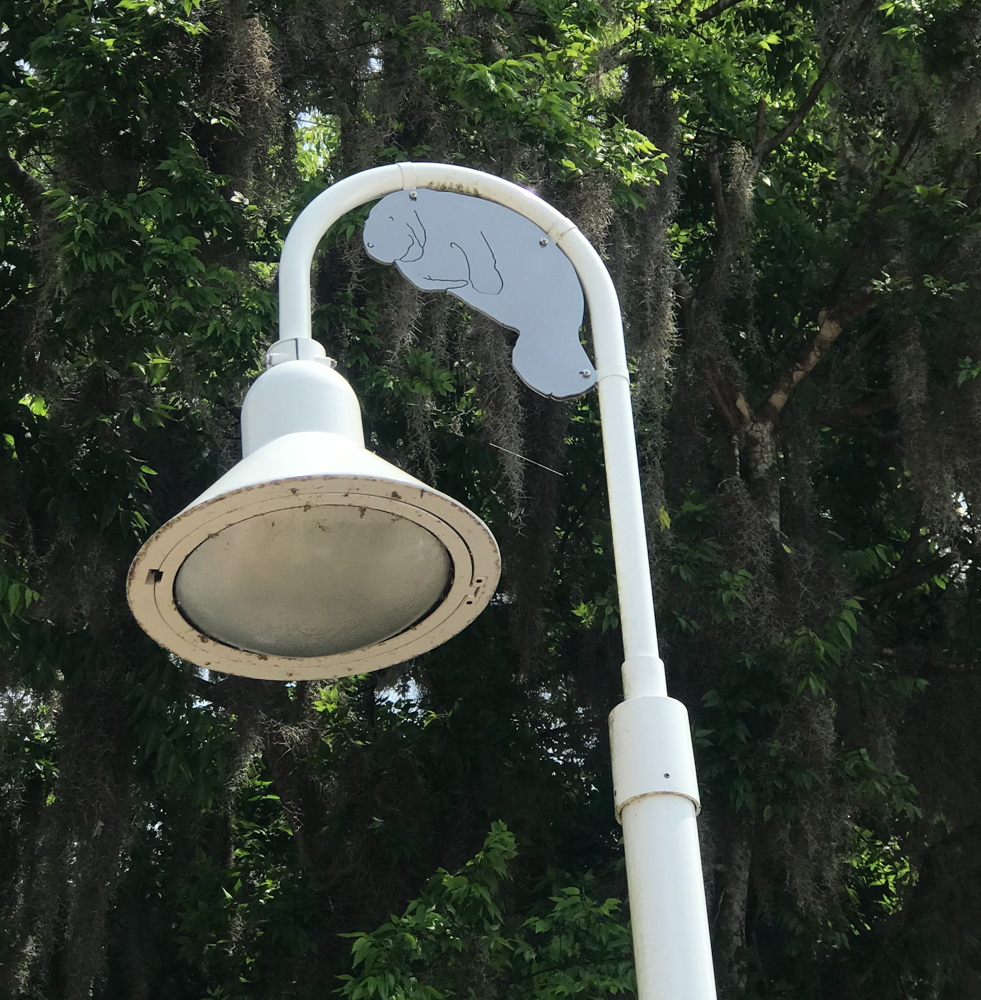 When I saw a place called the Karma Cottage, which specializes in crystals and psychic readings, I thought people working there will know where to get a veg meal in this town if anyone does. But when I asked the guy behind the counter, he laughed and said, "You're in the wrong state."
It turned out that just two doors down from the Karma Cottage, the Tea House Café has several vegan choices on the menu: avocado toast, spinach flatbread with hummus and olives, a plate with tabouli, pita, hummus and feta (hold the feta), or a peanut butter and jelly sandwich. Also, of course, tons of tea. It was a cute place with rows and rows of tea canisters inside, fun beaded glass chandeliers, and lots of rustic signs. I bought a Manatea infuser in the gift shop. This little guy hangs over the side of a teacup and is the ultimate manatee gift for the tea lover. I ordered the spinach flatbread with hummus and a side salad, and sat outside on a shady front porch.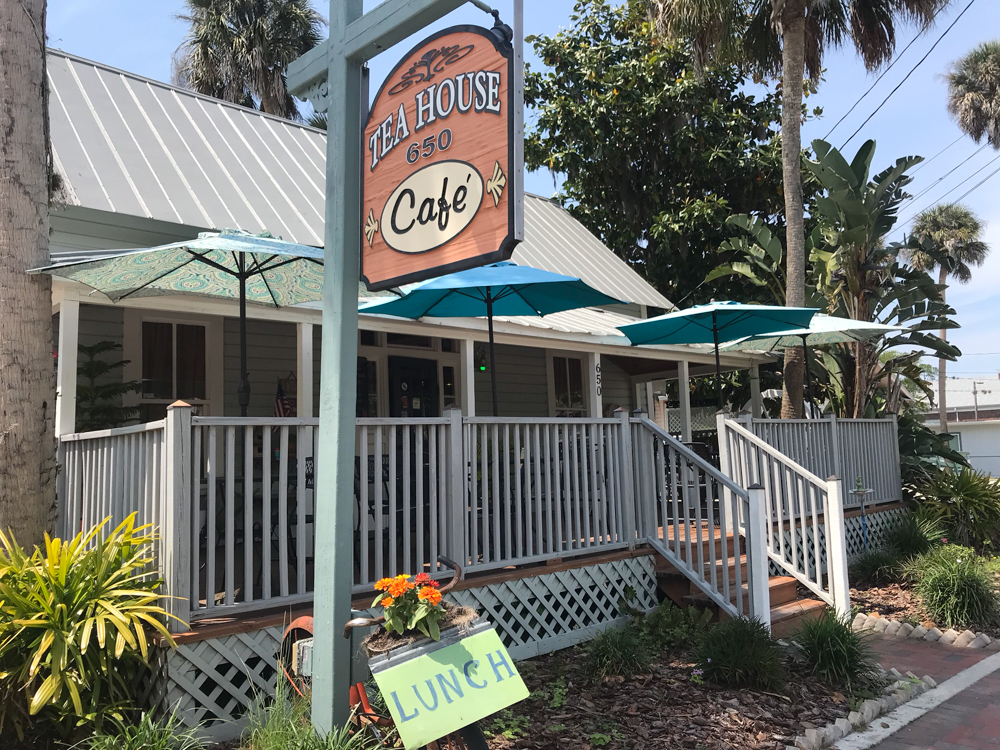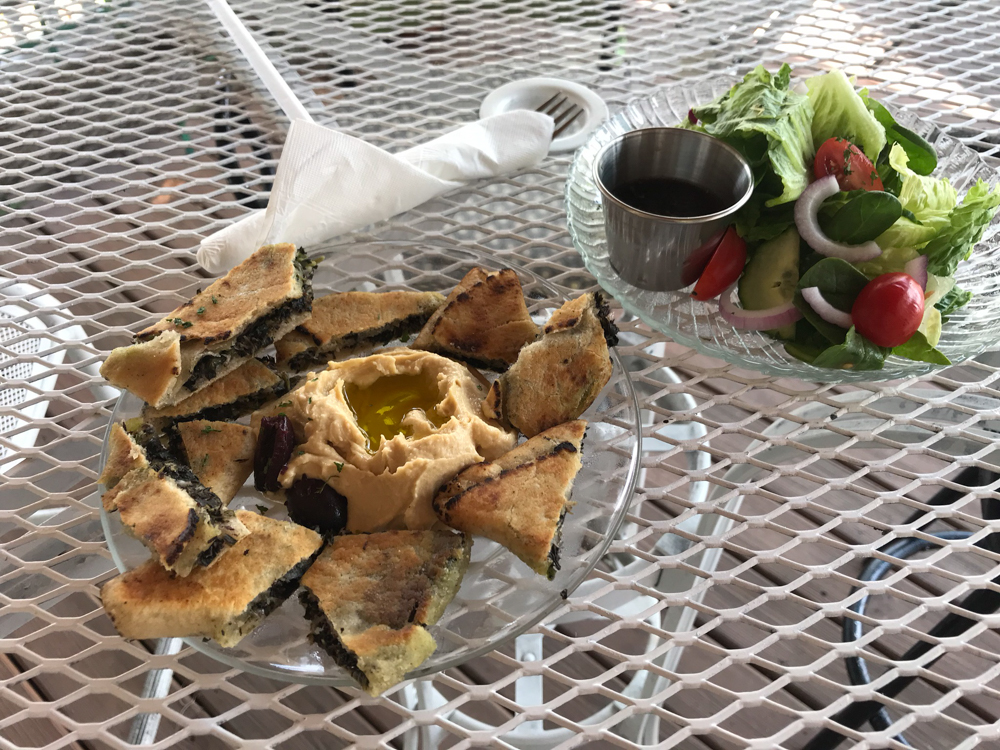 Plantation on Crystal River
I stayed at the Plantation, a big resort complex on the river with a golf course, sand volleyball, kayak rentals, organized tours, a spa, and a huge fountain out front full of manatee statues. I visited on a weekend, when you couldn't walk down the hallway without tripping over the train of a bridal gown. Not only was it a lively place with plenty of stuff to do, they even made me special vegan food.
The Plantation's restaurant, West 82 Bar & Grill, had advance warning that a vegan was gracing them with her presence. So Executive Sous Chef Greg Keeley made me a special mushroom and spinach risotto. If you don't tell them ahead of time, you can still get vegan pasta, though it's not on the menu.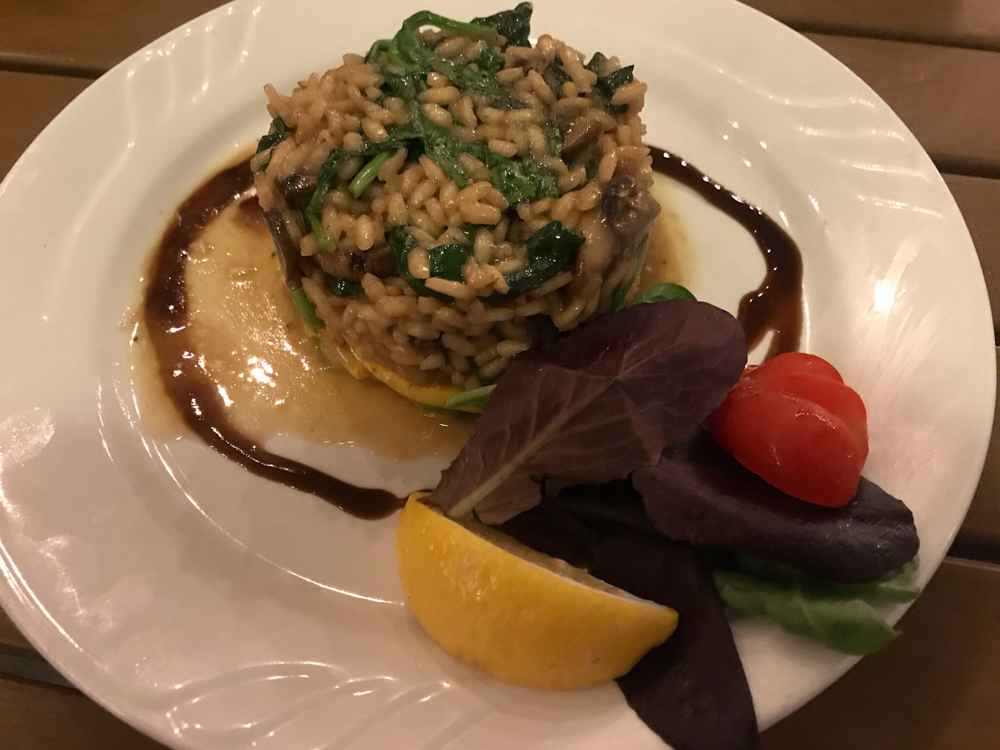 I ate breakfast at the Plantation twice. One morning they made me an elaborate and enormous dish with roasted cauliflower, tomatoes, squash, asparagus, zucchini, mushrooms and tons of balsamic, plus a red pepper stuffed with mushroom risotto. The next morning I had a more modest bowl of oatmeal, which they were happy to make special with water instead of milk. The Plantation also has soy cappuccino capability. Which to me is the ultimate luxury when visiting rural Florida.
Katch 22
About ten miles down the road from Crystal River, Katch 22 in Lecanto provides sophisticated, upscale dining. Expect polished wood tables, a neutral color scheme and tasteful prints of marine animals. The seafood-focused restaurant opened in September of 2016. According to server Laurie Mansfield, who's been there since the beginning, the response has been great, drawing a wide variety of locals and out of town visitors.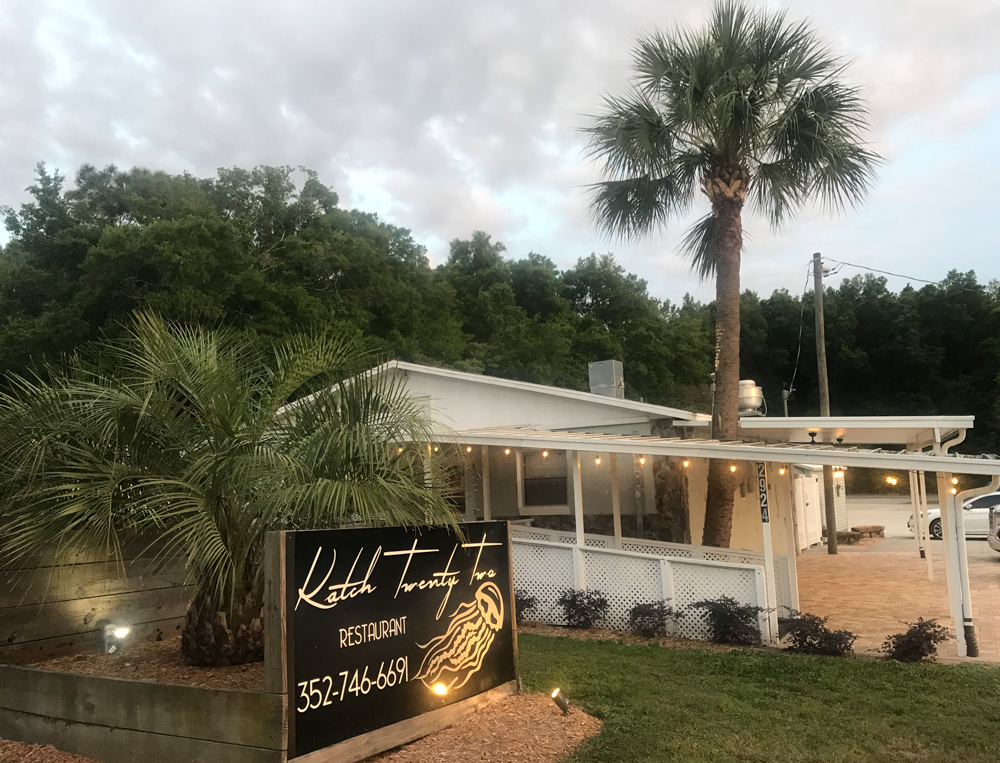 Like the Plantation, Katch 22 has nothing vegan on the menu, but people who ask will get the vegetable platter. And they do ask regularly, Laurie said. Chef Richard Wiggins cooks up big helpings of cauliflower steak, carrots, beets, mushrooms, asparagus, tomatoes and potatoes. It's high-quality produce, attractively arranged. They change their menus from spring/summer to winter/fall.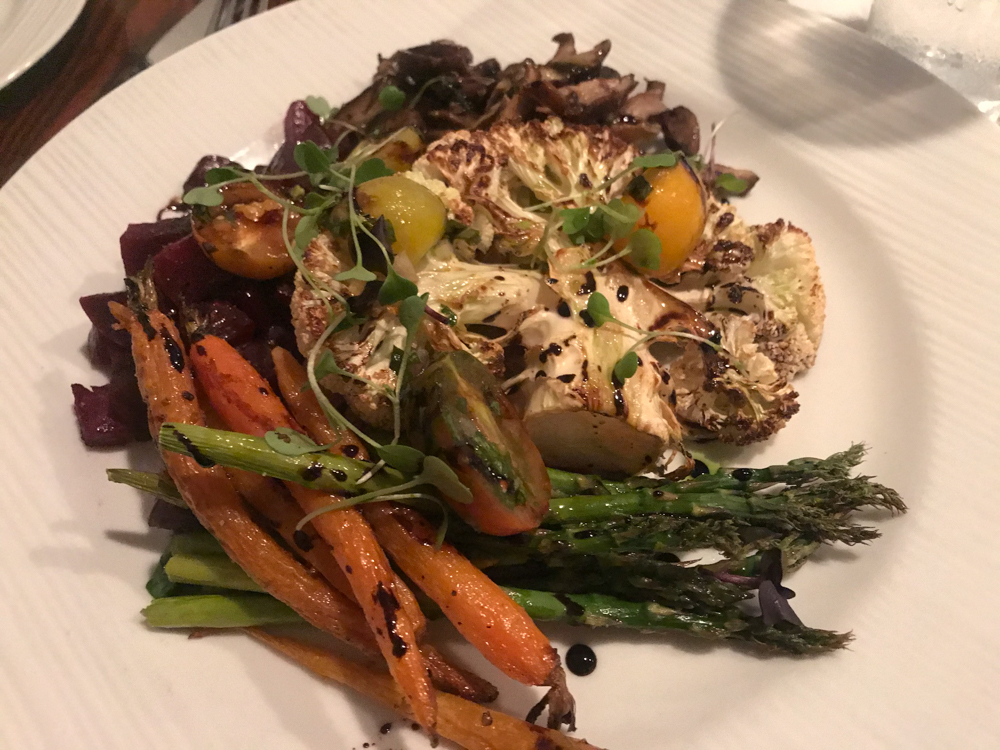 Manatee Viewing
Wait, why are we in Crystal River? Oh, yes, the manatees. Florida is the only place in North America where you can legally swim with these docile yet curious beasts. That's because manatee tourism goes back so far in Florida that it got grandfathered in.
I did my manatee swim through the Plantation. Captain Ross Files schooled our group in manatee etiquette. "This isn't Sea World," he repeatedly told us. These were wild animals and we were going into their home. The polite way to do this is through passive observation. Manatees are sensitive creatures, with acute hearing and 5,000 tactile hairs on their bodies. They can hear human heartbeats and the annoying sounds of our snorkel breathing from a distance. And they really hate swimmers who splash. We were told to stay as still as possible and to swim with our hands and feet underwater. Captain Ross told us not to touch the manatees, but if the manatees were interested in checking us out, we should let them approach.
It's an incredible experience to get to visit the manatees in their winter home. If you venture to Florida, sign on with the Plantation or ask around for another reputable tour operator who shows the manatees the respect they deserve. And remember to pack some vegan snacks.