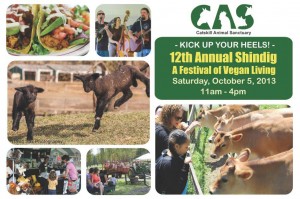 Most of us have heard the terrible stories about the fate of animals on factory farms and victims of hoarding. But, did you know that many of them are rescued and taken to farm sanctuaries, where they are rehabilitated and given the ability to live out their lives with love, care & freedom?
Catskill Animal Sanctuary in Saugerties, NY is such a place. Kathy Stevens, the owner and director, guides you around the 110 acre farm, calls out to every animal by name and each one of them runs up to her to say hello! The level of trust in humans that these creatures have learned, after arriving sick and terrified, thanks to the highly trained and loving hearts staff, is beyond belief. Kathy will tell you each animal's story as if they were her own children. In the most important ways, they are.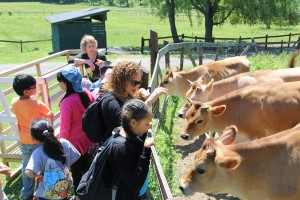 You can visit them most weekends throughout the spring, summer and fall. But on Oct 5, CAS is holding their 12th Annual Shindig. This year, dubbed "A Festival of Vegan Living", they've expanded the event, which traditionally includes interactive tours of the farm, hayrides and vegan food to include much, much more!
You will drive through the beautiful Hudson Valley to get to the farm. It's a perfect time to get out into nature when summer's heat has evaporated, leaving crisp, fresh air and green leaves are beginning to turn red, orange and gold. In this glorious environment, you'll meet these beautiful cows, sheep, pigs, geese, ducks, goats, chickens and horses up close and personal. They are such happy creatures, thanks to Kathy and her wonderful team, that you can rub a pig's belly and pet a sheep for yourself!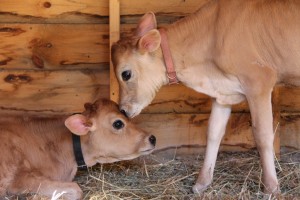 Chef Linda Soper-Kolton, who works at the farm's Homestead, (which is also a beautiful, cozy bed and breakfast) will be hosting some great vegan food demos, including other chefs who will show you how easy it is to make delicious and satisfying plant based cuisine.
Stroll over to the barn to hear Two Dollar Goat's bluegrass tunes and emiko's rockin' grooves, while munching on a snack or feasting on a full lunch by some of the most delicious vegan food brands out there. Treeline Nut Cheese and The Squeeze Truck (raw food and juices) are just two of the yummies available for the day!
Keep the little ones busy at the "Kid's Tent" for fun craft activities. Shop to your heart's content at the "Mini Expo" area, where wonderful vendors will sell products like Lois Eastlund Designs, Compassion Company T-shirts, and Two Trick Pony stationery, all 100% vegan and cruelty free. Bid at the silent auction on even more incredible products and services, generously donated by over 100 companies, including Vaute Couture, Gunas Bags and Mohonk Preserve!
You'll also have the great pleasure of listening to Kathy speak, as well as best selling author Victoria Moran. They'll talk about their fascinating experiences and you'll learn more about the vegan lifestyle.
The first 300 tickets sold include a goodie bag full of vegan treats and coupons, to sample and experience that vegans really want for nothing in the "real world".
There are still goodie bags left, so buy your ticket soon, they are going quickly!
This promises to be a fun and exciting event for the whole family! They expect people from all over the North East, from Boston to Philadelphia, but no worries, there will be a massive parking field close by and there is even a bus coming from New York City!
Buy tickets here: https://secure.casanctuary.org/np/clients/catskillanimal/eventRegistration.jsp?event=88
NYC Bus tickets here: http://cas-shindig-eorg.eventbrite.com/
The goal of the Shindig? Sure, to raise money for the care of the animals. But most importantly Kathy's team are devoted to raising awareness of the plight of these loving, intelligent, sentient animals. They want to teach you about the impact that animal farming has on the environment and our health as well as giving people correct and true information, in the hopes of creating more vegans, wherever possible. As Kathy says, "In the ways that matter, we are all the same."
All of the information you need is right here: http://casanctuary.org/getinvolved/programs/events-list/shindig-a-festival-of-vegan-living/
Come on out and have a great day! The animals thank you!
All photographs ©Catskill Animal Sanctuary.