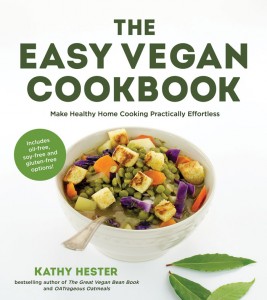 Bestselling author Kathy Hester hits the bulls-eye with a brand new cookbook to solve a big vegan dilemma: how to make vegan food that is fast, easy and lip-smackingly delicious.
The Easy Vegan Cookbook, packed with 80 recipes, is a must-have cookbook for vegans with
families, busy schedules, limited budgets and hearty appetites for healthy food that simply tastes good. With recipes like Creamy Broccoli and Potato Casserole and Veggie "PotPie" Pasta, readers will have a stockpile of quick recipes that they can count on to be delicious. Additionally, many of the recipes are gluten-free, soy-free and oil-free, for those who have other dietary restrictions or preferences.
This cookbook includes chapters such as Make-Ahead Staples and Speedy Stir-Fries, as well as recipes such as Inside-Out Stuffed Pepper Stew, Creamy Cauliflower Pesto Pasta and "Vegged-Out" Chili. No longer will weeknight meal planning be a source of stress. With The Easy Vegan Cookbook, vegans everywhere can enjoy easy, fast and family-friendly recipes for amazing food.
We have a copy of The Easy Vegan Cookbook for one lucky winner. Follow the instructions after the recipe to enter.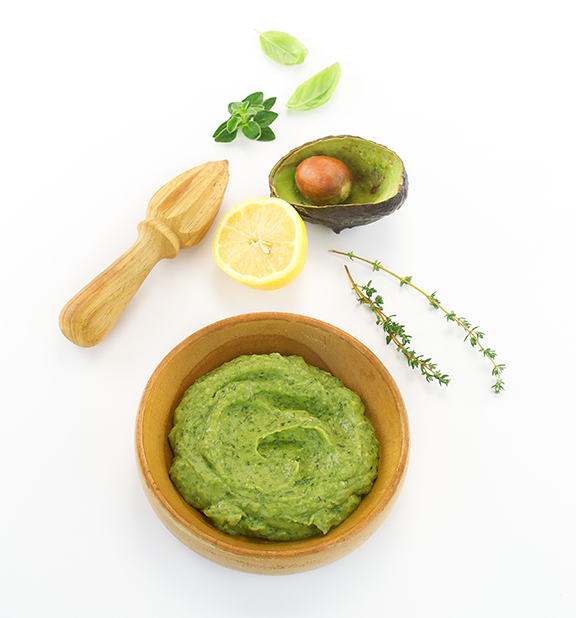 EASY AVOCADO LEMON BASIL PESTO
gluten-free • soy-free • no added oil
Serves 3 to 4, but you can easily double or triple the recipe
Don't let the specialty basil intimidate you. If you don't have lemon basil, you can use regular basil and add lemon zest, extra lemon juice or another lemony herb like lemon verbena or lemon balm. This rich, creamy pasta sauce comes together in minutes and has a bright lemon and herb flavor.
Ingredients
1 medium ripe avocado
1/2 cup (12 g) fresh lemon basil (or substitute regular basil)
1 (2- to 4-inch [5- to 10-cm]) sprig fresh thyme
1 tablespoon (3 g) fresh oregano leaves
1 tablespoon (15 ml) lemon juice
1/2 teaspoon salt, to taste
Pepper, to taste
1/4 cup (59 ml) water plus more if needed
1/2 lb (227 g) cooked whole-wheat angel-hair pasta
Preparation
Scoop out the avocado. Put the avocado flesh, lemon basil, leaves from the thyme and oregano, lemon juice, salt and water in a blender and blend well until the herbs are puréed.
If the purée is still too thick, add 2 more tablespoons (30 ml) of water and blend again. Toss with the cooked whole-wheat angel-hair pasta.
TIP:
This pesto comes together in minutes, so put your pasta in the boiling water while you make it. The pesto will be ready to toss with your piping hot, perfectly cooked pasta. You'll be out of the kitchen before the pesto has time to get too hot!
Per serving: Calories 94.4, protein 2.1 g, total fat 8.7 g, carbohydrates 5.5 g, sodium 0.2 mg, fiber 5.5 g
Printed with permission from Page St Publishing. Photo credit: Ann Oliverio.
We have a copy of The Easy Vegan Cookbook for one lucky winner. Follow the instructions below to enter. U.S. residents only, please. Contest ends at midnight eastern time on August 27, 2015.