Did you know the that you shouldn't put anything on our skin that you wouldn't also eat?
The epidermis is the largest organ of our body and we have to be careful to what we put on it because it absorbs everything!
First, you must read the ingredients contained in all the products you buy, they must be: paraben and petrolatum free, mineral oils free, 100% made from plants, petrochemical surfactants free. Better if not tested on animals.
As body moisturizer I love to apply pure sweet almond oil, fragrance-free, on the wet skin. Almond oil has a delicious scent, and when applyed on wet skin moisturizes very well and gives elasticity to the skin, this is why it's recommended also against stretch marks and for pregnant women.
One thing that I can't find store-bought is a good make-up remover, so I make it at home, with a few simple ingredients, and is also edible!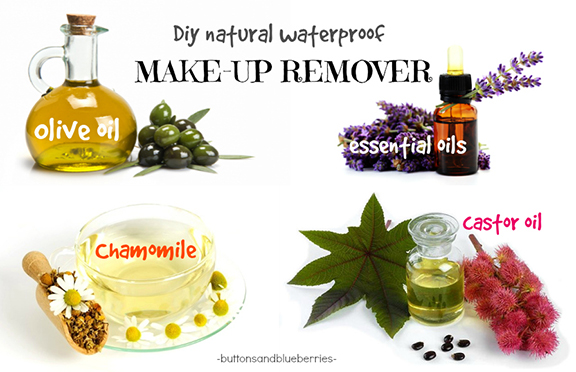 DIY water-proof make-up remover
Ingredients:
100 ml extra virgin olive oil + 50 ml almond oil (optional) or castor oil (very good for healthy and strong eyelashes!)
100 ml of cooled chamomile (it soothes skin redness)
A few drops of rose essential oil (dry skin) or lavender (oily) * (optional)
A small bottle preferably dark-coloured, I usually recycle th almond oil's one
* I do not use anymore lavender oil because lately it made my eyes burn, but maybe I am particularly sensitive or maybe my oil was a bit old
Preparation:
Put all the ingredients in the small bottle. Before use, shake it up to well combine the oils with the chamomile then wet a cotton swab with the makeup remover and apply on your eyes and face until al the make-up is removed.
The more oil you put more effective will be the make-up remover – it works even with waterproof make-up!