I wasn't really sure what to expect when the package of Core Defender Meal bars arrived at my door. Questions started swirling through my mind. The package says that they are high in fiber and contain no sweeteners –
Does that mean they'll taste like cardboard?

Will I be able to finish a whole bar?

Will I regret accepting this writing assignment?
Fortunately, they don't, I was able to and I don't!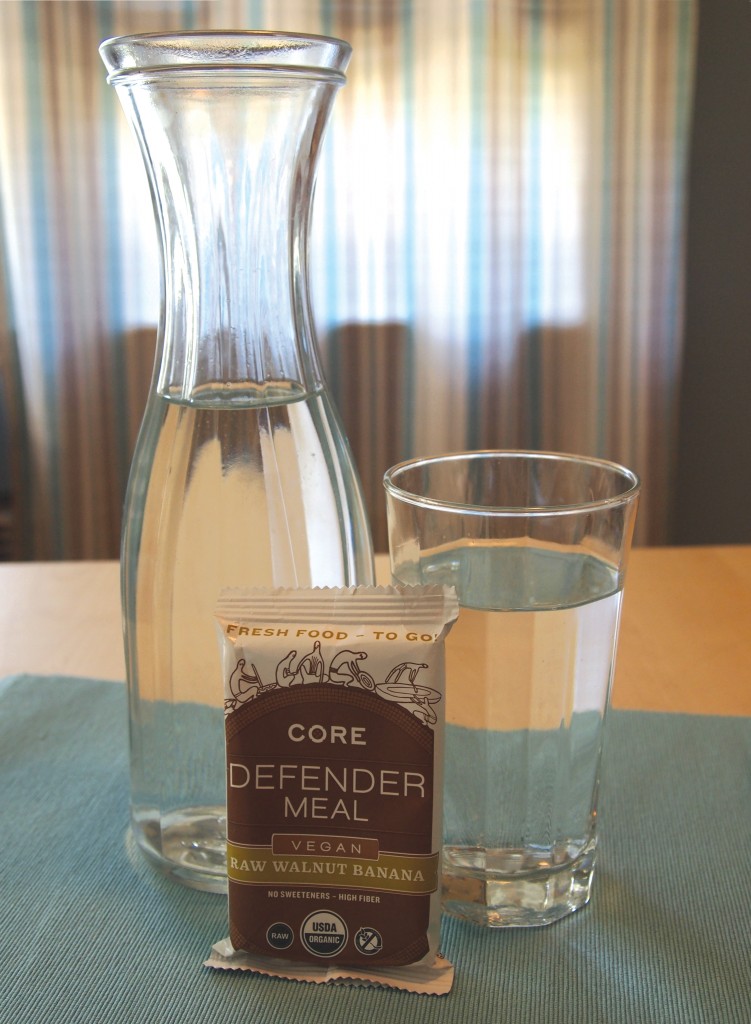 Core Defender Meals are meant to replace meals, so my VeggieGuy Dennis and I decided to give them a try for breakfast one morning. We had a busy day ahead of us and we knew it would be a while before we would eat lunch.
The back of the package says that one bar and two glasses of water are the equivalent to one full bowl of oatmeal and will give you 3 hours of stable energy, so we each poured a large glass of water and grabbed a bar.
Dennis had a Raw Almond Raisin bar and after a few bites he nodded and said "Oh, yeah. This is my kind of thing," which means he really liked it. Since I love chocolate and cashews, I went for a Raw Cacao Cashew bar, which was quite tasty. It was so filling that I could only eat about three quarters of it, and I ate the rest of it about an hour later.
I was pleasantly surprised that something made of just oats, cashews, cacao, raisins, flax and spices could taste so good! And we were both satiated until lunchtime, so we were really pleased.
We had Core Defender Meals, which are high in fiber and are available in –
Raw Almond Raisin
Raw Cacao Cashew
Raw Walnut Banana
The same flavors are also available in Core Warrior Meals, which are high in protein, but unfortunately aren't vegan. My Cacao Cashew bar contained 12 grams of protein though, so I consider it to be high protein anyway.
The bars are gluten-free, organic and raw, and should be refrigerated to preserve freshness. They'll last a week on the go, 1 month in the fridge and 6 months in the freezer. One pack is equal to a full meal, and it can be divided in half for two snacks.
According to their website, Core is a not for profit, 0% financial gain company who's employees earn a living wage and who's executives have a salary cap, which are all good things. Core is also committed to the environment and they work to reduce and offset all carbon, which are also good things. It would be nice if more companies had similar values.

Core Meals are perfect for people who travel a lot, especially because vegan breakfasts, especially those made with real food, can be difficult to find on the go.  They're also handy for the average busy person to keep in the fridge for those crazy days when skipping a meal might seem like a necessity.