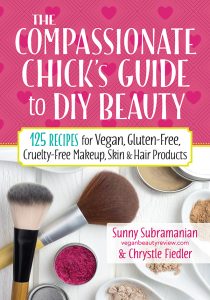 I've always wanted to be the type of person who makes her own beauty products. I could imagine myself in the kitchen whipping up an avocado face mask or blending together my own lip balm. But then I think about how daunting the process would be, and questions creep in: How do I know what ingredients are save? Do I need to buy fancy equipment? How I do I actually do this? Fortunately, I now have The Compassionate Chick's Guide to DIY Beauty by Sunny Subramaniam and Chrystle Fiedler to help me with the do-it-yourself process.
I've been following Vegan Beauty Review's Sunny Subramaniam for years now, so I know that she would never steer me wrong. In The Compassionate Chick's Guide to DIY Beauty, she has put together an incredibly comprehensive guide to vegan beauty and make-it-yourself products. Sunny is whimsical and fun, and her personality shines throughout the book. While making these recipes, you'll almost feel as if you're having a girl's night in with your BFF. Cocktails and snacks, not included.
The first part of The Compassionate Chick's Guide to DIY Beauty is dedicated to the Ins and Outs of Vegan Beauty, which includes info on why you should be using vegan and cruelty-free beauty products, and why you should make them yourself rather than buy them at the store. (Hello, huge cash savings!) Sunny includes a list of the toxic junk that's often found in commercially prepared beauty products, and explains why you don't want that garbage anywhere near your skin. She also has a comprehensive list of essential DIY ingredients and equipment, including essential oils, vegetable waxes, clays and sugars.
The recipe section of the book includes instructions to make 125 different products to pamper yourself from head to toe. Recipes cover everything from face and body care to hair care and cosmetics. There's even a unisex chapter with recipes for deodorant, toothpaste, shaving cream, and more.
The instructions area easy to follow, and most of them include step-by-step photos. The products don't take much time to make, and each one uses just a few ingredients. A lot of the ingredients are items you might already have in your pantry, because why would you put something on your skin that you wouldn't want to put in your mouth? Sunny sprinkles fun tips, tricks, and interesting info throughout the section. Sample beauty routines are also included.
Anything and everything you need to know about making your own vegan beauty products is included in this incredibly fun and informative book. Every chic vegan needs a copy of The Compassionate Chick's Guide to DIY Beauty!

Black Forest Chocolate Cake Facial Mask
This recipe is made with such yummy ingredients, like cocoa powder and luscious ripe cherries, that you'll need serious willpower not to bake up a vegan cake to match. Oh, what the heck, why not make both? As Oscar Wilde wrote, "The only way to get rid of a temptation is to yield to it." 
Best For: All skin types
Top Tip: Cherry juice is useful for lightening skin and clearing up dark spots. Cherries contain the antioxidant vitamins A and C, plus the minerals potassium, zinc, iron, copper and manganese. The fruit and juice are anti-inflammatory, moisturizing and healing for damaged skin.
Superstar Ingredient: Cocoa powder is antioxidant-rich, so it helps neutralize harmful free radicals and repair skin cells.
Equipment Needed:
Ingredients:
3 large ripe cherries, pitted
1 tbsp/15 mL kaolin clay
1 tbsp/15 mL almond milk
2 tsp /10 mL unsweetened cocoa powder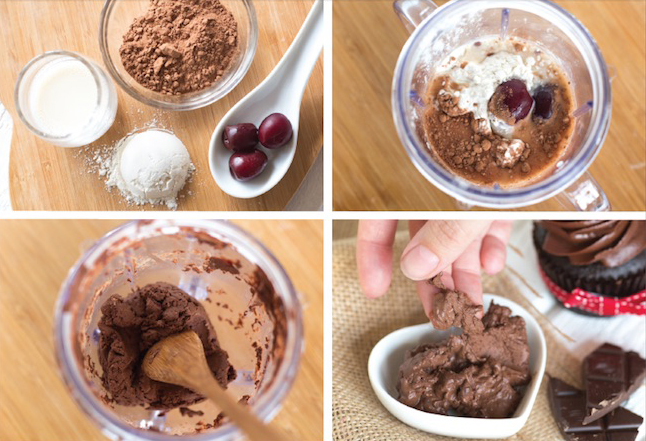 Preparation:
In blender, purée cherries, clay, almond milk and cocoa powder until smooth. Spoon into a small bowl.
Using fingers, spread mask all over damp cleansed facial skin. Let stand on skin for 10 minutes.
Rinse face with warm water and pat dry with a towel. Follow with your favorite toner and moisturizer.
Cover and store any leftovers in the refrigerator for up to 1 week.
Courtesy of The Compassionate Chick's Guide to DIY Beauty by Sunny Submaranian & Chrystle Fiedler © 2016 www.robertrose.ca Reprinted with publisher permission. Available where books are sold.
We have a copy of The Compassionate Chick's Guide to DIY Beauty for one lucky winner. Follow the instructions below to enter. U.S. and Canadian residents only, please. Contest ends at midnight on August 31st. Good luck!
a Rafflecopter giveaway