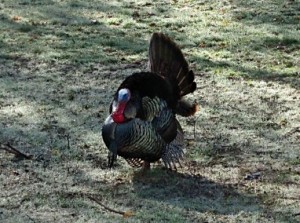 Each year as Thanksgiving approaches, I find that my thoughts turn to turkeys. Animals so often overlooked and seemingly doomed to be relegated to a decorative serving platter in perpetuity.
Turkeys are actually intelligent, social creatures.  A wealth of scientific and anecdotal evidence exists to support this.  Seriously, try Googling "turkey intelligence" or "turkey personality" and see what comes up.  [Warning: if you're a huge sap like me you might cry at some of the rescued pet turkey stories!]  There are even studies showing that turkeys may use up to 20 different vocalizations to communicate with one another.
While turkeys are not monogamous, the birds do have a recognizable family structure.  Baby turkeys (called "poults") remain with their mothers for four or five months after birth.  Communication between hens and poults begins in the egg, helping them to learn each others' voices even before birth.  (If you think this sounds like the bond a human mother can have with her fetus even before it is born, you're not far off.)  Once her poults have hatched, their mother fiercely protects them from predators and other threats, and comforts them if they are distressed or cold.  Much like a human mother, she can recognize their individual voices and distinguish cries signaling hunger from those indicating fear, for example, and she attends to their needs accordingly.
I think this photograph of a mother turkey sheltering her brood under her wings speaks volumes about the family bonds cultivated by these birds.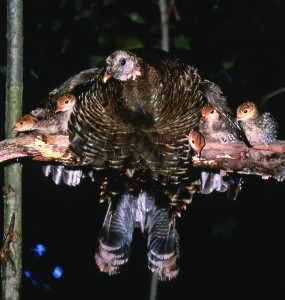 Of course, turkeys raised for slaughter never even meet their mothers.  Within the first three hours of their birth they are heaved onto a conveyor belt where their toes and beaks are amputated with a hot blade, without anesthesia.
The rest of their short lives will be spent in misery, as they grow into freakish monstrosities that bear little to no resemblance to their wild turkey brothers and sisters.  This is because we humans have bred and genetically "enhanced" turkeys to grow so unnaturally fast and with such abnormally large breasts that their internal organs cannot keep up, often leading to respiratory or cardiac failure and painful degenerative joint diseases.  Their top-heaviness, combined with the fact that their toes were lopped off on their first day of life, means that many cannot walk or even stand; most cannot walk without pain.  To put this in perspective, I read one statistic that said that if a human baby grew at a similar rate, it would achieve a weight of 1500 lbs. by 18 months of age.  It's pretty shocking, to say the least.
I won't go any further into the details of the horrific treatment of turkeys raised for human consumption.  There are ample resources online that can do it far more effectively than I, such as PETA or MSPCA.
Instead, this Thanksgiving,  I invite you to celebrate the lives and spirits of turkeys. I created the appetizer below as a fun and easy way to spread this celebration to your loved ones this holiday season!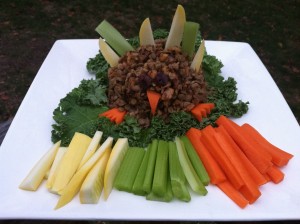 Gobble Your Veggies Platter
For the lentil mixture: 
1 medium yellow onion, sliced thinly
1 tbsp. vegan margarine
Generous pinch of salt
2-3 splashes of white wine (vegetable broth or water would also work)
1.5 cups cooked lentils
1/2 cup walnuts, finely chopped and lightly toasted
1/4 tsp. ground cumin
1/4 tsp. dried oregano
Dash of cayenne pepper
Freshly ground black pepper, to taste
For serving:
1 large leaf of kale
Sliced vegetables of choice (I used carrots, yellow squash, and celery)…some will need to be sliced very thinly (see Recipe Notes)!
Two whole (non-pitted) kalamata olives
To Make the Lentils
First, caramelize your onions.  To do this, melt the margarine in a medium-sized skillet over medium heat, then add the onions and salt.  Cook, stirring frequently, about 15-20 minutes until very soft and very brown.  They should look like this at the beginning: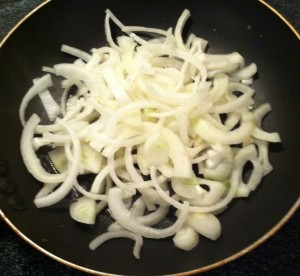 And this at the end: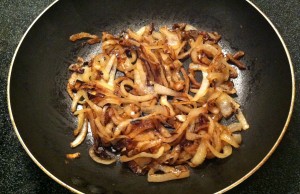 Next, deglaze the pan with wine or broth/water, then add your lentils to the skillet.  Use a potato masher or a sturdy fork to mash them a bit.  Don't puree them though!  You should still have plenty of whole lentils remaining.  Finally, add the walnuts and spices and stir until well combined.  Allow to cool slightly.
Transfer the mixture to a small-medium bowl and pack it in fairly tightly. Place the kale leaf on a serving plate, then place the bowl upside-down on the leaf.  When you remove the bowl you should have a perfect little dome of lentil goodness.  You can serve it as is with crackers or sliced veggies, or continue with the directions below to make it into a turkey!
To make a turkey: Take a smaller bowl (like a spice bowl) and carefully press it into the front of the dome to create a smaller dome (the head).  Next, take some pieces of carrot and use a paring knife to carefully carve them into two feet and a beak.  Press the beak and feet into place.  Then, slice off the pointy ends of the olives and press them into the eye spots.  Finally, insert sliced veggies of choice toward the back of the mound to make the tailfeathers.  Serve with additional sliced veggies and enjoy!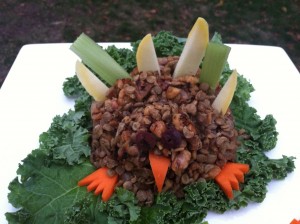 Recipe Notes: The lentil mixture is extremely tasty and not dry at all in the mouth; however, its texture is a little "dry" and "crumbly" as far as sticking things into it goes.  One way to address this would possibly be to mash the lentils even more in the skillet before adding the walnuts and spices to the skillet.  Another option would be to add a tablespoon of tomato paste and maybe a tablespoon of vegetable broth to make the mixture more moist and sticky.  Otherwise, do like I did and employ a little finesse to get you where you want to go!
One special tip for the tailfeathers: it's important to slice the veggies thinly enough that they can be inserted into the mound without making it fall apart, but not so thinly that they won't stand up.  Trial and error is the name of the game.  And isn't his cute, goofy little face worth it?
Have a very happy and peaceful Thanksgiving!