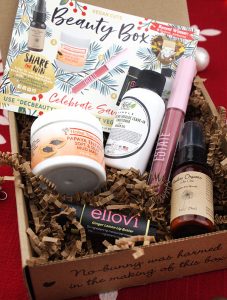 It feels like Christmas every month with the Vegan Cuts Vegan Beauty Box!
The Vegan Cuts Vegan Beauty Box is a subscription service that delivers a box of 4 to 7 sample size (or sometimes even full-sized!) beauty products to your door every month. It's a great way to try new-to-you cruelty free skincare products and cosmetics without spending a lot of money. It's also a great way for new chic vegans to discover the world of cruelty-free beauty.
My December Vegan Beauty Box arrived right before Christmas, and it really did feel like a gift, as I love all of its contents! They're perfect for pampering tired skin and hair during the cold winter months.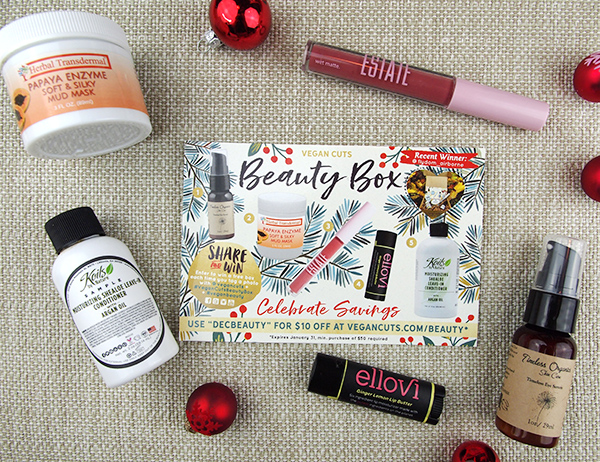 The December Vegan Cuts Vegan Beauty Box Contained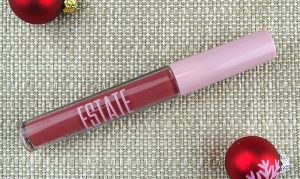 Estate Cosmetics Wet Matte Liquid Lips – I love this product! I received the color "shade," which is a nice dusty rose color, and it complements my skin color really well. It glides on smoothly before drying to become matte, and it stays put for hours. This was a full-sized lip color, and I will definitely be buying more of it!
Ellovi Lip Butter ­– My lips are always dry in the cold winter months, so I was happy to find this lip balm in this month's beauty box. I received "ginger lemon" flavor, which seems perfect for this time of year. It's made with just six ingredients – sunflower, macadamia, Hawaiian coconut, African shea, lemon, & ginger – and it has kept my lips hydrated all day.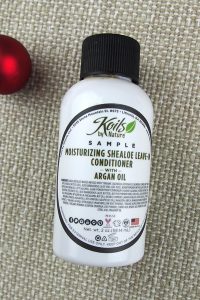 Koils by Nature Moisturizing Leave-In Conditioner – A few days ago I was drying my hair thinking that I needed to look into a leave-in conditioner to use for winter, as I have quite a few split ends. And then my beauty box arrived with this product in it, as if Vegan Cuts knew exactly what I needed! This creamy conditioner has smoothed my rough ends, and it also has helped to remove tangles.
Herbal Transdermal Papaya Enzyme Soft & Silky Mud Mask – I have a bunch of different facial masks, but most of them are powders that require mixing with water, and I tend to make a mess in the bathroom when I mix them up. I also tend to get lazy and don't use them. So I really appreciate that this mask is premade – just slather it on and let it do its thing! It's formulated with bentonite clay, lavender, papaya, orange oil, neem oil, and other natural ingredients to purify the skin while enhancing it with antioxidants and minerals at the same time. My skin feels squeaky clean after using it.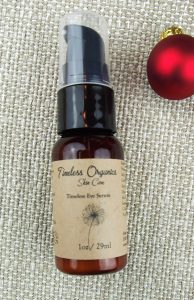 Timeless Organics Skin Care Eye Serum – New moisturizers and eye creams can be a bit of a gamble for me, as they can sometimes make my sensitive skin break out. I was a little nervous to try this eye serum, but I'm happy to report that it passed the sensitive skin test! It's helped with early morning eye puffiness and dark circles, too.
The Beauty Box is available as a monthly subscription, which means that once you sign up, a box of new goodies gets delivered to your door every month.