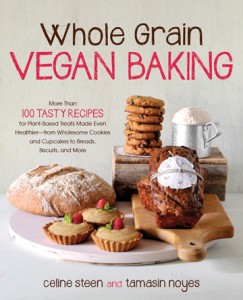 While preparing for my contribution to the Worldwide Vegan Bake Sale last month, I suddenly realized that my love and baking and inherent O.C.D. don't mesh very well. My kitchen was covered with flour and bits cookie dough and because I can't stand messes, I was trying to clean up after myself in the midst of the baking process, which, as you can imagine, just wasn't working out. I had designated zones of ingredients that were separated by wet and dry, and yet somehow they kept intermingling. My 1950s electric oven was burning cookies faster than I could set the kitchen timer. Right then and there, with bits of frosting in my hair and melted chocolate chips on my shirt, I declared that I would never bake again in order to preserve my own sanity (and the cleanliness of my kitchen).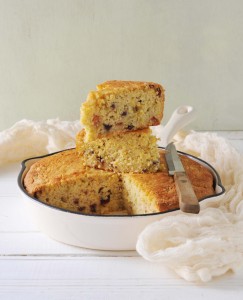 Ironically, Whole Grain Vegan Baking by Celine Steen and Tamasin Noyes was delivered to my door while all of this was going on, my mail carrier obviously unaware of the mini-meltdown I was experiencing inside.  With remnants of cupcakes still caked into my clothing, I pulled it out of the mailbox and thought "well, I won't be needing this now." Being the cookbook junkie that I am though, I opened the book 'just to look at the pictures', and I found myself once again in the kitchen (which was now spotless and organized) whipping up a batch of Lemony Spelt Scones. The scones were incredible and their preparation created such a minimal amount of disarray that the kitchen was back to being spotless by the time I pulled them out of the oven. My baking cessation had lasted just a few hours.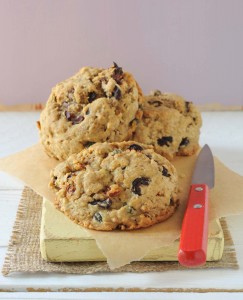 I'm just going to come right out and say that I love this book. Everything I've made so far has been super scrumptious and has created minimal mess in the kitchen, which pleases both my taste buds and my need to keep everything tidy. As a health coach, I'm happy that the recipes are made with a variety of whole grain flours rather than heavily processed white flour. I have several different types of whole grain flours on hand, and occasionally I try to use them in a recipe that originally called for white all-purpose flour, and my experiments usually end in disaster. I'm happy that Celine and Tamasin have already figured it all for me and I just need to follow their instructions.
Whole Grain Vegan Baking starts with a primer on whole grains, and then goes into tips for successful baking. Fats, sweeteners, yeasts and non-dairy milks are also discussed. The recipes cover everything from breakfast goodies and quick-bake loaves and muffins to breads, snacks and desserts. Treats found within these pages range from sweet to savory, and you'll even find great dinner dishes, such as a Black Bean Taco Tart and a Spelt-Crusted Quiche. Whether your new to baking or a seasoned expert, you'll find quite a lot of recipes to enjoy in Whole Grain Vegan Baking.
Fair Winds Press, the publisher of Whole Grain Vegan Baking was kind enough to share the recipe for Lemony Spelt Scones with me, so I'm sharing it with you!
Lemony Spelt Scones
Spelt and brown rice flours join forces with sesame in the form of tahini to impart these delicate and zesty breakfast scones with an awesome nutlike flavor. Note that we call for whole spelt flour here, as opposed to light (or white) spelt flour, which has had most or all of the bran and germ removed.
140 g (1 cup) whole spelt flour
80 g (1⁄2 cup) brown rice flour
11⁄2 teaspoons baking powder
1⁄8 teaspoon fine sea salt
48 g (1⁄4 cup) sucanat
85 g (1⁄3 cup) tahini
2 tablespoons (30 ml) fresh lemon juice
2 teaspoons lemon zest
1 teaspoon ground ginger (optional)
1⁄4 cup (60 ml) pure maple syrup
2 tablespoons (30 ml) vegan milk, more if needed
60 g (1⁄2 cup) organic powdered sugar
1 tablespoon (15 ml) fresh lemon juice, more if needed
Preheat the oven to 400°F (200°C, or gas mark 6). Line a baking sheet with parchment paper or a silicone baking mat.
In a food processor, combine the flours, baking powder, salt, and Sucanat.
Add the tahini and pulse a few times to combine. Add the lemon juice, zest, ginger, and maple syrup, and pulse a few times. Add the milk through the hole in the lid, 1 tablespoon (15 ml) at a time, while pulsing until the dough is sufficiently moistened: It should hold together well when pinched and not be crumbly at all. Add extra milk if needed. Divide the dough into 6 equal portions, shape them into slightly flattened rounds of approximately 2 inches (5 cm) in diameter, and place them on the prepared baking sheet.
Bake for 14 minutes, or until golden brown around the edges at the bottom, and light golden on top. Leave the scones on the sheet for a couple of minutes before transferring them to a wire rack to cool.
Prepare the icing by combining the sugar with 1 teaspoon of lemon juice at a time, until it is thick enough to coat the back of a spoon but still easy to drizzle.
Place a sheet of waxed paper underneath the wire rack to make cleanup easier. Drizzle the icing over the cooled scones, and serve. The scones are best when enjoyed the day they are baked, but they'll still be great the next day if you store them in an airtight container at room temperature.
Yield: 6 scones