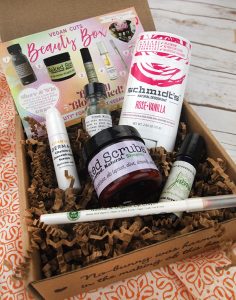 Spring is here, and the April Vegan Beauty Box from Vegan Cuts is perfect for preparing you for the warmer weather. These products are both good for you and for the planet.
If you're not familiar with the Vegan Cuts Vegan Beauty Box, let me introduce you. The Vegan Beauty Box is a subscription service that sends 4 to 7 new cruelty-free products to your door every month. The products range from unique cosmetics to luxurious skincare. All of the products in the beauty box are vegan and cruelty-free, and most are organic and all-natural, as well. The products are mostly full-sized or deluxe-sized samples, and the total retail value of boxes usually ranges from $40 to $60.
It's a great way for chic vegans to discover new brands, and it's perfect for new vegans who are just getting started in the world of cruelty-free beauty products. I've discovered many products that I love and use every day through the beauty box. Thank you, Vegan Cuts!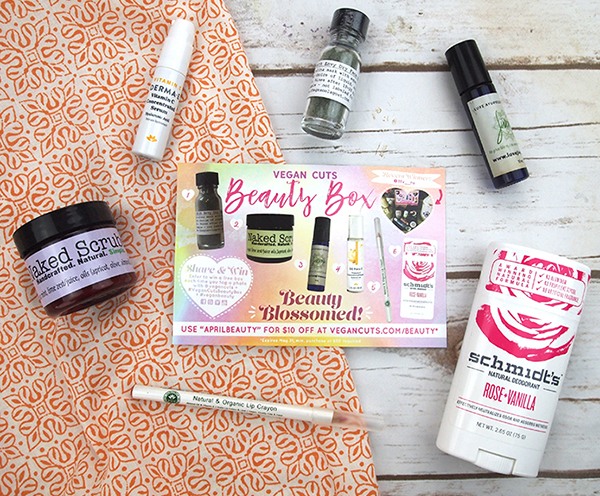 The April Vegan Cuts Vegan Beauty Box contained: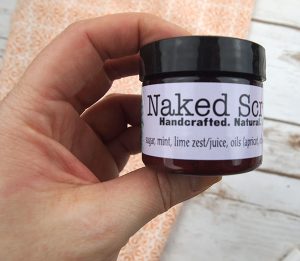 Naked Scrubs – This handcrafted scrub is made with sugar, mint, and natural oils, which are perfect for exfoliating skin that might still be feeling a little rough after the long cold winter. I received a mojito scrub, which has a sweet minty-scent that's perfect for awakening the senses in the morning shower.
PHB Ethical Beauty Lip Crayon – Most people typically use pencils like this one to line their lips, but I used it to color them as well. I received a peach-colored crayon, which is a nice light hue that's perfect for early spring. PHB's lip crayons are hand made with natural and organic ingredients. It's long lasting and smudge-proof.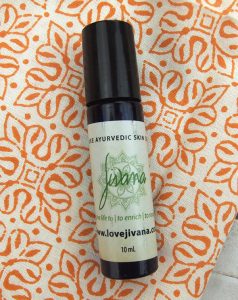 Love Jivana Tridosha Balancing Skin Treatment Oil – This ayurvedic skin care oil was created exclusively for the Vegan Cuts Beauty Box. It's formulated with lavender to balance, rose to moisturize, aloe to calm and treat eruptions, neem for antisepsis, anatamul to promote a clear complextion, and marshmallow root to soothe. My skin has been looking a little rough lately – it never likes seasonal weather changes – and this oil has helped to soothe and heal it.
The Granola Goat Green with Envy Face Mask – This powdered mask is made with Hawaiian spirulina, quinoa, French green clay, and patchouli essential oil, and it's loaded with natural nutrients that nourish the skin. To make the mask, simply mix the powder with water and apply to the skin. My face felt clean and refreshed after using it.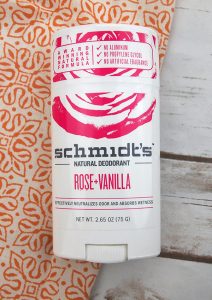 Schmidt's Natural Deodorant Rose + Vanilla – I sweat a lot, and most natural deodorants don't really cut it with me. I've been really happy with Schmidt's though – it keeps me dry and odor free even on the hottest of days. This deodorant is made with arrowroot, coconut oil, sea butter, baking soda, and other natural ingredients, and it's free of the nasty stuff such as aluminum and propylene glycol.
Derma E Vitamin C Concentrated Serum – Made with vitamin C, aloe vera, green tea, and other natural ingredients, this serum helps to brighten skin and boost collagen heath, minimize the look of fine lines, and improve the appearance of an uneven skin tone. I found that a little goes a long way with this freshly-scented skin treatment.
The Beauty Box is available as a monthly subscription, which means that once you sign up, a box of new goodies gets delivered to your door every month. If you like the samples in your box, you can order their full-sized counterpart from the Vegan Cuts Marketplace.