There is nothing that I enjoy more than hunkering down with a good book and losing myself to the world of fiction.  I love painting pictures in my mind of the characters and various scenes as they unfold on the pages of whatever book I am reading.  I can't tell you how excited I was when I was contacted by vegan handbag company Nstilla to review one of their bags because they combine two of my favorite things: fiction and vegan fashion!  The ROMEntic Collection from Nstilla is inspired by Rome, Italy, and each bag captures a chapter of the story of Morgana, an 18 year old woman embarking on a self-discovery journey through Rome, following the findings in her attic of a mysterious letter from her great-grandmother Anna.  Intriguing, right?  The great thing about these bags is that they are vegan (yay!), well crafted, and printed with different chapters in Morgana's story.  Let me share with you some of my favorites.
I received the Chapter 5  wristlet which is titled "I Found a Diary".  This lovely wristlet is made from high quality textured vegan leather with a zip top and convenient wrist strap.  This bag has two different scenes on each side that are beautifully detailed with bright, bold colors.  This wristlet is roomy enough for your wallet, makeup and other essentials and comes with three inside slots for ID and credit cards.
Nstilla also offers fabulous tote bags.  I love the Chapter 2 tote,  "The Right Choice".  This bag is a real show stopper, with bight colorful scenes on each side and a tri-color braided shoulder strap.  You can easily carry all of your stuff in style and with a convenient interior zip pocket and magnetic closure, you can feel good that your valuables will be kept secure.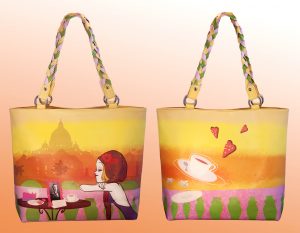 If you really love both the tote and the wristlet, but can't decide which to buy, no worries because Nstilla sells tote/wristlet combos!  Check out this adorable Scootering Around Town combo.  You can secure the wristlet to the tote if you want to use it as a wallet for daytime and then pull it out and convert it to a wristlet for a night out on the town.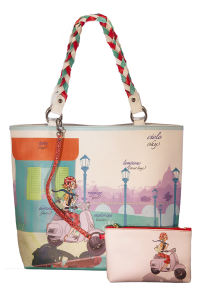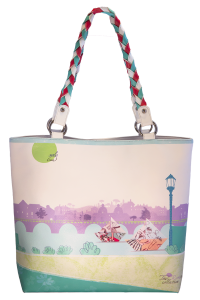 All of these bags are designed in the United States and Italy and are available in limited editions, so hurry up and head on over to Nstilla to pick up one of these eye catching vegan bags.  Also, you can continue to follow the story of Morgana on the Nstilla website as they start to publish it as an on-going series.  I can't wait to find out what happens next!