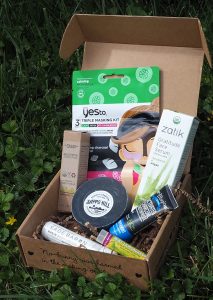 I've been reviewing Vegan Cuts Vegan Beauty Boxes here on Chic Vegan for a few years now, so if you're a regular reader, you're familiar with it. If you're new to the site, or even new to veganism, you may not know about the Beauty Box though, so let me fill you in.
The Vegan Cuts Vegan Beauty Box is a subscription beauty box service. Each box is full of 4 to 7 cruelty-free cosmetics and skin care products and is sent to your door every month. Some are samples while others are full-sized. Of course, all of the products are free of animal ingredients and are never tested on animals. Most of them are all natural and organic as well.
I've been receiving The Vegan Beauty Box since 2014, and I'm impressed with the variety of products Vegan Cuts puts in them. I've never received the same product twice! I've been able to try all sorts of cosmetics and skin care products that I might not necessarily know about otherwise. I've discovered many favorites, too.
The July Vegan Cuts Vegan Beauty Box contained a collection of beauty products that will help keep your skin in tip-top shape after a day of fun in the sun!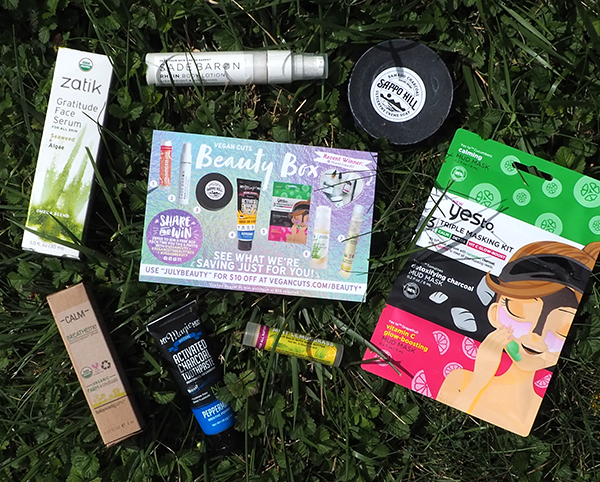 The July Vegan Cuts Vegan Beauty Box Contained: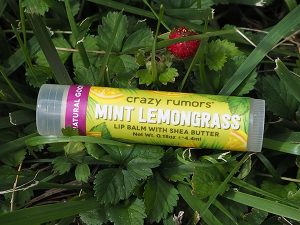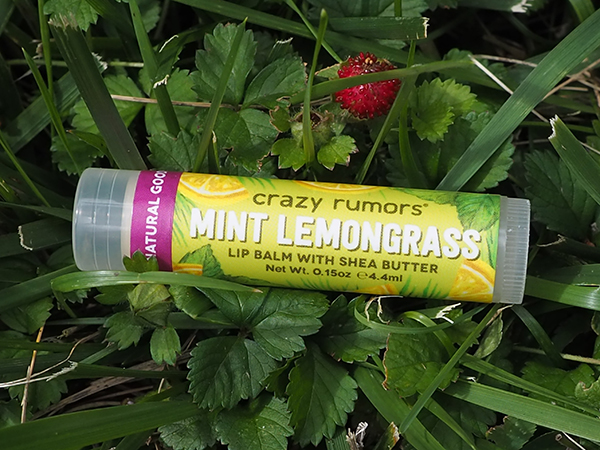 Crazy Rumors Lip Balm – $3.50 value
Crazy Rumors is my favorite brand of lip balm, so I was happy to find this little tube in this month's vegan beauty box. Their balms come in an impressive array of flavors, and I love trying new varieties. I received a mint lemongrass balm, which has a fresh, clean flavor that reminds me of a refreshing summery drink. Crazy Rumors lip balms are made with organic shea butter as well as plant oils and waxes. Of course, they never contain any beeswax, which seems to be so prevalent in lip balms.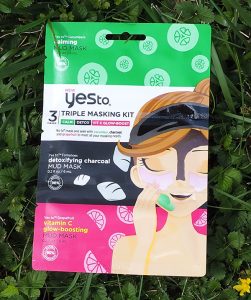 Yes To Triple Mask Kit – $4.00 value
I have a confession to make—I loveface masks! After a recent glimpse inside my bathroom cabinet, I think I may have accidently developed a face mask hoarding problem. I tend to get lazy with them though, and I prefer to have pre-made masks rather then the kind that comes as a powder and needs to mixed with liquid. I was super anxious to try these different masks from Yes To, which is another favorite brand, and it was difficult to keep myself from trying them all at once. While they actually canall be used at once on different areas of the face that might suffer from different problems, I choose to use them separately. The cucumber mask calms and soothes sensitive skin. I do have sensitive skin, and I loved this mask. The black mask is made with charcoal and natural clays and is formulated to detoxify and rid skin of nasty impurities. My face felt squeaky clean after using it. The pink grapefruit mask is made vitamin C and pink kaolin clay and is formulated enhance skin's glow while minimizing pores. It left my face feeling fresh and tingly.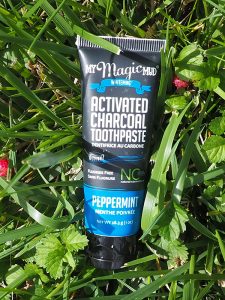 My Magic Mud Activated Charcoal Toothpaste – $4.00 value
I've received samples of charcoal toothpaste in the past, and while I really would like to give them a try, I just can't deal with powdered toothpaste. It gets messy and my sink looks like a natural disaster occurred in it after use. I was really happy to receive this tube of pre-mixed toothpaste in this month's box. It's made with coconut shell activated charcoal and bentonite clay, and it's formulated to remove stains on the teeth that can be left behind from coffee, tea, red wine, and other messy foods. It also removes toxins and eliminates bad breath. It's not made with any harsh chemicals, so there are no foaming agents, no fluoride, and no glycerine. It's non-gmo as well. Despite its name and color, it doesn't actually taste of mud, but is rather minty fresh. I've been using My Magic Mud toothpaste for a few days now, but I was a bad beauty blogger and didn't take a before picture, so I can't say if it's whitening my teeth or not.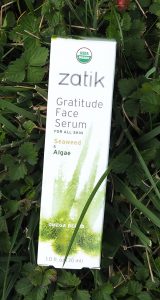 Zatik Gratitude Face Serum – $32 value
This serum is made with seaweed and algae along with a blend of natural herbs and raw flower and vegetable seed oils, and is crafted to improve and soften the appearance of fine lines while providing needed daily hydration to the skin. It also removes toxins and impurities from the skin. It's USDA Certified Organic, non-gmo, gluten-free, soy-free and alcohol-free. Zatik makes their products in small batches to ensure freshness.
Sappo Hill Activated Charcoal Soap Bar – $3.00 value
Black soap always reminds me of Annie Hall, and I've been enjoying washing with this every day. This little round bar from Sappo Hill is crafted with sustainably grown steam-activated bamboo charcoal. The fine particles of charcoal in it lightly massage and clarify the skin, leaving it feeling fresh and clean. It can be used as a shampoo, too! All of Sappo Hill's soaps are kettle-made and cut by hand in Ashland, Oregon.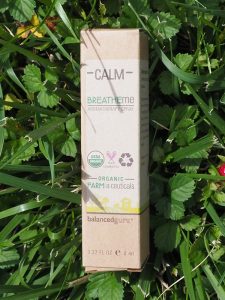 Balanced Guru Calm Aromatherapy Spray – $15 value
I don't know about you, but I can always use a little extra calm, so this spray has definitely come in handy. It's made from a mix of organic sandalwood, lavender, frankincense, roman chamomile, and clary sage essential oils, and a little spritz works wonders. I've been keeping this bottle in my desk drawer and spraying it when things get a little stressful. It can be sprayed directly on the skin or in the air. You can spray it on a tissue or handkerchief to breathe it in, too.
Sade Baron Rhein Body Lotion – $8.00 value
This lightweight yet decedent moisturizing lotion is formulated with shea butter and coconut oil to deeply penetrate skin and sooth conditions such as dry skin and eczema, while cold pressed avocado oil helps skin stay smooth, strong, and elastic. Ylang-ylang, peppermint, and neroili oils give it a cool, sweet scent.
The Vegan Beauty Box is available as a monthly subscription, which means that once you sign up, a box of new goodies gets delivered to your door every month.