Although veganism is become more widespread, it can still be a little difficult to find affordable cruelty-free cosmetics. It was for that reason that Amanda Wolfson started Baby Bat Beauty.
Amanda created the company while she was a senior in college as a fun way to express her creativity and a way to help others express theirs through makeup. These cosmetics and beauty products are all handmade with love for a price that won't break the bank. All of Baby Bat Beauty's cosmetics are PETA certified cruelty-free and most them are also PETA certified vegan. They're not made with talc, gluten, parabens, mineral oil, patroleum, sodium laurel sulfate, or other harmful chemicals.
The Baby Bat Beauty product line includes gel eyeliners, highlighters, lip balms, lipsticks, lip creams, blushes, scrubs, face oil, and more. Highlighters and lip colors are creative and sometimes unusual, such as the bright blue Sapphire lip cream, and pink and blue Dreamcatcher highlighter.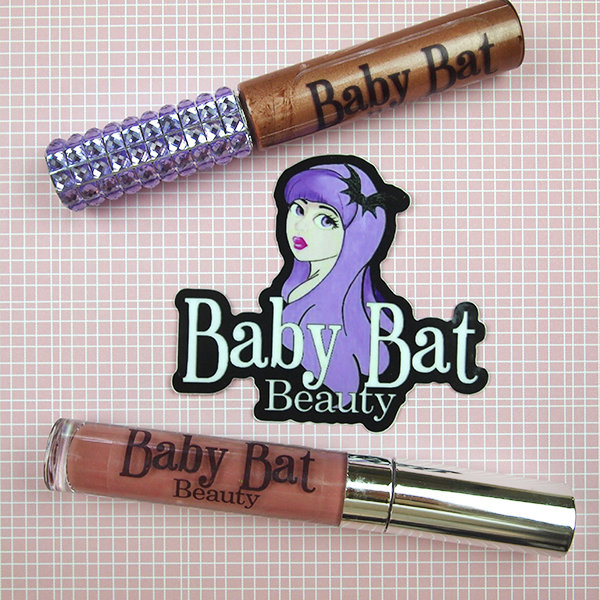 I recently tried two of Baby Bat Beauty's lip colors. The Matte Lipstick goes on smooth and creamy and dries to a long-lasting matte finish. It has a sweet cupcake scent, and I found that I didn't need to keep reapplying like I do with other lipstick brands. I'm not daring enough to wear bright lip colors, so I tried Cryptic, which is a rose pink that's perfect for my complexion. It's definitely a keeper.
I also tried the Metallic Lip Cream in Ethereal, which is a neutral color with a hint of rose-gold. This lip cream comes in a tube with an applicator, but it's not a sticky lip gloss – it's creamy, opaque lipstick with a pretty metallic sheen. It's moisturizing and light weight, and it has a tasty vanilla scent to it. I accidently found that both colors look great together, with the Cryptic Matte Lipstick as a base and the Ethereal Metallic Lip Cream as a top coat.
Baby Bat Beauty currently has an Indiegogo campaign to help them create custom packaging, which would get them comply with international laws and get their products into stores. Custom packaging would also help them compete with larger cosmetics brands that are laden with chemicals and aren't cruelty free. Gifts include a choice of lip colors for a $15 donation, a skin care pack for a $25 donation, and a four pack of highlighters/blushes for a $30 donation. To help them out visit: https://www.indiegogo.com/projects/help-expand-local-cruelty-free-cosmetic-brand-beauty#/