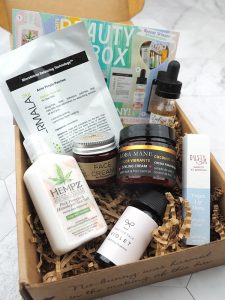 Summer is almost over, but you can still shine with the August Vegan Cuts Vegan Beauty Box! It came loaded with products to pamper and protect.
The Vegan Cuts Beauty Box is a subscription beauty box service. Each box is full of 4 to 7 cruelty-free cosmetics and skin care samples, and is sent to your door every month. Of course, all of the products are free of animal ingredients and are never tested on animals. Most of them are all natural and organic as well. It's a great way for chic vegans to try new products, discover new brands, and sample new-to-you items. I have sensitive skin, and I'm sensitive to certain scents as well, so I love that I can try different brands to see if they agree with me without having to shell out a lot of cash.
It's always a great day when the Vegan Beauty Box arrives. I love ripping it open to discover what types of lotions, potions, and powders are inside. The August Beauty Box was contained an array of pampering products.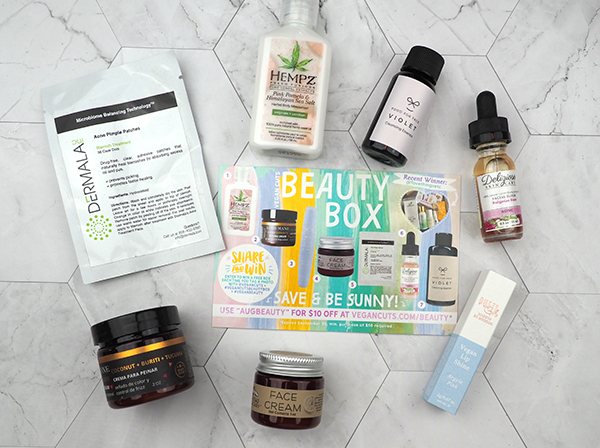 The August Vegan Cuts Vegan Beauty Box Contained: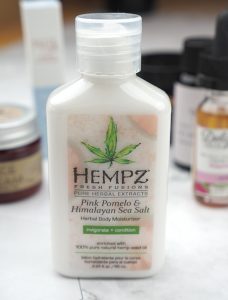 Hempz Herbal Body Moisturizer – $7.50 value
Previous Beauty Boxes have contained Hempz lotions, and I've really enjoyed them. Hempz lotions are enriched with pure hemp oil and plant extracts, which can help revive and rejuvenate tired skin. It's a terrific after sun moisturizer. This Pink Pomelo and Himalayan Sea Salt moisturizer was a little too perfumey for me, but I've enjoyed their Fresh Coconut and Watermelon and Triple Moisture lotions in the past.
Loba Mane Styling Cream – $7.00 value
This cream does double duty as a leave-in conditioner and styling lotion. It's formulated with coconut oil, buriti, tucuma, argan, jojoba, and sweet almond oil to nourish and protect your locks. It also combats frizz (which is essential in the humid summer months!), and locks in color. Because this is made with coconut oil, I've found that just a tiny dab will do ya. Using too much might weigh down your hair.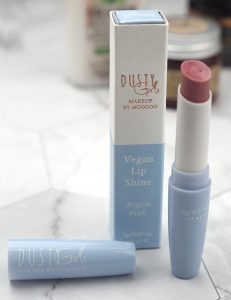 Dusty Girls Vegan Lip Shine – $14.00 value
I'm always excited when there is lip gloss in the Beauty Box, and so this lip shine was a happy addition this month. I received the color "Argyle Pink," which is the perfect shade to compliment my complexion. It's not too light, not to dark, and contains just the right amount of shimmer. Made with natural plant oils and waxes, it's glides on smoothly and moistures.
Dermala Acne Pimple Patches – $10.00 value
Despite being 40-something years old, I still suffer from the occasional breakout, especially around that time of the month. I've been hearing good things about acne patches, have been wanting to try them. They're small drug-free adhesive patches that are said to heal acne naturally by absorbing excess oil and pus. They are made with hydrocolloid, which protects blemishes for faster healing. I'm saving these patches for my next breakout.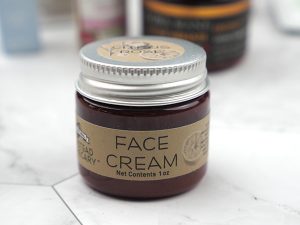 Farmstead Apothecary Face Cream – $4.75 value
Made with just eight ingredients, this creamy moisturizer balances facial oils and clears up blemishes. It's formulated with organic and non-gmo ingredients such as safflower oil, jojoba oil, vegetable emulsifying wax, radish root ferment, and vitamin E oil, and it reduces the signs of aging while hydrating the skin. It's suitable for all skin types. My skin feels soft and smooth after using it for a week.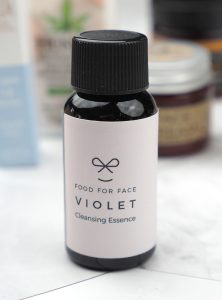 Food for Face Violet Cleansing Essence – $7.00 value
The scent of this rich and creamy cleanser reminds me of the creamsicles I enjoyed when I was little. After reading through the ingredients list, I was tempted to try a nibble, but I decided against it. It's made with açai juice, blueberry fruit extract, coconut fruit, radish root ferment, oat kernel flour, beet root powder, sweet orange oil, and vanilla oil, so it really does sound good enough to eat. It's full of phytonutrients that nourish and enrich the skin, leaving it softer and more luminous, and it's perfect for sensitive skin, which I have. I will admit that it was a little difficult to use, as the bottle it came in is stiff, and the cleanser is a little thick. I had to use a small popsicle stick to coax it out of the bottle in order to wash my face with it, but I really did enjoy it.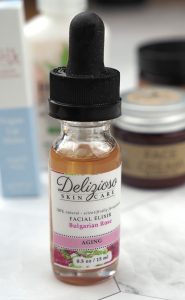 Delizioso Skincare Bulgarian Rose Facial Elixir – $48.00 value
This luxurious facial serum is made with made with 100% pure steam-distilled fresh organic rose petals and a blend of natural, raw oils, such as rosehip, black currant, and maracuja. The formulation softens skin, both in appearance and texture, reducing the appearance of fine lines and wrinkles. Unfortunately, roses and I don't get along, so I'll be passing this along to a friend.
The Beauty Box is available as a monthly subscription, which means that a new box of products gets delivered to your door every month.