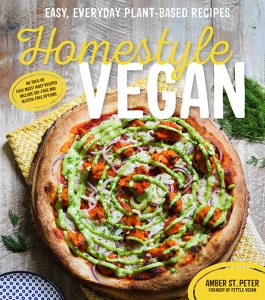 One of the things my health coaching clients often tell me is that they're in need of a cookbook with "everyday" style vegan recipes that will please their omnivorous family members. Homestyle Vegan: Easy, Everyday Plant-Based Recipes by Amber St. Peter just might be the book that they're looking for.
Homestyle Vegan is packed with easy that are easy-to-make delicious recipes that are sure to please the whole family. Many of the dishes are vegan remakes of old favorites, such as French Onion Soup, Chickpea Noodle Soup, Pile O' Poutine, and Vegetable Potpie. The recipes will take you from breakfast right through to dessert, and there are even holiday favorites, such as Green Bean Casserole with Crunchy Onions. There's a chapter dedicated to comfort food, and another full of crowd-pleasers. There's also section of diy kitchen basics, such as pizza dough and dairy-free mayonnaise.
New vegans often tell me that learning to cook without meat can be challenging, and they have a difficult time finding ingredients that recipes call for. They often complain that ingredients can be too expensive, as well. The recipes in Homestyle Vegan use simple ingredients that are probably already in your pantry, and if they're not, they're pretty easy to find. Many of the recipes use simple vegan swaps, such as almond milk instead of cows's milk. I was pretty amazed to find that there isn't a single recipe that uses tofu, tempeh, or seitan in Homestyle Vegan, which is a pretty amazing feat for a meatfree cookbook!
If you're new to vegan cooking and are looking for easy recipes, if you're cooking for a family who thinks vegan food is "weird," or if you're hoping to make vegan versions of your childhood favorites, Homestyle Vegan is the book for you!

Apple Fennel Stuffing with Caramelized Onions
For years, the only stuffing I'd ever eaten was the weird, kinda mushy from-a-box version that only came out at our place on Thanksgiving and Easter. And it was okay, but I had no idea what I was missing. I don't remember the first time I had a crusty, moist homemade stuffing, but it changed my mind forever. Once you've had the real thing, you just can't go back—and with this easy recipe, you'll never have to!
Serves 8
Ingredients
8 cups (350 g) cubed stale sourdough bread (½ " [1.3 cm] cubes)
1 medium yellow onion, thinly sliced
1 tsp plus 1 tbsp (15 ml) olive oil, divided
4 cloves garlic, minced
2 celery stalks, thinly sliced
1 medium bulb fennel, cored and chopped
2 medium red apples, cored and chopped
8 sprigs thyme, stems removed
6 fresh sage leaves, finely chopped, plus more for garnish
1 tsp salt
1 tsp pepper
2 cups (480 ml) vegetable broth
Preparation
Preheat the oven to 350ºF (175ºC). Place the stale, cubed bread in a large mixing bowl and set aside.
In a small cast-iron or frying pan, combine the onion and 1 teaspoon of the olive oil over low heat. Saut. until caramelized and browned, stirring occasionally and adding water as needed if the onions begin to stick, 20 to 25 minutes.
While the onions caramelize, heat the remaining 1 tablespoon (15 ml) olive oil in a large cast-iron or frying pan over medium heat. Add in the garlic, celery and fennel and cook for 3 to 4 minutes, until slightly softened. Add the apples, thyme, sage, salt and pepper and cook for about 5 more minutes, stirring occasionally. Turn off the heat and pour in the caramelized onions.
Pour the contents of the pan into the bowl with the cubed bread and stir to combine. Add the vegetable broth and mix until the bread is evenly moist. Pour the entire mixture into a 9 x 13-inch (23 x 33-cm) baking dish or medium-size Dutch oven and bake for 30 minutes, until the stuffing becomes golden brown on top and fragrant. Serve immediately, garnished with sage leaves.
To reheat, you can place the entire baking dish back into the oven covered in foil, removing the foil about halfway through cooking. Or if you have a microwave, feel free to use that. Leftovers will keep for 1 week in the fridge.
Recipe reprinted from Homestyle Vegan by Amber St. Peter with the permission of Page Street Publishing Co.
We have a copy of Homestyle Vegan for one lucky winner. Follow the instructions below to enter. U.S. residents only, please. Contest ends at midnight on November 22nd. Good luck!