768 Cosmetics Nail Polishes are vegan, cruelty-free, halal-certified, and made in the United States.
Chemical Overload
I once read that one of the most toxic places to work is a nail salon. The chemicals used in polish and remover are linked to a host of ailments, including skin conditions and respiratory problems. But that doesn't mean that chic vegans need to skip the manicure altogether. It means that we need to educate ourselves on the products we're using and make safe choices for ourselves.
When I buy nail polish, I opt for 5-free varieties. The five things those varnishes are free of are formaldehyde, dibutyl phthalate, toluene, camphor, and formaldehyde resin. When we coat our nails with polish contain toxins, not only are we breathing in those chemicals, our bodies are also absorbing them. (Yes, our we can absorb chemicals through our fingernails.) And I don't even want to think about what happens when we bite our nails.
786 Cosmetics Nail Polish
I do like to paint my nails, and I'm always trying out new brands, so when 786 Cosmetics asked me if I'd like to try their polish, I jumped at the chance. They are 11-free, which really intrigued me. I didn't even know that 11-free is a thing! After a little research, I discovered that 11-free nail polish is also free of such nasty stuff as acetone and parabens.
In addition to being 11-free, 786 Cosmetics nail polish are verified vegan and cruelty-free by PETA. They're also certified halal by the Kalamazoo Islamic Center (KIC). I didn't know that nail polish could be halal! According to the 786 Cosmetics website, they worked alongside Islamic scholars to understand the necessary requirements, which includes no animal products and no alcohol. These polishes are also water permeable, which means they can be worn during wudu.
Many Colors to Choose From
786 Cosmetics nail polish color choices range from traditional pinks and reds to bold greens, blues, purples, grays, and browns. Some are matte, some are glossy, and others shimmer.
I was sent the color Casablanca, which is a pretty, pearly pink. Most of the pale pink varnishes I've used in the past require a lot of coats to look opaque. This polish only needed two! Each coat dried really, quickly, which is a big bonus. As of the time that I'm writing this post, I've been wearing it for 4 days, and it hasn't chipped. According to the 768 Cosmetics website, their polishes will last about 7 days with the use of a top coat.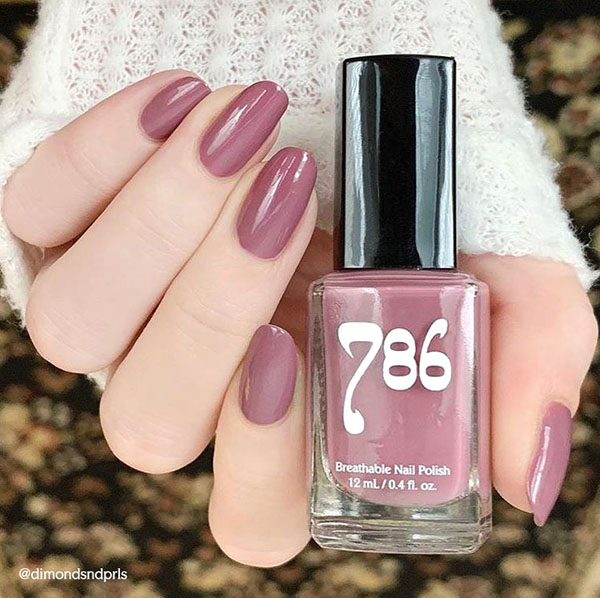 I was also sent the color Kashmir, which was inspired by Kashmir's traditional tea, Kashmiri chai, and the pink blossoms and tulips of the Mughal Gardens. This pale mauve shade is their best-selling color, and I can see why. I love it! It complements my skin tone perfectly.
In addition to nail polish, 786 Cosmetics also makes a deep nutrition nail treatment, almond and ginseng cuticle oil, and soy-based polish remover.
All 786 Cosmetics nail polishes are manufactured and produced in the U.S. Find out more and order their products on their website.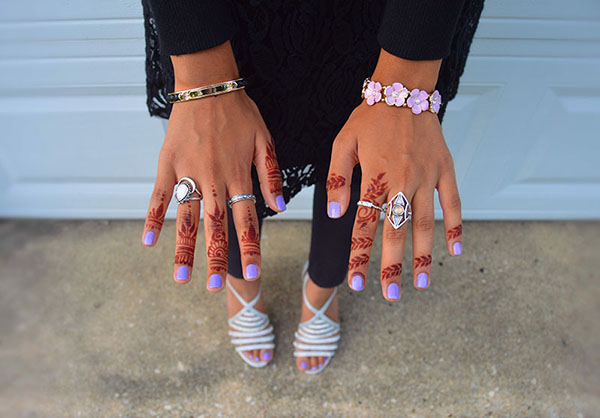 Images courtesy of 786 Cosmetics