"Eat your vegetables!"  Most of us have no problem doing that now, and probably look forward to it.  But I can still remember trying to negoatiate out of finishing the colorful part of my dinner as a child.  Granted, I grew up in the age of frozen mixed vegetables (peas, carrots and lima beans).  If I saw fresh broccoli and kale on the plate when I was seven, my mother and I might not have wasted so much energy on arguing about dinner.
Now that I'm a mother, I'd love to say that my son gobbles up everything I make.  But I'd be lying.  His loves carrots, green beans, peas, and corn-on-the-cob.  Broccoli sometimes.  He's not crazy about french fries, so that's a plus, but I'd still love to see him eat more vegetables.  And recently, I came across a product that might do just that.  Muffins!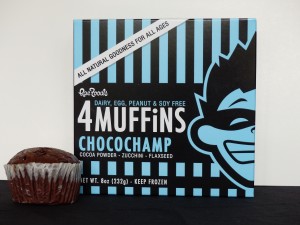 4Muffins, made by Raefoods, are tasty little muffins that are full of good stuff.  Raleen Yoon ("Rae") started the business in 2009,  shortly after discovering she had an allergy to dairy.  The muffins are vegan, certified Kosher, and peanut and soy-free. 
And the flavors!  All flavors include veggies and flaxseeds.  There's Chocochamp (zucchini), Coco-Ono (cauliflower), Gorillanana (banana and kale), Greenosaurus (kale and cauliflower) and Mr. Rabbit (carrot and applesauce).
4Muffins are found in select stores, primarily on the east coast for now.  They are working hard to grow and expand, so be sure to look out for them in your favorite store.