I never realized how valuable kitchen gadgets could be until I started blogging. Before then I was happy to have a simple set of quality pots and pans, let alone anything more elaborate like a dehydrator or food processor or high-speed blender or- you get the picture.
Oh, how the times have changed!
I know everyone is talking about the really-amazing-I-totally-want-one-too air fryers these days, but I'm about to give some mad love to a different kitchen gadget: the spiralizer.
I know, I know. I'm a few years behind the trend. It's okay. Good food transcends trends 🙂
I've been watching spiralized noodle recipes pop up all over vegan blogs for a few years now. I've saved amazing-looking recipe after amazing-looking recipe, pinning them to my "Recipes I Want to Try" board on Pinterest.
There was only one problem: I didn't own a spiralizer.
Sadly, without one, preparing vegetable noodles is not a simple task. As spiralized vegetables grew in popularity, thanks to vegan bloggers no doubt, prepackaged noodles started to pop up in health food stores.
Perfect!
I bought some, and then some more, and then some more. Soon, I was buying the noodles every time I saw them in the store. However, buying premade versions isn't always practical, especially for budget-conscious vegans like myself.
As someone who prefers a lighter diet in the summer, vegetable noodles are the perfect addition to my warm-weather menu. They're ideal for those times I'm looking for something heartier than a salad, but don't want to feel like I ate a brick. Spiralized vegetable noodles fill that order, plus they taste good.
Win.
So, I decided after all these years to purchase a spiralizer. It was relatively inexpensive (mine was under $30) and I know I'll use it a lot.
So far I've made zucchini noodles or "zoodles" as they are adorably nicknamed. I've also tried sweet potato noodles (loved them) and cucumbers (loved them too) and I have a beet noodle recipe pinned for later.
What about you? Do you like spiralized vegetable noodles as much as I do?
Since I've been eating more vegetable noodles lately, I decided to share a few of the delicious vegan recipes I've found with you. After all, what are friends for, right?
Here are 15 recipes that I've either cooked and loved or want to cook.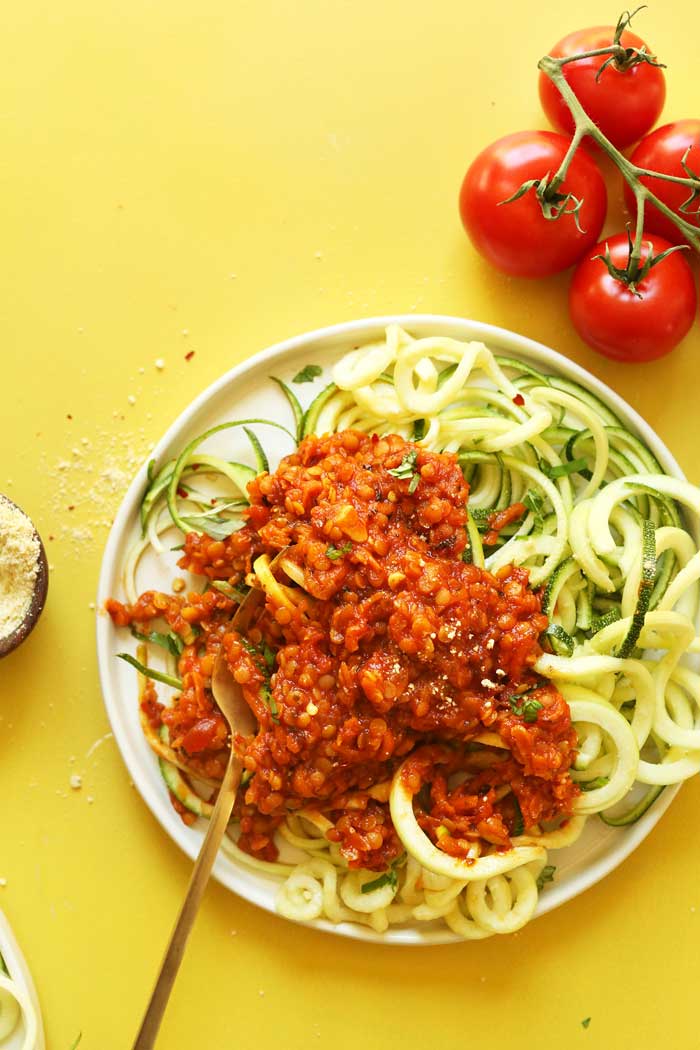 Zucchini Pasta with Lentil Bolognese from Minimalist Baker
This red sauce gets its heartiness from lentils and carrots. Pile some high on a bed of zucchini noodles, and you have a flavorful, healthy plant-powered meal to the table in just 30-minutes.
Here are a few more hearty choices: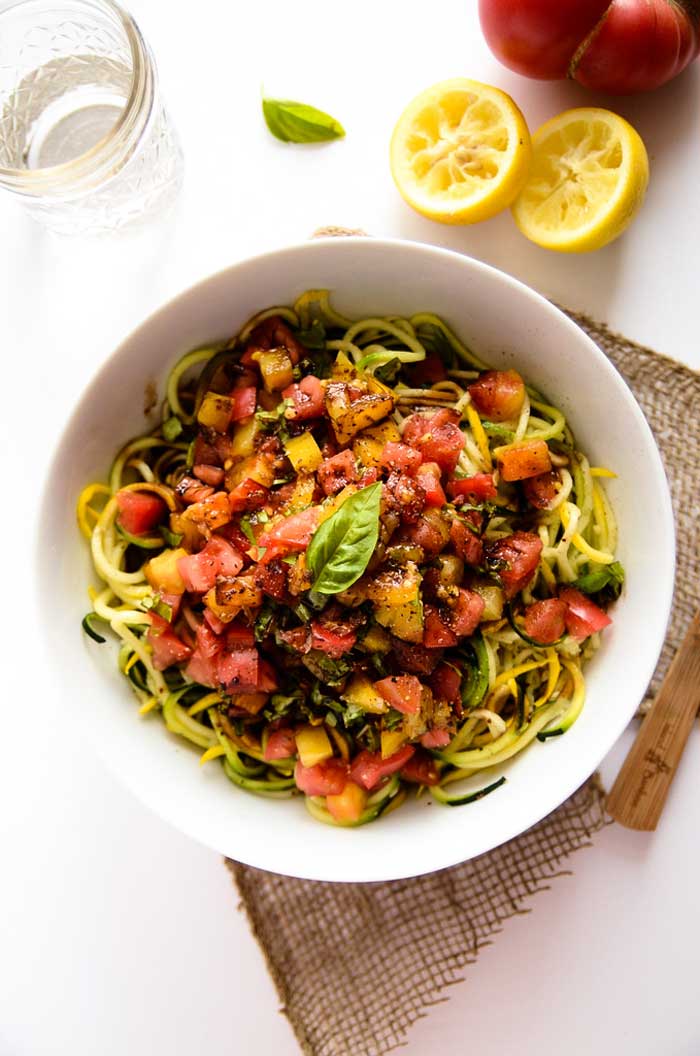 Heirloom Tomato, Basil & Balsamic Zucchini Noodles from Blissful Basil
These zucchini noodles bring the flavors of summer together in one bowl. Fresh heirloom tomatoes combined with fragrant basil and sweet balsamic vinegar come together for a deliciously easy dish.
These recipes look amazing as well: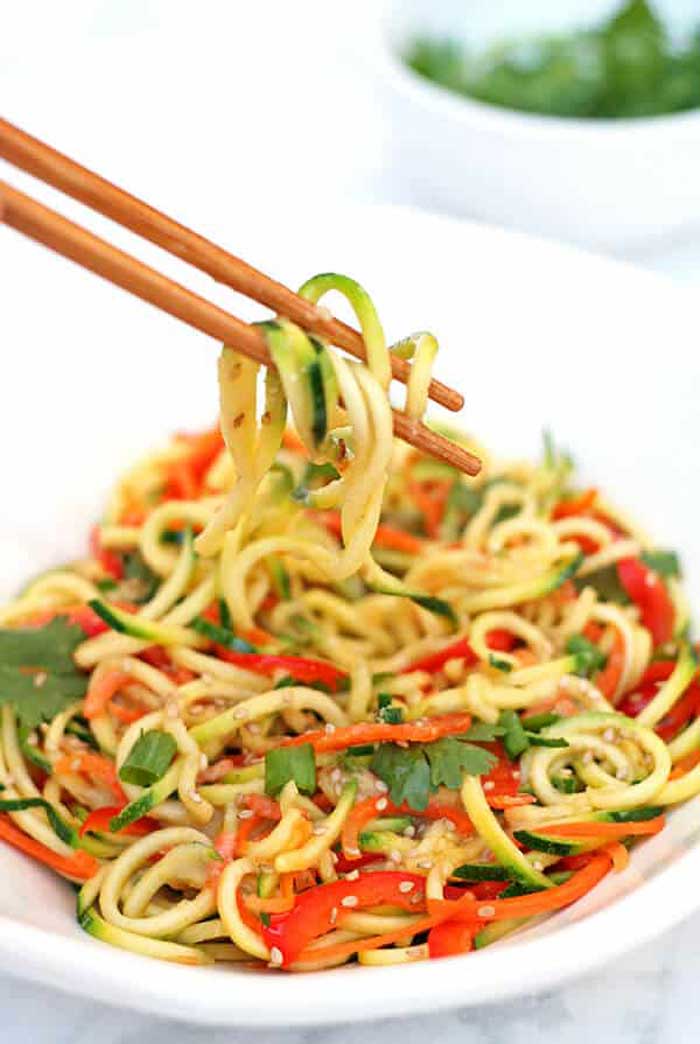 Miso Zucchini Noodles from Mary Ellen of VNutrition and shared on A Virtual Vegan
Don't let this simple dish fool you; it's packed with flavor thanks to that delicious miso sauce. It can come together in just 15 minutes, making it the perfect dish for hot summer evenings when you don't feel like spending a lot of time cooking.
These recipes take a bit more time but are worth the extra effort:
Do you have a favorite noodle recipe that's not listed? Tell me in the comments or find me on Twitter or Instagram!