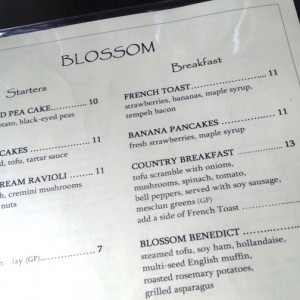 Just as with any type of special diet, eating out as a vegan can be tough. You're putting your faith (and stomach) in the hands of a stranger, and you can't be 100% sure they'll be able to feed you an edible meal. It used to be that the only foods vegans could eat at most places were side salads and French fries, but fortunately things are changing. With the rising popularity of veganism, the National Restaurant Association recommends that all restaurants have at least one vegan option on the menu. The thinking is that if there's one vegan in a group of people going out to eat, the vegan usually picks where to go, and she is most certainly not going to choose a steak house whose only plant-based option is a dry baked potato. More and more restaurants are becoming vegan-friendly, but even with this recommendation there are many eateries that don't have any plant-based offerings on their menus. What's a vegan to do? Here are my ten tips for eating out as a vegan:
Ten tips for vegan dining in restaurants: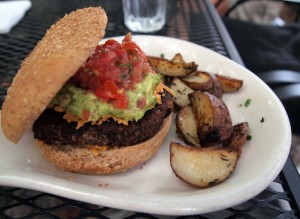 1. Suggest the Restaurant – This might sound like a no brainer, but when your friends or family are planning to go out, they might forget that you follow a special diet. Ask if you can suggest the restaurant and look for a place that has options everyone would love. Your dinner companions might just find a new favorite eatery while discovering that vegans do eat more that side salads and French fries.
2. Check Happy Cow – HappyCow.net has the most comprehensive list of vegan, vegetarian and veg-friendly restaurants online. On Happy Cow, you can see how far away a restaurant is from you, what type of food it offers, what the hours are, and what the price range is and you can also see what others have to say about it. If you're nowhere near your computer, download  the Happy Cow app onto your smart phone. It has helped me out in many occasions.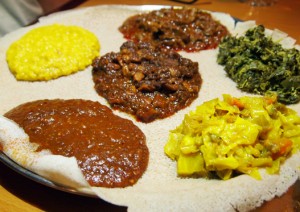 3. Look for Ethnic Restaurants – So you've checked Happy Cow and there's nothing veg-friendly in the area? Look for ethnic restaurants, which tend to have accidentally vegan options. Some of my favorite places to eat are ethnic restaurants. Ethiopian, Lebanese, Mexican, Thai, Chinese, and Indian restaurants almost always have naturally vegan offerings on the menu. If a dish is made with cream or cheese, those ingredients can usually be omitted without affecting the flavor of the dish. Always ask your server if a dish is vegan, and if not, can it be veganized.
4. Call Ahead – Sometimes we're invited out for a party or celebration, and we have no control over where we're going. The best thing to do is to call ahead, explain that you're vegan and ask if a vegan diner can be accommodated. It helps to check the menu online beforehand to get an idea of what type of foods they serve. If there's a pasta dish that looks good, ask if the pasta is made with eggs. If there's a pizza on the menu, see if they're willing to prepare it without cheese for you. In the age of blogging and online reviews, most restaurants want to ensure every diner enjoys their meals, and some chefs are even up for the challenge of creating a new dish.
5. Ask If They Have a Vegetarian Menu – You might find yourself out with a group of friends who decide to eat out without planning to do so before hand, so calling ahead and checking Happy Cow aren't options. Ask your waiter if they happen to have a vegetarian menu or have vegetarian options. Some restaurants have "secret" menus, and some have dishes they don't print on their regular menus but are available if you ask. The answer might be no, but it never hurts to ask.
6. Look for Sides – If there are no vegetarian options and there's no secret menu, what do you do? Peruse the menu to see what type of side dish come with the entrees. Chances are there will be vegetables, grains and even beans that come along side meat dishes. Ask if you can get a plate with three or four sides.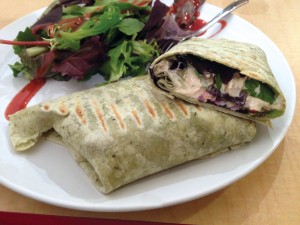 7. Explain What It Is You Don't Eat – If you're eating in a restaurant for the first time, nothing on the menu is clearly marked as vegan and you need to ask what's available for you, make sure you explain what vegans do and don't eat. I've been vegan for so long that I assume everyone knows vegans don't eat meat, fish, eggs, cream, butter, milk, and honey, but they don't. I've told waitresses that I'm vegan only to have them suggest a fish dish to me, and I've had bakers tell me that their egg-laden cookies are vegan-friendly. Omnivores are still figuring this vegan-thing out, so be patient and kind with your explanation.
8. Keep Calm – When eating out at a place that doesn't appear to be very vegan friendly and your waitress offers you a fish entrée with a side of buttered potatoes, it can be pretty easy to freak out. Remember that old saying about attracting more flies with sugar than vinegar? Restaurant staffers are more likely to help someone with an upbeat attitude than someone having a temper tantrum.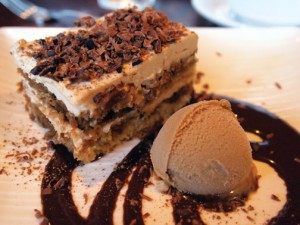 9. Eat Beforehand – When I include this in lists, I often get nasty comments. And my response is, "then don't go out." But, if you know that your only options will be a side salad and French fries, and you want to go out and spend some quality time with your friends, eat something before you go to ensure that you won't be too hungry.
10. Enjoy Yourself – Have fun with your friends. This is only one meal out of the thousands you will eat over your lifetime, so if it's a bad one it's not too much of a big deal in the grand scheme of things. Focus more on the company you're keeping than the food you've been offered, and treat yourself to a nice vegan meal at a different restaurant in the future.
What tips would you add to the list?